Civic body officials at receiving end on Facebook
Chandigarh, November 30
"Nobody is bothered to take action against the Municipal Corporation (MC) staff. Are they busy in campaigning for the councillors in elections violating the norms, kindly reply?" reads a comment posted by Rajiv Chugh, a resident, on the MC Facebook. He has posted this query because he had made a complaint on November 20, but nobody from the MC responded to it.
CM inaugurates judicial complex
Mohali, November 30
The Punjab Chief Minister Parkash Singh Badal today laid the foundation stone of the much-delayed District Administrative Complex (DAC)-cum-Judicial Complex in Sector 76 here. To be built at a cost of Rs 124 crore over an area of 7.25 acres, the complex would be built in a period of two years.
Strike hits functioning at excise and taxation dept
Mohali, November 30
The functioning of the excise and taxation department was crippled as members of the Excise and Taxation Inspectors Association Punjab abstained from work yesterday.


Kang's papers accepted
Chandigarh, November 30
The nomination papers of the SAD-BJP alliance candidate, Jagjit Singh Kang, from ward No. 5, which had been kept pending by the returning officer yesterday, were accepted today. However, Independent candidate Varinder Gularia's nomination papers were rejected.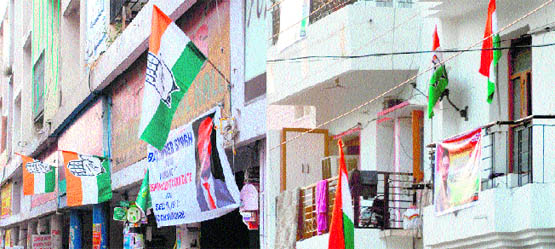 Hoarding and flags put up on shops in the Sector 21 market and a house in Sector 22, Chandigarh, in support of candidates contesting the forthcoming MC elections. Tribune photos: Nitin Mittal
Rs 80 cr for development works
Mohali, November 30
Development works in the Dera Bassi Assembly segment were started yesterday. Around Rs 80 crore would be spent on works in the area, said District Planning Board chairman NK Sharma.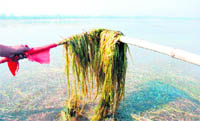 Admn struggles to weed sukhna
Chandigarh, November 30
Weed removal and de-siltation from Chandigarh's most-popular tourist spot - Sukhna Lake - continues to baffle the UT Administration.



A view of weeds, clogging a major part of Sukhna Lake. Tribune photo: S Chandan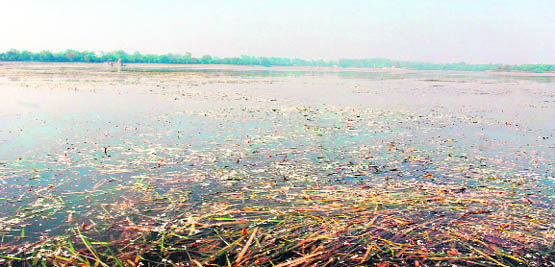 Patches of weed clogging a major part of Sukhna Lake in Chandigarh. Tribune photo: S Chandan
UT initiative for safe disposal of e-waste
Chandigarh, November 30
The UT administration has identified eight points for the collection of e-waste in the city. As part of the e-waste collection drive, which took off here today, the authorities have placed especially designed e-waste collection bins at eight strategic locations. The environment department of the UT administration, with support of CII's Young Indians Tricity Chandigarh Chapter and Attero Recycling Private Limited launched the drive.
Draw for 1,700 plots by Dec-end
Mohali, November 30
It is raining plots at Mullanpur, located at a short distance from Chandigarh. After holding the draw of lots for 870 plots in Mullanpur Eco City yesterday, the Greater Mohali Area Development Authority (GMADA) is holding another draw of lots to allot around 1,700 plots to the beneficiaries under the land-pooling scheme.
NHAI to float e-tender worth Rs 985 cr
Panchkula, November 30
The National Highway Authority of India will for the first time in the area float an e-tender for work on the four-laning of the National Highway No. 73 between Panchkula and Yamuna Nagar worth Rs 985 crore on BOT (build-operate-transfer) basis.
Proper parking site demanded
Zirakpur, November 30
The Commercial Welfare Association of Pabhat Godown has claimed that it becomes virtually impossible to travel on the road across the Pabhat godown area due to the parking of trucks on either side.
Dharna by anganwadi workers
Panchkula, November 30
The Anganwadi Workers and Helpers Union, Haryana, yesterday raised slogans against the state government for its failure to fulfil their demands.
Hookah bars banned in Panchkula district
Panchkula, November 30
Hookah bars have been banned in Panchkula. Recently a team from the office of the state drug controller lifted samples of tobacco molasses containing nicotine from these bars and issued notices under Section 15-B of the Drugs and Cosmetics Act. Nicotine is a prohibited drug under the Act.
Canada's first turbaned mountie is here
Mohali, November 30
Sergeant Baltej Singh Dhillon, who had changed the face of Canada's Royal Canadian Mounted Police when he became its first-ever turbaned mountie in 1990, attended the inaugural function of Baba Banda Singh Bahadur war memorial at Chappar Chiri village today.
Santro car catches fire
Panchkula, November 30
Three passengers of a Santro car had a narrow escape when it caught fire here today.
Less cases reported this year
Chandigarh, November 30
As the country once again celebrates the world AIDS day, there is some good news for Chandigarh too. Keeping up with the national trend, the city beautiful has also witnessed a decline in the number of HIV positive cases.
Who's principal? Not clear
Chandigarh, November 30
The drama over the principal of DAV College, Sector 10, still continues. The DAV management today decided to hand over charge of the college to Shashi Gupta.
Class-VI student dies at school
Chandigarh, November 30
A class-VI student of Navodaya Vidyalaya, Sector 25, died under mysterious circumstances on the school premises here today. Eleven-year-old Aniket was declared brought dead at the Government Multi-Speciality Hospital, Sector 16.
Aided-college staff strike work
Chandigarh, November 30
A complete 'bandh' was observed by the teaching and non-teaching staff of the seven aided colleges of the city today.
Kids have fun
Chandigarh, November 30
Pre-primary students of Saupin's School, Sector 32, had a fun-filled day today.
Budding talents
Chandigarh, November 30
'Jungle brigade' descended on the stage of Tagore Theatre today.
Annual athletics meet at school
Fatehgarh Sahib, November 30
Baba Zorawar Singh Baba Fateh Singh Senior Secondary School organised its annual athletics meet at the school grounds here yesterday. Prof Kulwant Kaur Sandhu, principal, Government College, Faridkot, inaugurated the meet and hoisted the flag.