Pan-India terror module busted; 6 IM men held
n Arrested include Pak national n 'Mastermind' still on the run
Shaurya Karanbir Gurung
Tribune News Service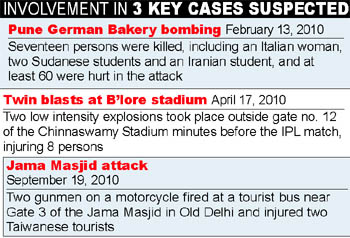 New Delhi, November 30
With the arrest of six suspected Indian Mujahideen operatives, including a Pakistani, allegedly involved in blasts in Pune, Chinnaswamy Stadium in Bangalore and Delhi's Jama Masjid, Delhi Police today claimed to have smashed a pan-India terror module.
A seventh person Ahmad Siddi Bappa, alias Imran, believed to be the person who was allegedly providing finance and other logistics besides coordinating various modules, is on the run, police sources said.


Centre in the dark?
New Delhi: On a day the Delhi police claimed to have busted a pan-India terror module behind the Chinnaswamy Stadium blast in Bangalore, the government in stark contrast told Parliament that there was "no pointer" to indicate the 2010 incident had terrorists' involvement. The written statement was made by Minister of State for Home Jitendra Singh in the Rajya Sabha. The blast was being probed by Bangalore police and it occurred during an IPL T20 match at the stadium, injuring 15 persons. — PTI
The breakthrough was achieved following joint countrywide operations by with special teams of the Delhi Police, West Bengal Police, Bihar Police and Tamil Nadu Police aided by the Central agencies coordinating.
The Delhi Police said the six persons were allegedly involved in the blasts at Pune's German Bakery on February 13, 2010, outside Banaglore's Chinnaswamy stadium during the IPL on April 17, 2010 besides the Jama Masjid shootout just before the Commonwealth Games in October 2010.
Confirming the arrest of six suspected IM operatives, Union Home Minister P Chidambaram said," They are being interrogated for their role in several blasts."
The arrested IM members have been identified as Mohammed Adil (40) - a Pakistani national, Mohammed Qateel Siddiqi (27), Mohammed Irshad Khan, Gauhar Aziz Khumani (31), Gayur Ahmad Jamali (21) and Abdur Rahman (19), police said.
Qateel Siddiqi was arrested near the Anand Vihar bus terminal in East Delhi on November 22. Siddiqi is a resident of Darbhanga in Bihar.
The police recovered from him a 9mm loaded pistol with 14 live cartridges, fake currency notes worth Rs 2 lakhs, two forged passports, a fake NCC identity card and a driving licence registered under the name of Vivek Mishra.
During interrogation, the police learnt that Siddiqi was a member of the IM module led by one Ahmad Siddi Bappa, a native of Bhatkal in Karnataka. This is same place where the Bhatkal brothers —Riyaz and Iqbal — now based in Pakistan, had launched the IM.
In fact, it was the arrest of Siddiqi that proved to be the clincher. The subsequent probe led to the arrest of Gauhar Aziz Khumani. He is also a resident of Darbhanga and was, at present, living in Delhi. Following the leads provided by Qateel Siddiqui, raids were conducted in Madhubani, Bihar and Gayur Ahmad Jamali was apprehended on November 24.
The following day the police nabbed Mohd Adhil, alias Ajmal, alias Shoaib, alias Guddu. A Pakistani national, he was living at Mahubani in Bihar.
Further raids in Chennai led to the arrest of Irshad Khan. He hails from Samastipur, Bihar. At present he was residing in New Delhi. He was on a visit to Chennai and was in touch with Abdul Rahman, another resident of Darbhanga. Two AK-47 rifles along with 50 cartridges, 1.2 kg white explosive material, one kg chemical, 1.4 kg black explosives and five detonators have been recovered from their hideouts in and around Delhi.