M A I N N E W S
Reply strongly to any future NATO attack on Pak: Kayani to troops
Afzal Khan in Islamabad
Pakistan Army chief Gen Ashfaq Parvez Kayani has upped the ante in the standoff with the United States by telling his troops that aggressors would not be able to evade a crushing retaliation in future.
Vowing to respond to any future "aggression" (by US and NATO troops) with "full force" regardless of its consequences, he also permitted the troops to retaliate to any attack without waiting for directions from the command.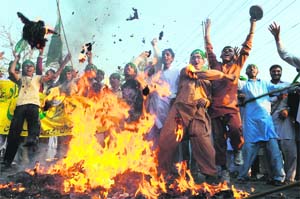 ANGRY VOICES: Protesters in Lahore burn an effigy of US President Barack Obama on Friday. — AFP
"Be assured that we will not let the aggressor walk away easily," the army chief said in a message for the troops and added he had "clearly directed that any act of aggression will be responded with full force, regardless of the cost and consequences".
The morale-boosting message was specially drafted to deal with the gloom and apprehensions in the ranks about military's state of preparedness after Saturday's NATO air strikes on border posts.
Paying tributes to the 24 soldiers who were killed in the incident, Gen Kayani said he was proud of his men who responded with all resources at their disposal, including artillery. "We all salute the courage displayed by brave officers and men of 7 AK Regiment," he said.
He believed the attack could have been retaliated effectively had the communication network not broken down. "Timely decision could not be taken due to breakdown of communication with the affected posts and therefore lack of clarity of situation at various levels, including corps HQ and GHQ. The troops are, therefore, given weapons relevant to the task they are expected to perform. But, the latest attack has forced a rethink of the strategy with the focus shifting from fighting militants to ensuring security of the border," he added.
Pak Rejects US plea on Bonn meet
Islamabad: Ignoring fresh calls from the US, Pakistan on Friday said it will not budge from its decision to boycott a key conference on Afghanistan's future in Bonn next week in the wake of a cross-border NATO air strike that killed its 24 soldiers.
Pak officials gave go-ahead: Report
According to a Wall Street Journal report, Pakistani officials mistakenly sanctioned the NATO strike that killed its own 24 soldiers. "Pakistani officials at a border coordination centre gave the go-ahead to American airstrikes", it said.