streamlining military judicial system
The role and responsibility of the Judge Advocate General's Department, the forces' legal wing, has increased manifold over the years, while manpower remains deficient. The judiciary has also recommended cutting down certain cumbersome and time consuming procedures to expedite court martial trials. This has mandated restructuring the department and strengthening its officer cadre and support staff
Col M S Jaswal (Retd)
The Army, Navy and Air Force each have a dedicated legal structure called the Judge Advocate General's (JAG) Department to assist in the implementation of the Army Act, the Navy Act and the Air Force Act. The JAG is the chief legal adviser to the respective service chief and renders legal advice on a wide range of aspects including discipline, vigilance, service conditions and judicial matters involving service personnel. An officer of the department designated as the Judge Advocate (JA) forms an integral part of general court martial proceedings, helping the court to conduct proceedings in a fair and judicious manner, summing up the entire evidence and giving opinion on the legal aspects of the case. The JAG advises the respective chiefs on post-confirmation petitions and other statutory representations on points of law and facts raised by the petitioners. JAsG are also responsible for imparting legal training in the services. They are the "Nodal Legal Agency" for single point contact with the institutionalised judicial system, liaising with the Attorney General, Solicitor General, Ministry of Law and Justice, Law Commission, International Committee of the Red Cross, National Human Rights Commission and the Bar Council of India apart from the higher judiciary.
Judicial Intervention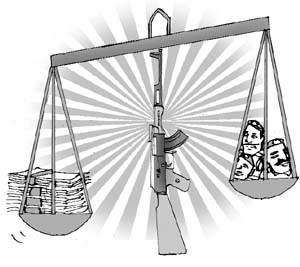 The Delhi High Court, in the case of Nahar Singh Vs Union of India, had expressed serious concern at the manner of handling of court cases relating to the Army on behalf of Union of India pending in the Court. The High Court observed, "After going through the entire statement in the affidavit and problem being faced by the JAG Department, we are of the considered opinion that a study should be taken up by the Ministry of Defence for upgrading the JAG Department in order to enable them to be more effective in the Court as also in all other forums. The activities and the responsibilities of JAG must have increased manifold through the years and, therefore, we are of the considered opinion that steps should be taken to consider as to why the said Department should not be upgraded like any other effective Branch.

Accordingly, a committee under the chairmanship of a joint secretary in the MoD was constituted to evaluate the mechanism for dealing with court cases and pinpoint deficiencies. It observed that apart from handling disciplinary cases, the role and responsibility of the department has expanded considerably. It now include family and matrimonial laws, human rights and international humanitarian law, contracts and commercial laws, cyber laws, right to information and many more. Further, the complexity of the cases has also undergone a sea change. The matters concerning economic offences, involvement of senior officers in fraud cases, gender justice and complicated legal issues have thrust greater responsibility on JAG officers.

The major recommendations of the committee include —

n Provisioning of additional JAG officers in the three services to extend availability of legal cover to lower formation / station levels.

n JAG Department officers to be designated as Government Law Officers, which would allow them to appear before courts to effectively defend cases filed against the Union of India.

n Induction of law graduates in the JAG Department be regulated by grant of permanent regular commission while continuing with existing modes of short service (male and woman entry) and inter-arm service transfer to ensure longer utilisation of legal manpower.

n JAG to have technical and functional control over legal cells which would provide requisite monitoring and accountability.

n Unification of the codes of the three services and an integrated JAG structure headed by a lieutenant general or equivalent with corresponding upgradation/ strengthening at the levels below.

Acknowledging the committee's report, the Delhi High Court observed, "The respondents are seriously considering the question of the improvement in the working of the JAG Branch and related matters. We do not, in that view, consider it necessary to monitor the progress made by the respondents in the said direction any further. All that we need say is that, if the respondents have realised on an evaluation of the current procedures and practices that the working of the JAG Branch requires a fresh look and certain steps taken to make it more efficient and effective, it would do well to introduce proper measures in that direction as early as possible..."

In a recent judgment in the case of Maj SS Chillar Vs UOI, the principal bench of the Armed Forces Tribunal observed, "Before parting with the case, we would like to observe that in conduct of court martial proceedings, some elementary mistakes are committed. Neither the JA, who advises the court martial has, at any time, experience of conducting a sessions trial, as a result of which he could not properly advise the court martial authorities, nor are the prosecutors properly trained to conduct such criminal trials." Stating that for such matters a properly trained prosecutor is required, the Tribunal said, "This is highlighted in this case that such elementary mistakes were committed in conduct of the criminal prosecution. Therefore, the authorities should appoint proper prosecutors for conducting such criminal cases in court martial proceedings, likewise, a trained presiding officer, who knows how to conduct a criminal trial or a JA who had an experience of conducting criminal trials. We have seen number of court martial cases which have come before this Tribunal and we find that most of the elementary mistakes were committed in conduct of the criminal trials."

The Tribunal held that in its experience trials by court martial relating to offences like murder or other penal code offences or offences under the other Acts are not properly conducted like a regular criminal trial. The result is that they will turn into acquittal.

"The authorities have to undertake an overall review of conducting court martial trials pertaining to offences under penal code or other civil offences by a competent prosecutor, who has experience of trial. The presiding officer should also be a trained person, who has seen the trials conducted by a sessions Court, so that they can appreciate the difference between the two and regulate the court martial proceedings as if they are conducting a criminal trial. Presiding officers, prosecutors and the JA should be sent for training in a criminal court, where trials are conducted. The matter requires serious consideration of overhauling of the procedure," the Tribunal ruled.

The tribunal also observed that before trial by a court martial commences, three-tier proceedings —, a preliminary inquiry, then charge stage and thirdly, the summary of evidence is undertaken, which is cumbersome, time consuming and totally unwarranted. Once the investigation is done, then, the case should be immediately taken before the Court. Holding that the pre-trial proceedings create more confusion waste time, the Tribunal ruled that this exercise should be shortened and expedited.

Impact of the Armed Forces Tribunal

The Tribunal has Appellate as well as Original jurisdiction to hear appeals arising out of court martial verdicts and applications on service matters, respectively. This has increased the work load of JAG officers exponentially. About 10,000 cases pending in various High Courts and lower Courts relating service matters have been and are being transferred to the respective AFT Benches.

Independent legal cells would be required to be established at a much larger scale for defence and monitoring of the cases pending before the AFTs where the disposal rate is much higher since the respective benches are exclusively hearing service matters. At the Tribunal's regional bench in Chandigarh, on an average 50 to 75 cases are listed every day. Giving progress of each and every case to all concerned at the end of the day consumes additional 4 to 6 hours after the Court rises for the day. Thereafter the legal cell officers have to read through and prepare for cases listed for the next day. The present arrangement is highly inadequate to cope up with the work load. It is pertinent to mention that since expeditious dispensation of justice is expected before the AFT, there is an exponential increase in the number of cases against the Armed Forces, especially on issues relating to pension, disability pension, family pension and pay and allowances. It is, therefore, essential that adequate number of qualified and experienced officers are positioned to deal with such cases appropriately.

The strength of JAG Department in the Army in 1980 was about 105 officers and the present authorised strength is just 120 officers. Thus there has virtually been no increase for the last 31 years. On the other hand the entire organisation has been restructured with substantial increase by way of raising new units/formations. Even the AV Singh Committee did not examine restructuring of the JAG Department since the matter was already being examined by the MoD.

The Way Ahead

A need is thus envisaged to take immediate steps and undertake the following:-

n Restructure the JAG Department. In doing so, take away the pre-trial advisory role of the Department and allocate it to the Discipline and Vigilance Wing of the Adjutant General's Branch having law qualified officers, thereby leaving only the trial and post-trial functions with the JAG Department. This would indicate compliance of the cardinal principle of justice that, "Justice must not only be done but must also seem to be done" ;

n Depute JAG Department officers to various institutes that train civilian law officers.

n The cumbersome three-tier proceedings in the form of court of inquiry, hearing of charge and recording summary of evidence before commencement of trial need to be cut down. Once inquiry is completed, the case should be immediately taken before the competent authority, who on finding prima facie charges, may convene a court martial.

n Set up Armed Forces Tribunal Legal Cells with highly experienced, efficient and motivated law officers with sufficient permanent civilian administrative support staff in the form of shorthand writers, clerks and munshis, sufficient independent transport, modern office equipment and electronic gadgets etc. Till such time the department is short of qualified law officers, the possibility of employing retired law qualified officers who are registered as advocates on a contractual basis may be explored. These officers can also be tasked to represent Union of India where government Counsels are not available for a particular case.

The writer is a retired JAG Department officer