In memory of the Hindi novel
As Hindi spreads in its scope in the market place, especially through the entertainment industry, the same can't be said about its depth. When was it last that a Hindi novel or a piece of literature became a cult in its own right?
Nidheesh Tyagi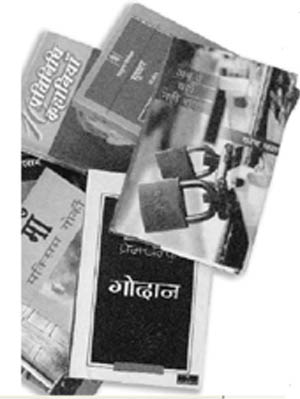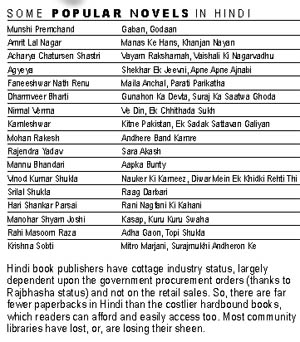 NO one remembers Raag Darbari for the awards it received. We remember it because it brings a smile on our face with amusing memories of its narrative. Srilal Shukla wrote this Hindi novel in 1969 that became a cult. It has been translated into 17 languages (in English by Gillian Wright), has sold several reprints, has been turned into one of the most interesting television serials by Doordarshan in the eighties. It remains one of the best gifts of Hindi literature to its readers and one of the most notable novels. It is a hilarious piece meandering through the minds, peoples and situations of the Indian cow-belt. Shukla was announced to be the recipient of the coveted Gnanpeeth award four decades after writing of this cult novel… and two weeks before his death!
As Raag Darbari amply demonstrates, a well written book can do well without (last minute) awards and will find its readers through the length and breadth of its own domain and across the language barriers. It is difficult to find cult novels in Hindi anymore to match the likes and class of Agyeya, Faneeshwar Nath Renu, Nirmal Verma, Amrit Lal Nagar, Acharya Chatursen, Kamleshwar, Mohan Rakesh, Dharmvir Bharati, Rajendra Yadav, Manohar Shyam Joshi, Hari Shankar Parsai, Vinod Kumar Shukla, Mannu Bhandari, Rahi Masoom Raza and Shivani. Most of these works happened several decades ago and barring a few, most writers are not with us anymore. Long before they were dead, the process of churning out novels had faded away. Today it is hard to find a single young writer penning one serious novel which has the promise and potential of becoming a cult book on its own.
When we compare this to the Indian writings in English and other languages, especially Marathi and Bangla, there is something seriously amiss in Hindi. Novels remain the most concrete body of work for any literature, but now we don't see much of it happening in a language which is spoken by most of this country, runs a billion dollar entertainment industry from Mumbai and also has the constitutional support as Rajbhasha of this country. Some irony here. So what happened?
Forever nascent Hindi publishing industry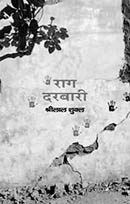 As Raag Darbari amply demonstrates, a well written book can do well without (last minute) awards and will find its readers through the length and breadth of its own domain and across the language barriers.
What looks like consequence of several factors may also be the cause of the void it has created in the sanctum sanctorum of Hindi consciousness, literature being at the core of it. All the cult novels we read in Hindi didn't come from any kind of government patronage or the awards they won. They came from the depths and layers of their own culture, thoughts, politics, society, history and mythologies. Hindi also saw a huge boom in the number of schooled, thanks to literacy mission, but that changed the status of the culturally literates into a minority. In between the ideologies and politics of languages, writers lost their hold on the ground and became monochromatic. The source of entertainment shifted from books to the multiple channels giving easy gratification of the TV remote. We will remember Rahi Masoom Raza not for Adha Gaon but for the serial Mahabharat on Sunday mornings, when streets were completely deserted and India was glued to its telly. In the last two decades, Hindi newspapers saw a huge boom as half of the most circulated and read newspapers in India are in Hindi. While Hindi has increased its length and breadth manifolds, and enhanced its market cap, where has its depth gone?
Somewhere in the midst of this change, literature lost its mass appeal. Most Hindi book publishers have cottage industry status, largely dependent upon the government procurement orders (thanks to Rajbhasha status) and not on the retail sales. So, there are far fewer paperbacks in Hindi than the costlier hardbound books, which readers can afford and easily access too. Most community libraries have lost, or, are losing their sheen. Compare this to the emergence of publishing of Indian English writings and one can almost draw a pattern of where the educated middle class is finding its voice, where more books are coming from, discussed, sold and celebrated in Literary festivals, which have token presence of Bollywood icons like Gulzar and Javed Akhtar in the name of Hindi. So many English bestsellers are translated into Hindi much before the Hindi original works find a market, they also do better business.
When writers become greater than the writing
The discussion of Hindi literature has deviated from the writings to the writers (life, lobbies, forums they espouse and belong to) and what goes on between two cult writers. The literary class seems more occupied about the fireworks between Rajendra Yadav and Namvar Singh, rather than talking about what's new in Hindi or the lack of it. More than external factors, this internal transition has led the Hindi writing to the margins of our consciousness. Added to this, the politics that affects the making of syllabi of Hindi in schools and colleges and the shoddy way Hindi teachers are trained with no deep sense of involvement, interest and pride in the language, which has so many gems and much class to offer. Then there is the alienation of writings in Urdu from Hindi, as if it's a different culture or voice altogether. What Hindi did to Urdu is happening to her. While Urdu had no one on her side, Hindi has had all the support and patronage on her side. Yet, two decades back one could find a number of Marathi, Bengali and Malayalam novels available in Hindi translation, now you don't hear about it. Literature from other languages helped to enhance the collective consciousness of the creative eco-system we were living in. A Bangla Sharat Chandra and a Marathi Shivaji Sawant could be prominently spotted on the book shelves of the Hindi reader. That window to a greater Indian eco-system seems to be closing now.
The talking points of the middle class have changed too. Books and literature are not part of them. It's about money, security, consumption, acquisitions and television plots. Is this fear baseless that mainstream India is losing its connect with its deeper self, is unable to listen to its own original thought and contextualise and express it in an effective manner? To begin with novels were not an original form in Hindi narrative, short stories and epics were. But then it could internalise the form acquired from the west and make it so beautifully its own.
All noise no essence
There is so much noise in Hindi, if you look at the market of commercials, entertainment and information. But, perhaps medium is not the message here. Hindi is used for minting profit, but not much thought is given to profit Hindi language right from school levels to the university courses. There is serious lack of a voice, a deeper thought, a wider narrative and construct, which produced cult novels like Kitne Pakistan, Shekhar Ek Jeevni, Gunahon Ka Devta and Naukar ki Kameez. Because novels are essentially all that — a long evolutionary journey to a hitherto undiscovered world, a connect with deeper self, a certain breezy calmness — all that the present 'economics of attention' doesn't allow. The increasingly consumerist, upwardly mobile middle class lacks the required patience for it. It thrives on distracting the mind in spans of 15 to 30 second commercials. But a novel is more than a speed date. Is Hindi losing its voice in the din of the market place and scripted (and therefore fake) reality shows on TV channels ? When was the last time we heard about a Hindi movie which was based on a Hindi novel?
A great novel like Raag Darbari not only irreversibly changes you by the time you have finished reading it, it also gives you a new insight into the 'incredible' India. The absence of novels-in-making at present also indicates that we are stepping out of our collective memory which was shaped by our politics, people and their cultural discourse. The long-read defined that connect. Novels institutionalise the lives and times mankind lives in. If there aren't enough Hindi readers for novels, they can be translated and sold in the market in English and other languages. But the sad part is, besides a Srilal Shukla, a Kamleshwar or a Nirmal Verma, whose rather old works in English translations seem to be doing well, you don't see much of translations happening from Hindi into English.
And it is not just novels — you find a similar void in other genres of Hindi literature, like plays and poetry. There are some good writings of course (like Vinod Kumar Shukla, Udai Prakash, Alka Saraogi, working on their narratives), and they cause a stir but they don't make a great pattern, a panorama. Their writings survive the noise and the market and the establishment in the name of Hindi. Because of writers like them, all hope is not lost, but it speaks volumes about what has happened to the greater Hindi consciousness, which is not incubating its own ideas, creativity and expressions in a deeper literary way for a long time now.