Work in offices suffers
Chandigarh, November 28
Slogans, dhols and celebrations brought work to a virtual standstill in certain departments of the UT Administration today as the candidates for the forthcoming Municipal Corporation (MC) elections kept pouring in with their supporters to file their nominations.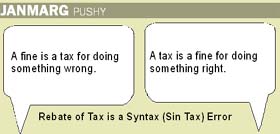 Drama in Palsora as BJP councillor assaulted
Chandigarh, November 28
In the first incident relating to poll violence, a sitting BJP councillor Anil Dubey was allegedly manhandled by supporters of another candidate who was not given party ticket.
Acid attack: Police narrows in on girl's ex-colleague
Chandigarh, November 28
A day after the acid attack on a teenager working with Westside Mall in Industrial Area here, police investigations have narrowed down to a youth who was allegedly harassing the girl for some time.


A gesture transcending national barriers
Chandigarh, November 28
Two days ago on 26/11, the entire nation remembered the victims of the senseless violence perpetrated by Pakistani terrorists in Mumbai three years ago. The third anniversary of the bloody Mumbai attacks coincided with anti-India protests by hardliners in Pakistan, reminding one and all of the strained and bitter relations between the two countries.

Mahira (2), a Pakistani girl, with her parents after her successful heart surgery in Chandigarh on Monday. Tribune Photo: Pradeep Tewari
Now 11 lots of heritage items to go under hammer in NY
Chandigarh, November 28
In yet another major auction of city's heritage items, a New York-based auction house is going to sell 11 lots of heritage furniture items from the city, which include a pair of armchairs, committee table, lounge chairs, dining table, pair of advocate chairs, a bench, two sets of four armchairs and a stool.

MC WARD WOES
Of Poor sanitation, internal parks and roads
All major plans, including a marriage palace in pocket No. 8, renovation of the motor market and recarpeting of internal roads in Indira Colony, chalked out by the Chandigarh municipal corporation in the past five years for the development of ward No. 26 have been put into cold storage.
A puddle reflects the poor shape roads at Subhash Nagar, Mani Majra.


Husband-wife teams in fray
Chandigarh, November 28
For the first time, the better halves of two of the sitting Municipal Corporation (MC) councillors are going to contest the coming elections along with their husbands from different wards. SAD-BJP candidate Jagit Singh Kang is going to contest from ward number 5, while his wife Indeerjeet Kaur Kang has filed the nomination from ward number 9.
MC library or a store house?
Mohali, November 28
Is the library being run by the civic body in the Phase X Silvi Park a municipal library or a store house? This is the question that has been raised by a former municipal councilor who visits the place now and then.


Care for young one who got lost and hurt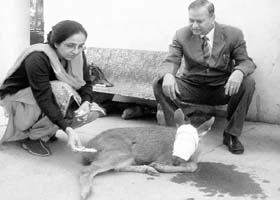 First-aid being administered to a wounded baby sambar which ventured into the forest adjoining DAV Senior Public School at Surajpur on Monday. It was rescued by school bus drivers and conductors, who informed the school principal. The principal, RP Anand, handed it over to forest official. A Tribune photograph
Eco City Draw
Tears for many, cheer for some
Mohali, November 28
The draw of lots for the plots in Mullanpur Eco City brought tears to many and cheer to some, as 836 persons were declared successful in 100 sq yd, 200 sq yd, 300 sq yd, 400 sq yd and 500 sq yd plot categories. The successful applicants were given plot numbers on the spot.
Samjhauta Blast
Aseemanand seeks probe
Panchkula, November 28
Aseemanand, key conspirator in the Samjhauta blast case that left 68 persons dead at Panipat in February 2007, has sought an inquiry by the National Human Rights Commission (NHRC) against the National Investigation Agency (NIA) for criminal extortion of confessional statement while in judicial custody.
Excise and taxation seek pay scale revision
Mohali, November 28
The Excise and Taxation Inspectors Association of Punjab has expressed concern over the non-revision of pay scale of inspector by the state government. During a meeting chaired by the president of the association, Harjot Singh, the members condemned the attitude of the government towards their pay scale.
Pensioners protest against admn
Panchkula, November 28
Pensioners raise slogans against the administration for not releasing pension for the past four or five months at the municipal corporation (MC) office complex in Sector 4 here today.
Musical tribute to Surinder Kaur
Panchkula, November 28
Rich musical tributes were paid to legendary Punjabi folk and playback singer Surinder Kaur on her 82nd birth anniversary at the Rotary complex hall yesterday. The highlight was the presentation of her memorable melodies by her daughter Dolly Guleria, granddaughter Sunaini Sharma and great-granddaughter Riya.
Chandigarh Carnival
Contestants vie for top prizes
Chandigarh, November 28
The Chandigarh Carnival proved to be a huge draw as thousands of visitors turned up on the final day of the festival at Leisure Valley, Sector 10, here yesterday. The carnival, which offered fun activities like swings, camel ride, besides dance, music and delicacies, witnessed on-the-spot competitions for visitors.


Melodious musical moves mesmerise
Chandigarh, November 28
An immaculate spell of vocal and instrumental music by Delhi-based music maestros marked the classical music concert organised by Prasar Bharti, All-India Radio, at the Law Bhavan auditorium here today.


Pandit Bholenath Mishra performs at Law Bhavan, Sector 37, Chandigarh, on Monday. Tribune photo: Vicky Gharu
Police steps up night patrol
Chandigarh, November 28 Waking up to a spate in thefts in the city in the past two days, the UT police has finally deputed 11 motorcycles for late-night patrol. At least eight thefts were reported in the city this weekend, with the police failing to curb the rising number of thefts.
Ills of nepotism, corruption bared
Chandigarh, November 28
The Ajnabi Rangkarmi, in collaboration with Haryana's Department of Information, Public Relations and Cultural Affairs, presented the Hindi play "Taj Mahal Ka Tender" at the Tagore Theatre here yesterday.
Move forum for power plaints
Chandigarh, November 28
City residents can now approach the Consumer Grievances Redressal Forum (CGRF), set up by the UT administration, for complaints pertaining to the electricity department.
Chappar Chiri inauguration
Schools, colleges to remain closed
Mohali, November 28
The Mohali district administration has declared November 30 as a holiday in wake of state level function to inaugurate the Chappar Chiri war memorial by Punjab Chief Minister at Chappar Chiri village on November 30.
Principals' thumbs up to Integrity Clubs
Chandigarh, November 28
Inspired from the model developed by the Airports Authority of India (AAI) and adopted by Kendriya Vidyalaya Sangathan, the Central Board of Secondary Education (CBSE) has asked all affiliated schools to introduce "Integrity Clubs" to sensitise students on the importance of upholding high values and life skills.
Nursery Admissions
Probe against St Kabir
Chandigarh, November 28
The UT education department has marked an inquiry against St Kabir School after receiving a written complaint against it. The parents have alleged that the school has mismanaged the admission process and left eligible candidates in response to nursery admissions.
Students from J&K visit city
Chandigarh, November 28
A group of 25 students from Baramullah district of Jammu and Kashmir visited Western Command Army Headquarters at Chandimandir today as part of an army-sponsored educational and motivational tour.
Aaghaaz wins laurels in skit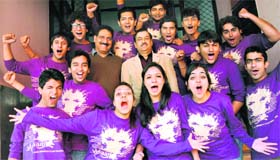 Chandigarh, November 28
The DAV Dramatics Club "Aaghaaz" representing Panjab University won the first position in skit category at the 27th North Zone Inter-University Competition held at Lovely Professional University, Jalandhar, from November 22 to 26.
Sweet is the taste of victory: Members of the DAV Dramatics Club Aaghaaz, who won the first position in the skit category during the 27th North Zone inter-varsity competition, which had 29 universities participating in various events, at Lovely Professional University in Jalandhar. Tribune Photo: Pradeep Tewari