RS, LS adjourned again
Country continues to lose Rs 25,000 a minute on running of Parliament
Faraz Ahmad & Vibha Sharma
Tribune News Service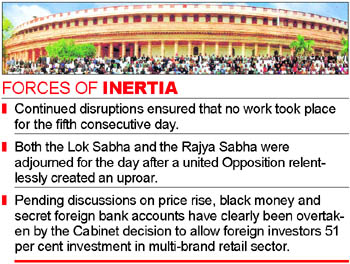 New Delhi, November 28
The Parliament's winter session entered its second week on Monday, with continued disruptions extending and no work taking place for the fifth consecutive day. This led to speculations that the current winter session may be a washout just like last year, with no constructive business or worthwhile debate on crucial issues.
Both the Lok Sabha and the Rajya Sabha were adjourned for the day after a united Opposition relentlessly created an uproar over the government's controversial decision to allow FDI in retail.
Sources say unless the government manages to broker peace at the all-party meeting tomorrow, the country will continue to loose Rs 25,000 a minute, the cost incurred by the nation on running the Parliament, for the rest of the session.
As the BJP raised the banner for withdrawing FDI in retail sector with the Left, the SP, BSP and even Trinamool minister and leader Sudip Bandopadhyaya being on his feet opposing the FDI, there were others seeking succour on other issues, for instance, the DMK members wanted the Centre's intervention for saving the Mullaperiyar Dam.
Similarly, as earlier, TRS member and well-known Telugu actor Vijayshanti rushed to the Well of the Lok Sabha with a placard, supporting the demand for a separate Telangana state.
Congress MPs from Telangana were already in the Well with placards, asking the government to bring the Telangana Bill in the Parliament.
In the process, the pending discussions on price rise, black money and secret foreign bank accounts that the Opposition had prioritised, have clearly been overtaken this week by the Cabinet decision last week to allow foreign investors 51 per cent investment in multi-brand retail sector and open up the single-brand retail fully with 100 per cent investment to foreign investors, causing immediately an outrage among most political parties.
In the Rajya Sabha, BSP, JD-U, AIADMK and SP members raised slogans against the FDI policy soon after Chairman Hamid Ansari took his seat. "FDI vapas lo (withdraw FDI)," they chanted as the BJP members joined them. Leader of Opposition in Rajya Sabha Arun Jaitley had moved a motion to discuss why the government's decision on allowing FDI in retail should be revoked.
However, as soon as the Upper House met at 11 am, Ansari was forced to adjourn it within minutes.