M A I N N E W S
dare bare shoot

Not a hands-down win for Pak's moralists
Admiration for controversial actress Veena Malik growing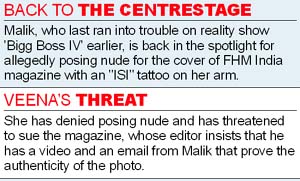 Islamabad, December 3
Queen of controversies Veena Malik may or not have done a nude shoot for an Indian magazine but this time it may not be a hands-down win for Pakistan's custodians of morality because her admirers seem to have multiplied over the year.
Malik, who last ran into trouble for not playing miss-goodie-two-shoes on Indian reality show 'Bigg Boss IV' earlier this year, is back in the spotlight for allegedly posing nude for the cover of FHM India magazine with an "ISI" tattoo on her arm.
She has denied posing nude and has threatened to sue the magazine, whose editor Kabeer Sharma insists that he has a video and an email from Malik that prove the authenticity of the photo.
Pakistan's Interior Minister Rahman Malik has said he had not seen the pictures.
However, he contended that if Malik had done a nude shoot, "strict action" would be taken against her.
Women have come out in hordes in the virtual world, at least, to support Malik.
"Veena I am proud of you!" wrote Sonia Wahab on a web page.
The best response came from filmmaker Sharmeen Obaid Chinoy.
She posted on Twitter: "For all you clerics waiting to pounce on Veena Malik better have your excuses lined up about why you were looking at FHM in the first place!" On the website of The Express Tribune newspaper, Abdul Jabbar posted: "Veena has every right to pose how she wants.
"May be she's showing our moral hypocrisy where we value a woman by her sex life. Maybe she feels she has got nothing to be ashamed of her body, that the female body is not a source of sin and shame. I for one, will not condemn her.
"The Egyptian blogger did it recently and her reasons were valid. There is no need to attach a woman's value in society by the amount of clothes she wraps herself into," he wrote. — PTI