60 Cong candidates to be announced this month
Chandiagarh, December 3
As many as 60 Congress candidates may be announced this month with party president Sonia Gandhi agreeing to a recommendation by the Pradesh Congress Committee calling for an immediate announcement of nomination where there is a single claimant.
Badal has lost grip over state, says Amarinder
Barnala, December 3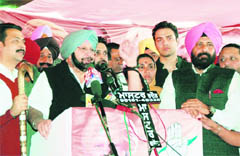 PCC chief Capt Amarinder Singh today said stringent measures were required to restore law and order in Punjab that had collapsed under the present SAD-BJP regime. Addressing a party rally here, Amarinder alleged that Chief Minister Parkash Singh Badal was not bothered even as some SAD supporters were engaged in illegal activities. "Badal has lost grip over the state," he said.

Capt Amarinder Singh at a rally in Barnala on Saturday. Tribune photo: Pawan Shartma



Bouncers engaged for Barnala rally


17 vie for Congress ticket in Muktsar district
Manpreet a Cong man: Harsimrat
Bhutiwala (Muktsar), December 3
Bathinda MP Harsimrat Badal today lashed out at PPP chief Manpreet Badal and tried to strike an emotional chord with the masses.
Manpreet takes a dig at SAD over FDI U-turn
Ludhiana, December 3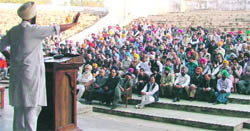 Taking a dig at the Shiromani Akali Dal (Badal) over its U-turn on the foreign direct investment (FDI) issue, People's Party of Punjab (PPP) president Manpreet Singh Badal today said Akali Dal is known for a flip flop over such issues. "This is not for the first time that the Akali Dal has backtracked from any such issue," Manpreet quipped.

PPP chief Manpreet Singh Badal addresses a gathering in Ludhiana. Photo: Inderjeet Verma

Sud takes on Capt for mudslinging
Hoshiarpur, December 3
Punjab Local Bodies and Industries Minister Tikshan Sud has criticised PCC chief Capt Amarinder Singh for indulging in mudslinging against him for gaining political mileage.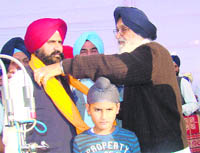 Jolt to PPP as Manta returns to SAD
Roranwali (Muktsar), December 3
The PPP today got another jolt when Chief Minister Parkash Singh Badal and SAD president Sukhbir Badal welcomed Satinderjit Singh, alias Manta's return to the party fold amid huge gathering at the latter's house in Roranwali village, near Lambi, here.



Chief Minister Parkash Singh Badal offers a 'siropa' to Satinderjit Singh, alias Manta, at Roranwali village in Muktsar on Saturday. A Tribune photograph


Cantonments asked to stop levying octroi
Chandigarh, December 3
The Punjab Government has asked the cantonment boards at Jalandhar and Ferozepur to stop collecting octroi within their respective jurisdiction. The government has also offered to compensate the two boards for the loss incurred from abolishing octroi.



About the octroi
Farmers plan to dump crop on roads
Jalandhar, December 3
In view of bumper potato production in the state, the farmers will have no option but to throw their produce on the roads to highlight the apathy of the government towards their plight.
Indo-American group hails FDI in retail
Jalandhar, December 3
The Indo-American Friends Group has welcomed the move of the UPA government of allowing FDI in retail, saying that it will not only lower the rate of inflation but also create more job opportunities.
12 vets injured in clash outside CM's house
Badal (Muktsar), December 3
At least 12 activists of the Punjab State Veterinary Inspectors' Association were hurt and 150 arrested when they tried to barge into the CM's residence here this evening.
Blood money paid for release of 4 youths in UAE
Chandigarh, December 3
Thanks to provision of blood money, four Punjabi youths facing death sentence in two separate bootlegging-cum-murder cases in the UAE are expected to return home soon.
Illegal power connections detected in Moga village
Moga, December 3
An alleged scam of giving power connections illegally to set up submersible water pumps for irrigation purpose has come to light in a Moga village. The Vigilance Bureau has begun a formal inquiry into it.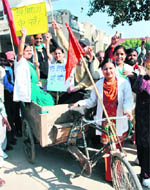 Docs' stir hits services
Patiala, December 3
After the staff nurses and the Class IV employees, the junior resident doctors of Rajindra Hospital have started their indefinite strike. Today, they boycott work and threatened to discontinue emergency duties if their demands were not accepted by Monday.






Rajindra Hospital Joint Action Committee members during a protest in Patiala on Saturday. Tribune photo: Rajesh Sachar

Ahead of Deputy CM's visit, govt wants to shift migrants
Patiala, December 3
Some Hindu families, who migrated from Pakistan nearly 60 years back and settled in Rajpura, today protested against the district administration's move to shift them from their houses in Kasturba Sewa Ashram, ahead of Deputy Chief Minister Sukhbir Singh Badal's visit. Meanwhile, the administration claimed that the families were being provided better accommodations and it was necessary to shift them.
SGPC to open 21 institutes in rural areas
Fatehgarh Sahib, December 3
The Shiromani Gurdwara Parbandhak Committee (SGPC) has decided to open 21new educational institutes, including 10 colleges and 11 schools, within two years in rural areas to provide quality and professional education to village youths, said Avtar Singh Makkar, president, SGPC, while talking to mediapersons after presiding over a meeting of the management committee of Mata Gujri College here today.


Woman surrenders in dowry death case
Patiala, December 3
Devinder Kaur, who was declared proclaimed offender (PO) in 2010 after the death of her daughter-in-law Gagandeep Kaur at Dhamoli village under Rajpura, today surrendered in the Rajpura court following directions from the Punjab and Haryana High Court.