HC issues notice to ADGP Gupta
Chandigarh, December 1
Punjab Police officer Sanjeev Gupta is in the line of fire once again. Four years after one Kuldip Singh moved the Punjab and Haryana High Court, accusing the IPS officer of trying to grab a chunk of land for expanding an "illegal colony of one Jasbir Singh Sandhu", another petition seeking a CBI probe against him saw the court issuing a notice to the ADGP today.

More Punjabis take to safer sex
Chandigarh, December 1
When it comes to practising safe sex, the Punjabi males are surely outdoing their Haryanvi counterparts. Punjab has witnessed a whopping 64 per cent increase in the sale of condoms, from 1.32 crore pieces in 2009-10 (July to June) to 2.16 crore pieces in 2010-11, under the National AIDS Control Organisation (NACO).
Cong also woos ex-servicemen
Chandigarh, December 1
One day after the Punjab government tried to woo war decorated soldiers and former servicemen, the Pradesh Congress today claimed that its president Capt Amarinder Singh would lead a party delegation to take up their demands with the Prime Minister.
Mann urges Anna not to support SAD-BJP alliance
Fatehgarh Sahib, December 1
Appreciating the campaign launched by Anna Hazare against corruption and his decision to oppose the Congress in coming Assembly elections, Simranjit Singh Mann, president, SAD (A), has urged Anna not to extend support the ruling SAD-BJP, as the alliance is equally corrupt.
Akalis fuel communal tension in state: Capt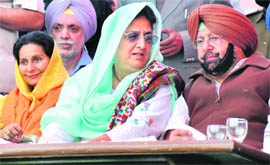 Ghanaur (Patiala), December 1
PCC president Capt Amarinder Singh has accused the Akalis of creating communal tension in the state for petty political gains. Addressing a gathering during the Punjab Bachao Yatra at the local grain market here today, Amarinder said it would be difficult for the people of Punjab to forget the reign of terror let loose by the Akalis on the followers of the Dera Sacha Sauda across the state.

(From right) Capt Amarinder Singh, Rajinder Kaur Bhattal and Preneet Kaur at a rally in Ghanour on Thursday. Tribune photo: Rajesh Sachar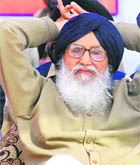 In Mehraj, CM talks of 'unprecedented' development
Bathinda, December 1
Chief Minister Parkash Singh Badal today held a rally at the ancestral village of PCC chief Capt Amarinder Singh. Though he severely criticised the Congress, he refrained from using indecent words in his speech against leaders of the opposition parties.


Chief Minister Parkash Singh Badal in a relaxed mood at Mehraj village in Bathinda on Thursday.

Another officer in election fray
Ludhiana, December 1
Yet another bureaucrat in the state is set to contest the coming assembly elections on the SAD ticket.



Manak was a humble man, recalls his native village
Jalal (Bathinda), December 1
Residents of Jalal, the native village of folk singer Kuldeep Manak, remember the " kaliyan da badshah" as a humble, down-to-earth man who had immense love for the village.





Kuldeep Manak


A first: EC to appoint police observers
Jalandhar, December 1
The Election Commission of India has decided to appoint police observers for the first time in the forthcoming assembly elections in Punjab.

'Role' in drugs trafficking


3 cops terminated
Moga, December 1
Police department has terminated three cops from the service for their alleged involvement in drugs trafficking and protecting the smugglers by collecting 'monthly' on the name of senior police officials.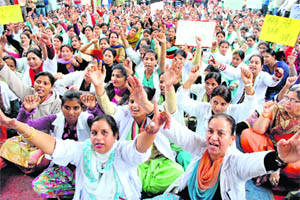 Members of the Rajindra Hospital Joint Action Committee hold a protest in support of their demands in Patiala on Thursday. Tribune photo: Rajesh Sachar
Teachers on strike, Punjabi University cancels exam
Patiala, December 1
Punjabi University, Patiala, cancelled the exam that was scheduled for December 1, as all government college teachers were on mass casual leave today in the wake of delay in the release of 40 per cent arrear to the teachers working in government colleges in Punjab. No classes were held in absence of teachers in all government colleges, including Government Mohindra College, Government Bikram College of Commerce and Government College for Girls.
Panel to monitor paid news in assembly poll
Fatehgarh Sahib, December 1
The forthcoming assembly elections would be conducted as per the guidelines of the Election Commission of India, which is very particular about defacement of property, paid news, use of drugs and intoxicants to lure voters and expenditure incurred by the candidates during elections, said Yashveer Mahajan, Deputy Commissioner-cum-District Election Officer, while presiding over a meeting of the district returning officers-cum-SDMs for three Assembly constituencies falling in the district.
4-yr-old found dead, residents damage factory
Ludhiana, December 1
Angry migrants vandalised a beverage factory after the body of a four-year-old boy, who was missing since November 26, was found floating in a septic tank of the unit at the Focal Point area here this evening.
Technical education convention from Dec 16
Fatehgarh Sahib, December 1
After a span of 15 years, the three-day annual convention of the Indian Society of Technical Education (ISTE) would be organised in Punjab from December16 at Baba Banda Singh Bahadur Engineering College in collaboration with Punjab Technical University, said Dr M S Grewal, principal of the college, while addressing mediapersons here today.


HC issues notices on Sunday market
Chandigarh, December 1
Acting on a petition to direct the Punjab government and other respondents to permanently remove illegal encroachments from Patiala roads during 'Sunday Market', the Punjab and Haryana High Court today issued notice of motion.
Hearing on info commissioners' case listed for January 7
Chandigarh, December 1
The fate of three information commissioners hangs in balance for the time being, as the State of Punjab's plea seeking modification of interim order could not come up for hearing before the Punjab and Haryana High Court. As the application was not listed, the case now stands adjourned to January 7.