Traders observe statewide bandh against FDI
Tribune Reporters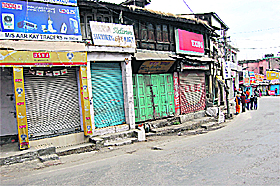 A market in Dharamsala wears a deserted look due to a bandh observed by traders against the FDI on Thursday. Photo: Kamaljeet
Shimla, December 1
All shops and commercial establishments remained closed throughout the day today as a complete bandh was observed in the town on a call given by the BJP and Left parties.
There was a complete bandh in the state capital as barring chemist shops no other commercial establishment remained open. The call for bandh had been given by the BJP and Left parties against allowing foreign direct investment (FDI) in the retail sector.
In fact, public transport was also partially affected as private bus operators did not ply their vehicles in the forenoon. This caused a lot of inconvenience to schoolchildren and office-goers. However, all banks and government institutions functioned normally.
KANGRA: All shops and business establishments remained closed in the Kangra valley on Thursday against the decision of the Cabinet on the FDI in the retail market in 53 cities of the country. However, the bandh remained peaceful.
Except chemist shops, all shops remained closed today in this temple town leaving the roads deserted and life paralysed. The call in support of the Bharat bandh was given by District Beopar Mandal chief Ved Prakash Sharma.
Schools and colleges functioned normally and work in offices and banks continued without disruption. Kangra district police chief DS Thakur said the bandh remained peaceful across the district.
Reports of bandh were received from Gaggal, Nagrota Bagwan, Shahpur, Haripur and Dharamsala, however, the bandh had a little impact in Dehra, Jawalamukhi and Ranital areas of the Dehra sub-division.
MANDI: In response to the joint Bharat bandh call given by traders against the FDI in retail, the CPM-CITU today staged a protest march in the town and raised slogans against the UPA government's decision.
Interestingly, though traders observed the complete bandh, but they did not hold any protest. HRTC and private buses were seen plied on roads.
BILASPUR: All shops and commercial establishments remained closed in Bilaspur town, Ghumarwin town and village centres in the district here on the call of the HP state Beopar Mandal, which earlier had decided to join the Bharat bandh call against the opening of 51 per cent FDI in retail by the Central government.
Bilaspur town Beopar Mandal president Sunil Tadu and convener Raj Paul Sankhyayan, and president of Ghumarwin town Beopar Mandal Hem Raj Sankhyayan said all traders resented the move by closing their business establishments and urged the Centre to withdraw its steps in this direction.
HAMIRPUR: The bandh call given by several trade organisations today to protest the Central government decision to allow 51 per cent FDI in retail, evoked a mixed response in Hamirpur district.
While this call had a good response in surrounding areas of Hamirpur, it had a partial response in Hamirpur.
Most of the shops and business establishments remained closed to join the bandh call, but many shopkeepers did their business as usual.
Shops remained closed in Sujanpur, Nadaun, Jahu, Bhoranj and Badsar areas.