Where imagination meets reality…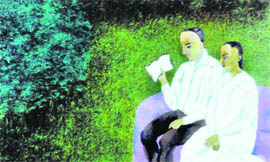 Landscape master Paramjit Singh, one of India's leading artists, is not a new name to City Beautiful. For it was in Chandigarh that his exhibition (some two years ago) was a complete sell-out, and it was here that he has held a workshop as also a slide lecture show before as well.


master strokes: Collaborative work by Paramjit and his wife Arpita Singh.
Small steps to big Screen
No matter how much you curse the rigged and melodramatic element of reality shows, we can't ignore that they are the best way to get noticed, really noticed — read Rakhi Sawant, Rahul Mahajan, Dolly Bindra and the latest one Sunny Leone! This is just the beginning.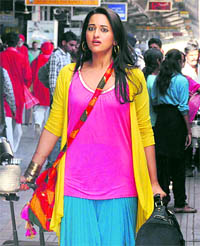 shoot out:

Sonakshi Sinha at the Chandigarh Railway Station, shooting for the movie Son of Sardar Photo: Parvesh Chauhan
COP-ing up well
Years ago when Dr AA Siddiqui, DGP Punjab (retd) and director of the Punjab Police Academy, decided to bring policing and Sufism together, it raised quite a few eyebrows. How does one mix khaki with the purity of white and why?
Sexiest man title is a joke: Cooper
Actor Bradley Cooper, who was recently awarded the sexiest man alive title by People magazine, says he doesn't take the tag too seriously.
Gyan Zone
Colours of passion
Art speaks volumes, not just about the subject but about its creator too. Such is the story of Subrata Deb. Hailing from a small town in Assam, his absence at Art Folio is compensated by the beauty of his works which speaks volumes about his passion for colours.
Southern delight
The South Indian Food Festival at Chennai Mirchi, Panchkula, has introduced 14 new kinds of dosas from Chennai in their original form. Food lovers can treat their tastebuds to the lip-smacking varieties.


Pun'jab' Sandeep Joshi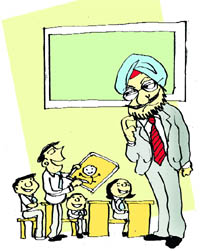 Net study:

I am not playing games, sir. I am studying on my I pad.
In PRINT
Few would be aware that the Government College of Art-10, Chandigarh, was the largest centre of print-making between 1977 and 1990. Till today, there was no facility available for the print-makers to take their art forward.
Bling for the bride
Weddings never cease to fascinate us. The size, the magnitude, the outfits, bags, shoes, jewellery, and above all the standard notch. The delight comes in when everything, top-of the line, in brands and quality, come packed and offer the best for the bride-to-be. In tune with the trends today, Luxury Wedding, an affair to remember, comes to JW Marriott.
Call of the Alps
When a long vacation is on the cards, can planning for an equally long getaway be far behind? So, on my last vacation, which was my summer break, I and my family packed our bags to visit Switzerland and France. Though I had been to Switzerland before, France was first time for me.
Dip in the green
Most children, who are sensitive to bitterness, often run away from eating greens but adding a small amount of dip to their serving of vegetables can tempt them to eating more of them, a new study has revealed. Research has found that sensitivity to bitterness could be one of the reasons why kids do not eat their vegetable and the reason is fairly common among children - about 70 per cent have it.
Star Track


No comparison, please


Words of wisdom


Sonam's style mantra


Shooting stars


Ranveer's sixer with Dhoni


Nothing Kool about it


Reaching out


Some 'leg' work!
Chatter Box


Reunited on TV


No comedy for Ali