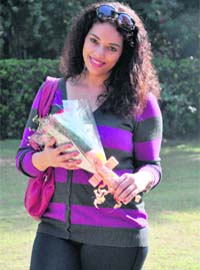 Beauty unveiled
'Sorry, could you repeat that again… Miss Pakistan World.' We tried to strain our ears…Did we hear it right, the woman greeting us on a lazy Sunday afternoon is the founder of Miss Pakistan World beauty pageant. It is bad manners to stare at someone blatantly but we couldn't help scanning her.
NECK to NECK!
It's been rather long, frustrating wait for winter. Albeit it's time for a change in the wardrobe, the weather this year is playing weird games. Even then, mufflers or scarves or stoles are round the corner and here are a few trends as well as styles to look out for.


Guide to style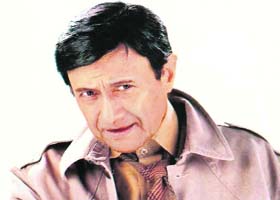 Dev Anand, the style icon of 1950s and 1960s, scripted a fashion statement with his scarves, mufflers and jackets and his singnature puff, inspired by his childhood ideal Gregory Peck. The newage designers describe him as a trendsetter and a mentor who gave a fillip to Bollywood fashion. Thanks to his good looks, further enhanced by his stylish wardrobe and on-screen romantic image portrayed in songs like Abhi na jao chodkar, Jia o and Khoya khoya chand, Dev Anand had girls swooning over him.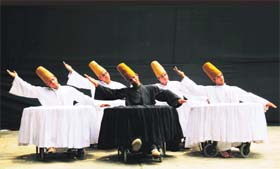 Crossing barriers
"Differently abled children don't need sympathy but opportunity", says Syed Sallauddin Pasha. Known as Father of Indian Therapeutic Theatre for persons with disabilities, Pasha has choreographed world class shows.
Real life on screen…
Real life friends enacting somewhat similar roles on an outdoor shoot - well, it's a script from real life. Nikhil Mehta, Garima Arora, Sehban Azim and Shabnam Pandey, who have been real life chums in Mumbai have landed a role in Pugmark Pictures' untitled venture.


The rich touch
For those who are in the restaurant industry, the word innovation was probably coined for them and so was something like Business Process Re Engineering. Now this might sound something new. If the curiosity is getting the better of you, take a trip down to the redone and reopened in new style and flavour Heritage - an English Boutique in Sector 35.

Cafe Big Ben is done up with wooden interiors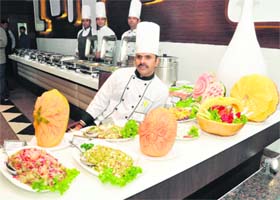 Aqua fun
With a soothing blue and white theme, Hotel KC Crossroads, Sector-10, Panchkula, has recently opened Aqua Blue, a multi-cuisine restaurant as its first step towards a fresh look. With a waterfall in the midst of the sitting area; one can just sit, relish sumptuous food and enjoy the sound of water at the same time. For a more comfortable and relaxed evening, there is a lounge-cum-bar with couches and dim lighting.
Time for Chinjabi food!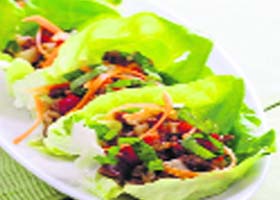 Forget Oriental and fine-tune your taste buds to Punjabi flavours, as Zazen (at Page 3 in Panchkula), the restaurant known for its far eastern zest, goes Chinjabi! Wondering about this new cuisine? Well, it's the mix of Chinese and Punjabi flavours, and the restaurant tosses up all in a 20-day food festival. Showcasing a harmonious blend of Punjabi tadka with Chinese vegetables, the festival is a tantalising journey of two cuisines blended into one, making it a palatable experience.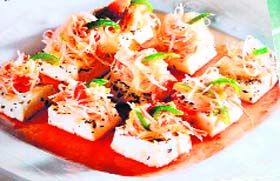 Master Chef
Twist of fusion
Our humble cottage cheese alias paneer like the potato is a versatile ingredient and can be served in many ways. Besides being nutritious it is quick to cook. Suitable garnishing and minimalist cooking is the key to a delectable paneer dish.
Modelling act!
High on ramp: Dipannita Sharma
The leggy and shapely beauty has done films like 16 December but has not really made a mark. She is happy modelling. Her big break is her role opposite Ranveer Singh in Ladies vs. Ricky Bahl.
Anushka on the ladies
Anushka Sharma is the clever and gorgeous leading lady of Ladies vs. Ricky Bahl but there are three other women in the film too. She talks about the women, their acting, casting, equations, and more.
Motherhood calls
As she prepares to turn 30 in April, actress Kirsten Dunst faces a dilemma. She says she is ready to have kids, but she worries that guys of her age might not be. The actress, who became a huge Hollywood star at age 12, said she even fantasises about what a quiet family life would be like in the countryside north of New York City.
Candid Conversation
Hiten Tejwani gets ready to make his big entry into the hit TV Show Pavitra Rishta. We catch up with him and find out about his fears and apprehensions about the big role he is stepping into.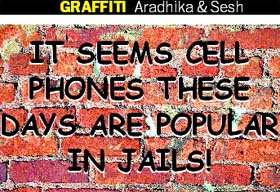 CHATTER BOX