Manpreet a selfish man: Harsimrat
Muktsar : Bathinda MP Harsimrat Kaur Badal continued her tirade against brother-in-law Manpreet Singh Badal, PPP chief, during her visits to various villages in Gidderbaha on Sunday.
No oppn, SAD to have a free run
Amritsar, December 4
With the co-option process in the new SGPC House set to take place here tomorrow, this will, probably, be the first time when the opposition will not be able to co-opt a single member, making the exercise a one-sided affair.
Badal comes out openly against FDI
Chandigarh, December 4
Feeling the pulse of the people, Chief Minister Parkash Singh Badal has come out openly against the foreign direct investment (FDI) policy of the Central Government. Earlier,Shiromani Akali Dal (SAD) president and Deputy CM Sukhbir Singh Badal had in a communication to the Centre welcomed the initiative, describing it "in the interest of Punjab".
No payments to retd staff
Bathinda, December 4
The state government has stopped some types of payments to the retired and serving employees through the treasuries by issuing orders verbally to treasury officers.
Panel for scrapping semester system
Mohali, December 4
The Punjab Education Policy Committee has recommended the scrapping of the semester system adopted by the PSEB two years ago. According to the committee, the system does not take into account the academic structure and requirements of the students.
PPP assures insurance for poor


Chandigarh, December 4
To ameliorate the living conditions of those suffering from life-threatening diseases, Manpreet Singh Badal, president, People's Party of Punjab (PPP), today promised health insurance to such persons.




Manpreet Badal
SAD leader Channi skips Badal's Sangat Darshan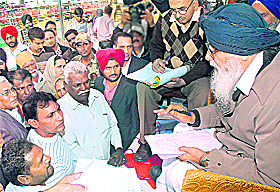 Jalandhar, December 4
The absence of Jalandhar district unit (urban) chief of the SAD Charanjit Singh Channi at the Chief Minister's Sangat Darshan programme in Shahpur village have raised many an eyebrow. Channi, an associate of Parkash Singh Badal for more than three decades, is a key contender for the SAD ticket from the Jalandhar (Cant) constituency.



Chief Minister Parkash Singh Badal listens to grievances of people during his Sangat Darshan at Aladinpur village in Jalandhar Cantt on Sunday. Tribune photo: Malkiat Singh


CM: No truth in vendetta charge


Shahpur (Jalandhar), December 4
Hitting out at PPCC chief Capt Amarinder Singh, Chief Minister Parkash Singh Badal today said there was not even an iota of truth in the accusations that Congress workers were framed in false cases. "The SAD-BJP government has not registered even a single case out of political vengeance against Congress or other political opponents. All through my political career, I have been a votary of morality in public life. I have always opposed political vendetta," he said.

Capt Amarinder's chopper drawing crowds too
Bathinda, December 4

Not only PPCC chief Capt Amarinder Singh but his helicopter too has become a crowd puller in rural areas this time round, with a large number of curious villagers turning up to have a glimpse of both their leader and his mode of transportation during his "Punjab Bachao Yatra" rallies.





Amarinder Singh's helicopter lands at Barnala. A Tribune photo

Cong's ideology a sham, says Sukhbir
Ludhiana, December 4


Accusing the Congress of adopting double standards, Deputy Chief Minister Sukhbir Badal today said on one side the party claims it follows the Gandhian ideology of non-violence whereas on the other its leadership has been allegedly preaching violence.




Deputy CM Sukhbir Badal addresses a rally at Detwal village in Ludhiana on Sunday. Tribune photo: Himanshu Mahajan


UPA govt most corrupt: Jaitley
Amritsar: Leader of Opposition in the Rajya Sabha Arun Jaitley has said FDI in retail is not in the country's interest and the UPA government must not go ahead with it.

Fatehgarh Sahib Ticket aspirants begin touring


Fatehgarh Sahib, December 4
In the wake of forthcoming Vidhan Sabha elections, SAD ticket aspirants have started touring the Fatehgarh Sahib constituency.

We will bring strong Lokpal, says Dayal
Bathinda, December 4
Dr Joginder Dayal, member of the CPI national executive, today said if voted to power, the Sanjha Morcha would form a five-member strong Lokpal to check corruption in a big way. The Vigilance Bureau would also be brought under the jurisdiction of the Lokpal, he added.





PCMS docs to hold protest in Chandigarh on Dec 9
Patiala, December 4
The Punjab Civil Medical Services (PCMS) doctors have decided to hold a protest in Chandigarh on December 9 against the non-implementation of their nine demands, which were accepted by the government in a meeting chaired by Chief Minister Parkash Singh Badal on November 5.

Resident docs step up stir
Patiala, December 4
On second day of their strike today, over 700 resident doctors in various government medical and dental colleges of the state further intensified their agitation with total suspension of emergency services, OPDs, operation theatres, ICU, ICCU and the labor room services.

More funds for health services sought
Patiala, December 4
The Rajindra Hospital Bachao Action Committee organised a convention here today to discuss the deteriorating quality of medical services in Government Medical College and Rajindra Hospital and TB and Chest Hospital of Patiala.

Need to strengthen health services, say pathologists
Patiala, December 4
As many as 1,010 pathologists registered themselves during the valedictory function of the annual conference of the International Academy of Pathology-Indian Division (IAP-ID) and the 60th national annual conference of the Indian Association of Pathologists and Microbiologists (IAPM) that was organised by the Department of Pathology of Government Medical College, Patiala.

RTI plea on expenses during Gobindpura stir turned
Mansa, December 4
While the farmers protesting against land acquisition at Gobindpura village in Mansa claim to have spent lakhs during their agitation, the police has turned down a plea filed under the RTI Act seeking to know information on the expenses incurred on the deployment of its personnel.

Keshopur Chambh to be on eco-tourism map
Keshopur Chamb, December 4
Punjab's famous 850-acre Keshopur Chamb wetland, known for attracting migratory birds from as far as Central Asia and Siberia, is all set to be declared an ecological tourist friendly area by the state government. Asian Development Bank (ADB), whose officials regularly visit the area, has already sanctioned a grant of Rs 5 crore, said Gurdaspur deputy commissioner Mohinder Singh Kainth.

Air travel to be part of poll expenses: EC
Moga, December 4
Candidates aspiring to contest the forthcoming assembly elections in Punjab may not be able to "fly high" in the hired aircraft and helicopters along with their party presidents or star campaigners because part of the cost of air travel will be included in their poll expenses after the notification of the elections.

Mukt-e-Minar in state of neglect
Muktsar, December 4
While the Badal government has inaugurated a number of Sikh historical monuments, memorials that were raised during the Congress regime are facing utter neglect. In February 2005, spending over Rs 5 crore, the then Amarinder Singh-led Punjab government, had raised a 81 ft-tall Mukt-e-Minar in memory of 40 Muktas (Sikh warriors who died fighting the Mughals in 1705) on the 301st anniversary of their martyrdom.





Man arrested with heroin worth Rs 5 cr
Nawanshahr, December 4
The district police today nabbed a drug smuggler, identified as Surinder Singh (62), alias Pardhan, of Mughal Chak village in Tarn Taran district, and recovered 1 kg of heroin worth Rs 5 crore from his possession.

BDPO held for fraud
Fazilka, December 4
Harikrishan Lal, block development and panchayat officer (BDPO), Rampura Phul, who was previously posted at Fazilka, and Nirmal Singh, senior assistant accountant (SAA), have been arrested on the charges of fraud and irregularities by the Sadar Police this morning.

Travel agents dupe Jhulka resident of Rs 4.65 lakh
Patiala, December 4
The police have registered a case against Gurdaspur and Chandigarh-based four travel agents for duping a resident of Jhulka of Rs 4.65 lakh.