Win in Haryana, take oath in Delhi
Ajay Banerjee
Tribune News Service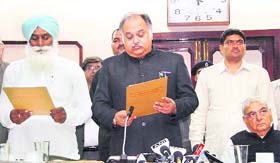 Haryana Speaker Kuldeep Sharma (R) administers the oath of office to MLA Jarnail Singh in New Delhi. Tribune photo
New Delhi, December 6
With newly elected Congress legislator from Ratia( Haryana), Jarnail Singh, administered the oath of office by the Speaker at the Haryana Bhavan here today, the Congress MLA has become the first legislator in the country to be administered oath outside the state where he won the election. The newly elected members are normally administered the oath in the state Assembly itself.
There are precedents, however, of Om Prakash Chautala taking the oath in 2005 from his hospital bed at the PGI, Chandigarh.
The other victorious candidate, Renuka Bishnoi, who won the Adampur byelection in Haryana was, however, conspicuous by her absence today.
The Haryana Chief Minister Bhupinder Singh Hooda, on being asked why Renuka Bishnoi was left out of the oath taking, said "only the Speaker can answer this". The Speaker said his father was seriously ill and admitted to the Intensive Care Unit of a hospital in Gurgaon and hence he could not leave his bedside.
It was decided to conduct the oath taking ceremony in Delhi, he claimed, following Jarnail Singh's request. "He ( the MLA) had requested that he wanted to take oath.. I decided the venue", the Speaker said. "Kuldeep Bishnoi was contacted by my office (to conduct the oath taking ceremony of Renuka Bishnoi) but he said he would reply latter after consulting family members," the Speaker said.
Bishnoi, when contacted, denied that the Speaker or his office called him up or Renuka Bishnoi about the schedule of the oath taking ceremony. "I received no call from anyone", Bishnoi told The Tribune while adding "I am surprised at the hurry to administer oath to Jarnail Singh, that too in Delhi". He said Renuka Bishnoi would take the oath in the Assembly itself.
The fresh war of words between Bishnoi and the Speaker comes in the wake of a legal duel they are already locked in. Bishnoi has petitioned the Speaker against five of his MLAs, who had defected from the HJC to join the Congress following the 2009 assembly polls, enabling the Congress to have a simple majority in the 90-member House besides paving the way for Bhupinder Singh Hooda to become Chief Minister for the second time.
Hooda rubbished OP Chautala's allegations that the Congress had purchased votes saying "He (Chautala) himself does that hence he thinks all others do it". On the win in Ratia he said it will have a big effect on state politics and was an indicator of the results in poll-bound Punjab and Uttar Pradesh. "The victory is the vote for development initiated by the Congress", he said.