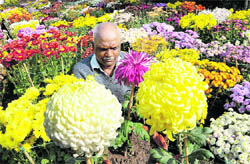 A gardener tends to chrysanthemums ahead of an annual show to commence at the Terraced Garden, Sector 33,Chandigarh, on Friday. Tribune photo: Manoj Mahajan
It's imported Scotch all the way in city
Chandigarh, December 7
Punjabis' love for "phoren" Scotch is official now. It seems to have replaced the erstwhile Indian spirits (read Whiskey) in the 'Patiala peg' of Chandigarhians. While the city has registered a decline in sales of Indian Manufactured Foreign Liquor (IMFL), "imported" Scotch brands have shown a reverse trend, with its consumption showing a whopping rise of 20 per cent from 84,000 litres in the first seven months of the previous year to 1.02 lakh litres in the corresponding period in the current fiscal.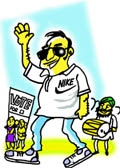 Local 'netas' woo in style
Chandigarh, December 7
Gone are the days when politicians loved their simplistic socialist look with rubber 'chappals', a 'khadi kurta' and a Gandhi 'topi'. Now, the style statement of the 'netas' has changed, at least for those contesting the civic polls in Chandigarh. It's all about designer clothes and shoes, besides iphones and Blackberrys, Rados and Rolexes, Toyotas and BMWs. Call it their love for expensive and stylish cloths or an act to grab attention, the 'netas' of Chandigarh are flaunting their best.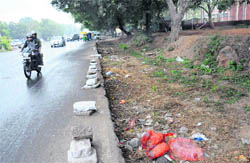 Smooth ride to Mullanpur
Chandigarh, December 7
For better connectivity of the UT with Mullanpur, the local administration will spend Rs 25 crore to lay a six-laned road from the PGI to Punjab's rapidly developing township.




Work on the six-laning of the PGI-Mullanpur road in progress. Tribune Photo: Manoj Mahajan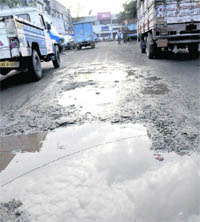 City Beautiful? Visit Industrial Area!
Chandigarh, December 7
Local industrialists are a peeved lot at the poor state of infrastructure at the Industrial Area here. With broken roads, poor sanitation conditions and dearth of parking lots and other civic amenities, Industrial Area does not seem to be a part of 'City Beautiful', say several industrialists, who are running their units at Phases I and II here, over neglect by the UT Administration.






A road stretch in poor condition, with vehicles parked along it, at Industrial Area in Chandigarh. Tribune Photo: Manoj Mahajan
Railways mulls third Shatabdi
Chandigarh, December 7
The Railways is mulling a third Shatabdi from the Chandigarh-New Delhi-Chandigarh sector to connect it with the Rajdhani trains plying between New Delhi and various metro cities across the country.
Civic amenities not up to mark, say residents of Phase X
Mohali, December 7
Though roads have been repaired in some areas of Phase X and condition of parks has improved, residents are still unhappy with the civic amenities provided by the municipal council.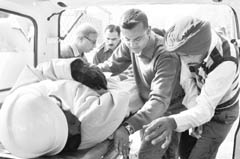 Efficiency of officials put to test
Mohali, December 7
A mock drill was conducted on the premises of M/s Phillips Electronics India Limited, Mohali, which is a accident prone unit. An emergency was declared in the propane storage area and all persons concerned were informed about the fire.


A dummy being taken to a hospital at Industrial Area, Mohali, on Wednesday. Tribune photo: Parvesh Chauhan
Administrator of civic body assumes charge
Mohali, December 7
For the first time the Mohali municipal council has got a full-time administrator. JC Sabharwal, a PCS officer, who took over the charge today said improving the state of sanitation was his top most priority.
No breakthrough in case so far
Panchkula, December 7
A day after two unidentified women took away a male newborn from the local General Hospital, the police is still groping in the dark. While teams, including the Crime Investigation Agency, Cyber Cell and police station staff, remained busy identifying the accused, no breakthrough could be achieved in the incident.
Amount sanctioned in Jan 2011, no overpass yet
Chandigarh, December 7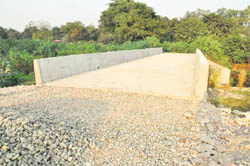 The much-awaited overpass for connecting the internal area of the Sports Complex, Sector 42, with the kho-kho court has yet to see the light. The engineering department, which has been assigned to construct a proper viaduct January this year, has not completed the work yet, leaving the players to wait for some more time for accessing the courts through the stadium. However, the concerned officials said the box type culvert has already been built and the work to extend it to the courts, after constructing a small connecting road, will start.
MC Polls 2011
Sun is out again, so are candidates
13 warned for not reporting on poll duty
Only one pledge, says Anna man
Tipsy youths create ruckus at vend
Shops, factories to be shut on Dec 17
Seven get notices on banners and posters
Youth attacked at Mauli Jagran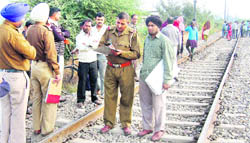 Man hit by train, dies
Chandigarh, December 7
Sukhdev (22), a native of Khushipur, Uttar Pradesh, was hit by Duronto train in Industrial Area, Phase II, here this morning. According to the railway police, the victim was going to his work place when the accident occurred.
Police officials inspect the site where an accident occurred near Industrial Area, Phase II, Chandigarh on Wednesday morning. Tribune photo: Manoj Mahajan
Teachers of 67 colleges go on strike
Chandigarh, December 7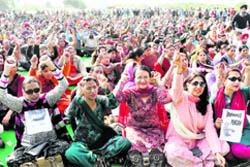 The ongoing half-yearly exams in seven non-government colleges of Chandigarh and over 60 colleges of Punjab on December 8 and 9 is going to get postponed due to the ongoing joint strike of teachers. Work in colleges in the city came to a standstill today with the teachers' protest in Sector 25 on the call of the Joint Action Committee (JAC). Agitated over long-pending demands, teachers staged a protest and gave their arrests.
Teachers of government-aided colleges from Punjab and Chandigarh stage a protest in support of their demands at Sector 25 in Chandigarh on Wednesday. tribune photo: parvesh chauhan
DAV College drama continues
Chandigarh, December 7
The drama over the principal of DAV College, Sector 10, doesn't seem to end. After giving the officiating charge to Shashi Gupta on November 30 the DAV management today decided to appoint AK Nanda as the new officiating principal of the college.