Brush with the screen
Seven youngsters from Chandigarh will be playing a part in Karan Johar's next venture, Student of the Year. We catch up with a few…

Films tend to always leave a bit of their stardust on the common man. Wherever the cast and crew of any upcoming film go, everyone flocks around to catch a glimpse and a lucky few manage a role in the movie! Chandigarh boasts of seven youngsters who will be playing a part in Karan Johar's next venture, Student of the Year.

FIRST STEPS: (L-R) Venus Sharma, Shubhi Aggarwal, Karan Johar, Ritika Kamboj and Vikas Kamboj

Keep emotions at bay
When at work, it's quintessential to keep personal talk to the minimum and thereby maintain a dynamic balance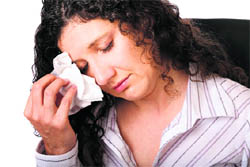 A co-worker eternally talking about his new born (and what a genius he is), another always boasting of his academic credentials, yet another on how difficult her would-be-in-laws are…well, though everyone harps on professionalism at the work place, it's not always possible to split our professional and personal lives! A recent survey says, "Swedes are breaking down the barriers between their work and private lives by showing more emotion on the job."

Kangana is never wrong
Actress Kangana Ranaut has no qualms in admitting that she is stubborn and that she never accepts her mistakes. "I don't accept my mistakes. I never say I'm wrong, not even if I'm hanged," she confessed on UTV Stars' show Live My Life.
Aamir sets a new trend again…
Aamir Khan can do anything as he is the one whom people follow because of his message-filled movies and now after getting a child through surrogacy and IVF, Aamir Khan has sent a great message in real life too.

Ready for B-town!
Tom Cruise has said that he has seen a few Hindi movies (though he cannot point the names) and that he would love to be part of one. We wonder if Bollywood will be able to afford him, though as the dashing superstar makes millions of dollars per movie!
Bollywood dreams
National award winning actor Mithun Chakraborty, who has been in the industry for almost 36 years, feels that only talent that can help an individual carve a niche in Bollywood.
Space issues
Director Kunal Kohli had trouble finding space for shooting a qawwali that's filmed on Shahid and Priyanka. Kunal needed ample space to put up a set for the next schedule of his film, but he couldn't find it here so had to scurry to Madh Island to build his set.

It's a steal for Sofia
Filmmaker Sofia Coppola is reportedly planning to make a movie about the young burglars who raided the Hollywood homes of Paris Hilton, Lindsay Lohan and Orlando Bloom. The group, known as the Hollywood Bling Ring, was believed to be responsible for a string of celebrity break-ins in 2008 and 2009 allegedly stealing designer clothing, jewellery and cash from victims including actress Rachel Bilson and reality TV star Audrina Patridge.
Guetta on hall of fame
French DJ David Guetta has become the first musician to be inducted into a new hall of fame in Hollywood.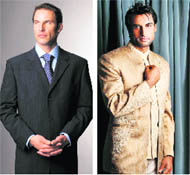 Suit-ed for men!
With the arrival of winter, here's checking out the latest trends in suits
Fashion trends for men are greatly different from women, but they do exist! Though their cycle of clothing moves slower than women, the style is definite and stays for long. And this holds true for men suits as well. For long, it has been all about slim and skinny cuts for men but as the fall 2011 fashion rolls along, though skinny won't be out, the suit statement is all about a cut that compliments the male physique, a suit that broadens the shoulders and trims the waist, highlighting an exercised body.  
trendsetter
Carefully casual
Every person has a sense of style. Yet there are only few who'd attract the second glances, who have the power to make the camera go zoom on them. It could be the tousled hair, it could be the torn jeans. Our this week's face in the crowd Pallavi, MSc student, Panjab University, loves trying every conceivable piece of clothing possible and yet retain her individuality.
Doc Talk
Ray of hope
Laser skin rejuvenation or laser peel (as it is popularly called) is the latest and revolutionary anti-aging technique that uses lasers to reduce the effects of ageing on the skin. The technique is particularly effective on the skin of the face and neck but can be used on any area of skin.  Laser rejuvenation is primarily used for the treatment of wrinkles and freckles, open pores, sun damage, pigmentation, rough skin, lax skin and acne scar marks on the face.
One for the dude
Bromance application to help 'lonely' men bond with likeminded people
A new application, dubbed 'bromance', which will help likeminded 'straight' men to bond with each other and form a platonic friendship is all set to hit the markets. Pegged as an application designed for the 'dude that does', Bromance is a location-based social networking device that will allow users post an activity to the app so that nearby users can respond and join.
chatter box
Live like a man
As if beating up a contestant while shooting her latest reality show Steal Ur Girlfriend for Channel [V] wasn't enough! Kashmera Shah, who anchors it in true-blue chick-flick style, has now turned into a man for it. Yes! You heard it right! Kash has disguised herself as a guy for the latest episode of the show. Ask her why and she shoots, "Sometimes you have to think like the enemy to win the war. I am not interested in small relationship battles, but more in knowing what makes men think and behave in a certain way. Moreover, some girls are pretty stubborn and can only be convinced by men. Hence, I had to disguise myself to fool one such girl and give her the much-needed advice from a 'man'.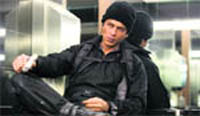 Inspired act
We are sorry but the music of Don 2 seems dull. Nothing has caught on. The movie might be fun because of Farhan Akhtar and SRK's mean streak but we think it will be a rehash of many Hollywood blockbusters and the Mission: Impossible series. So many portions look lifted.
Mean streak: Shah Rukh Khan in Don 2

Punjabi turns Maharashtrian
Raveena Tandon plays a rural Maharashtrian in her next film and she is learning the language and the dialect. Raveena is Punjabi but is learning the language pretty well.

New role: Raveena Tandon
Grand opening
Vidya Balan's The Dirty Picture (Yes, the film is all about her and her assets) has grossed a record Rs 32.7 crore in its opening weekend. A success party is in order. It is one of the top 10 industry openers of all time.
Pretty picture: Vidya Balan
Bipasha Daggubatti together?
Bipasha Basu and good friend Rana Daggubatti are going for the Sunburn Festival in Goa together. They are revisiting the place where they first met while shooting for Dum Maaro Dum in 2010. They are reportedly dating each other.
Dating time: Bipasha Basu and Rana Daggubatti