Restro chic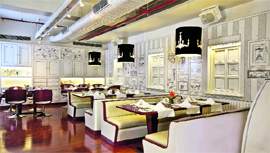 There could be a number of reasons behind you preferring a particular hotel or restaurant and food would undeniably be the first one. But do interiors make you zero-in on a particular place? We get inside a few joints! In fact, hotels and restaurants in Chandigarh are putting a lot of emphasis on the décor and coming up with unique elements in design.

The caricatured walls at Smoke House Deli
Shor in the city
Everyone dreams of making it big in the city of their dreams. Ankush Safaya is one such person who grew up in the open spaces and vibrant colours of Punjab. At the age of 26 with a plush job in hand, he was still searching for something that he could never find in the rich city of Delhi.


Graffiti Aradhika & Sesh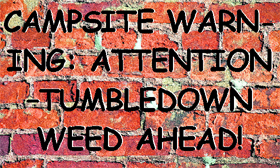 Small voice, big dreams
Sunday is supposed to be a lazy day but this one saw a lot of fun and activities happening at one of the dealership showroom of Volkswagen cars in Mohali where a kid's carnival was organised.
Gyan Zone
Creative cuts
Marriage season hasn't gone anyway, and the festival season is only heating up with Christmas and New Years around the corner, not to forget Chandigarh's most awaited Winter Ball. So, this seems just the right time to take a good look at your wardrobe, make a good number of additions and a few deletions as well.
Sparkling night fever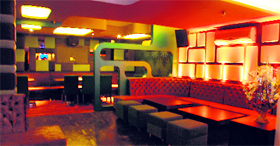 Like fashion, the hospitality is also believes in inventing new trends. Whether this has to do with coming up with innovative names for hotels and restaurants, creating new interiors or whipping up a new menu. One place to incorporate most of these elements is Manor, fine dining restaurant and their night club and Lounge, Crystal sector-26.

Electric Moments: Crystal Lounge
Roll over adventure
Imagine the thought of rappelling down from a 40 feet wall or finding your way without a compass and swirling 50 feet above the ground. And think of doing all this under the guidance of experts in the comfort of a school.
The joy & celebration
When some good old traditions get revived, leading to merry-making while being precursors to important festivals, they become very popular. Ludhiana is one place where people like to celebrate any occasion with pomp and show.
Street smart
Every person has a sense of style in his own right. Yet there are only few who attract the second glances, and who have the power to make the camera go zoom on them. It could be tousled hair, it could be torn jeans.
A class act
" Honhaar virvaan ke hot hain chikne paat… (Coming events cast their shadows before) " comes true for young prodigious Tanushri Roy, the talented danseuse, ace sports champion, painter , writer and a sincere student of the Mother's International School, Delhi.
Star Track


Five star treatment


Morning wonders


Business move


Charity begins


Exploring Spirituality


Action song


Vocally correct


Raima loves books
Chatter Box
Things stars always carry
Food bag: Pooja Gor I always carry my bag, two cell phones, wallet that has all my cards and money, bottle of water and packet of biscuits. I keep a small bottle of water in my bag.