CPM raps Dhumal government for favouring IPL
Shimla, December 11
Alleging a nexus between leaders of the BJP and Congress in protecting the Board of Cricket Control in India (BCCI) and its sponsored Indian Premiere League (IPL), the state unit of the CPM has asked the BJP to explain the haste in awarding a honorary degree to an official of the controversial sports organisation.
Kalgidhar Trust to establish varsity at Talwandi Sabo
Solan, December 11
The Kalgidhar Trust/Society, Baru Sahib would soon set up its second university at Talwandi Sabo in Bathinda, Punjab.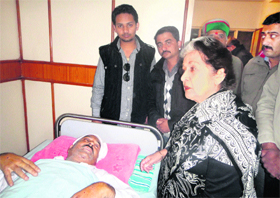 Congress CLP leader Vidya Stokes visits state Congress chief Kaul Singh Thakur, who was injured in a car accident, at the IGMC Hospital in Shimla on Sunday. Photo: Amit Kanwar
Single teacher for 150 students
Chamba, December 11
Believe it or not but a government middle school in Toor under the Brehi gram panchayat in the Gaddi-dominated belt of Chamba district is being run by a single teacher.
Statewide sterilisation drive to check monkey menace
Reward fails to evince residents' response
Mandi, December 11
Catch a monkey and get Rs 500! In a major statewide sterilisation drive to check the monkey menace in the state, the state Forest Department has asked residents and professionals to catch monkeys and get money for the same. But the response has been lukewarm so far.
Congress supports district status for Nurpur
Nurpur, December 11
The statement of Irrigation and Public Health (IPH) Minister Ravinder Ravi supporting the creation of new districts recently at Dharamsala has generated political heat here as inhabitants of Nurpur subdivision are having a longstanding demand of getting district status for the subdivision.
MCQ test held for sharpening intellect of students
Kangra, December 11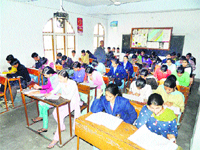 Thousands of students from different government and private schools of Kangra, Chamba and Mandi districts today took a multiple-choice question competition organised by the local branch of the Vivekananda Kendra, Kanyakumari, a spiritually oriented service mission, here today.



Students take the MCQ examination in Kangra on Sunday. Photo: Ashok Raina

AIDS society staff seek regularisation of services
Hamirpur, December 11
Contractual employees working in the State AIDS Control Society have urged the state government to fulfil their long-pending demands, including regularisation of their services after the completion of eight years.
Rs 15 cr spent on education of poor students: Dy Speaker
Bilaspur, December 11
The state government has spent over Rs 15 crore on providing free textbooks and stipends to deserving poor students up to eighth class during the past three years here in district and ensured that the recently adopted "Right to Education" is properly introduced by electing the School Management Committees of parents and guardians in every school.
Pensioners' society to honour octogenarian members
Shimla, December 11
The Himachal Pradesh Agriculture University Pensioners' Welfare Society, Palampur, has decided to honour its octogenarian members, including Dr HR Kalia, founder Vice-Chancellor, Dr DR Thakur, former Pro Vice-Chancellor, DD Sharma of Solan and Sobha Ram of Kullu, at the annual convention being held on December 22 at 11 am in the university auditorium.
Truck operators warn cement plant mgmt
Bilaspur, December 11
All the five truck operators cooperative societies of Bilaspur and Solan districts, working for cement loading work at the JP Baga cement plant on the border of the district, have warned the JP management against opening of bulk cement dumps anywhere in Himachal Pradesh for the dispatch of cement from the factory and have unanimously decided to do loading and carrying of cement right from the factory to the purchaser direct.
Residents support Anna's hunger strike

Mandi, December 11
Local residents today sat on a day-long strike in support of Anna Hazare's day-long hunger strike at New Delhi against the UPA government's move on the Jan Lokpal Bill. More than a dozen supporters of Anna Hazare sat on a strike at Chandani Munch and raised slogans against corruption and in support of Anna Hazare.

Members of the India Against Corruption hold a hunger strike in support of Anna Hazare at The Ridge in Shimla on Sunday. Photo: Amit Kanwar

MLA seeks arrest of state road transport corporation driver's killers
Shimla, December 11
The MLA from Rohru, Khushi Ram Balnatah, has expressed concern over the manner in which the police allowed the miscreants, who allegedly killed driver of the state road transport corporation Suresh Kumar, to escape and demanded arrest of the culprits.
| | |
| --- | --- |
| | Tourists throng the Snow Point at Solang Valley, near Manali, to enjoy snow on Sunday. Photo: MC Thakur |