No lessons learnt in Shimla
Pratibha Chauhan
Tribune News Service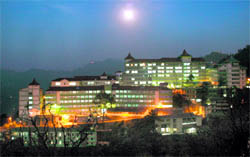 Indira Gandhi Medical College in Shimla. Photo: Amit Kanwar

Shimla, December 10
With several elegant heritage buildings having been gutted in devastating fires in the erstwhile summer capital of the British, inadequate fire safety arrangements at the all-wooden Kamla Nehru and Deen Dayal Upadhyaya Hospital here could put to risk the life of patients as well as staff in case of even a small spark.
The apathy of the authorities towards fire safety can be gauged from the fact that the old block of Kamla Nehru Hospital (KNH), housing the gynaecology wing of the Indira Gandhi Medical College (IGMC), has no fire fighting and alarm system in place.
This completely old wooden building known as Lady Reading Hospital since British times has general wards, special wards, operation theatres as well as the kitchen.
It appears that the fact that the old wing of the Snowdon Hospital was gutted in a major fire in 1982 - even though nobody died or was injured - has not made the authorities any wiser.
Old timers still reminisce the manner in which one of the most beautiful heritage buildings of the town, the army hospital "Walker" was reduced to ashes almost a decade ago.
The situation at the Ripon Hospital, rechristened Deen Dayal Upadhyaya Hospital, is no different. Located just above the Cart Road in a thickly populated area, the wooden building is dependent only on fire extinguishers with no modern fire-fighting mechanism, despite the fact that it has 300 patients at any given time.
"Sensing the need for proper fire safety arrangements, we are planning to install a system at the old block of KNH," admitted Kulbhushan, SDO (Electrical), in charge of fire-safety measures. He added that the new block was fully equipped in this regard.
It is only the IGMC, with a capacity of over 800 beds, which has been equipped with a modern wet-riser system, ideal for high-rise buildings.
"Apart from ensuring that the tanks, hydrants and all pipes are in good working condition, we hold mock drills and training for staff," said Dr Ramesh, Deputy Medical Superintendent of the IGMC.
He added that the hospital has several exits and wide corridors in case of a fire.
Chief Fire Officer MS Sonkhla claimed that the Fire Services Department inspects and gives suggestions to all government institutions who seek its advice.
The handful of private hospitals here too do not have modern foolproof fire-fighting systems as there is no mechanism in place for regular checks.
Shortage of staff, insufficient number of fire stations and lack of modern equipment renders the Fire Department incapable of constantly checking government institutions or enforcing the rules strictly.
Even though the burning of coal or wood in 'angithis' has been banned in all government buildings, yet over 100 landmark British-era buildings have been lost to major fires in the state capital.