Anna hardens stance but PM tells him not to fret
Says Lokpal Bill will be introduced in this session of Parliament
Tribune News Service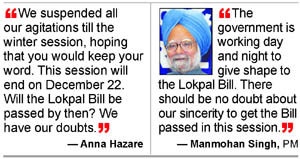 New Delhi, December 17
Shortly after Anna Hazare shot off another letter to Prime Minister Manmohan Singh and reiterated his threat to go ahead with his fast and "jail bharo" agitation, the PM today said the government was working "day and night" to give shape to the Lokpal Bill and will make all efforts to pass it in the ongoing winter session of Parliament, which concludes on December 22.
While underlining that his government is determined to bring the anti-graft Bill to Parliament in the ongoing session, the Prime Minister also said that he could not speculate about what would happen in Parliament.
"Once the Bill is in Parliament, it is in the hands of Parliament, we don't know what could happen but there should be no doubt about our sincerity to get the Bill passed in this session," he told mediapersons on his way back from Moscow.
The government proposes to table the Bill in the Lok Sabha on December 20. Earlier, in his latest letter to the PM, Anna said he was doubtful whether the Lokpal Bill would be passed in this session of Parliament and threatened to go ahead with his agitation if the government failed to honour its commitment.
Alleging that the government's behaviour was "not at all right", Anna asked the PM why he had changed his stand on Citizens' Charter despite giving a written assurance that it would be a part of the Lokpal Bill. He also demanded that the CBI's investigative wing be placed under the Lokpal. He said no government would want to give away the control over the premier investigation agency for political reasons. "Does it mean that the Lokpal will not have an investigative agency. Without an investigative agency, what will it do? If that's the case, then we don't need a Lokpal," he said. He alleged the CBI has always been misused, irrespective of the political party in power.
According to the draft Bill, the government provides for full autonomy to the CBI but retains administrative control over it. The Lokpal will be given powers to monitor the corruption cases referred to the CBI by the ombudsman. The UPA has agreed to the BJP suggestion that the CBI director be appointed by a panel comprising the PM, leader of Opposition and head of a constitutional body.
The government, it is learnt, has already accepted the demand for inclusion of the PM under the Lokpal. Complaints against the PM will be processed if three-fourths of the members of the Lokpal agree to it and the proceedings will be held in camera.
The Bill is also likely to make the Lokpal accountable to Parliament and can be impeached if over 100 MPs sign a petition against a member of the anti-graft ombudsman body.