Now, GPS-enabled trucks to carry atta, dal supply
Chandigarh, December 17
Food and Civil Supplies and Information Technology Minister Adaish Pratap Singh Kairon today said the Food & Civil Supplies Department had initiated a scheme to ensure transparency in the atta-dal scheme by involving people in the pubic distribution system.
Appointment of jathedars
SGPC fails to frame guidelines
Amritsar, December 17
Even as the then Akal Takht Jathedar Joginder Singh Vedanti had issued directions to the SGPC way back in 2000 to frame guidelines regarding appointment, removal and working sphere of jathedars of all five Takhts, the "mini-parliament" of Sikhs has failed to make any headway in this direction.
| | |
| --- | --- |
| | The three-day National Livestock Championship started at the Guru Gobind Singh Sports Stadium in Muktsar on Saturday. Nearly 3,000 animal owners from Punjab and its neighbouring states are participating in the event. Prizes worth Rs 55 lakh will be given to the owners of the winning animals. A Tribune photograph |

SAD rally: All roads lead to Moga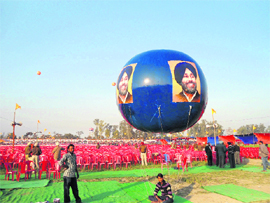 Killi Chahal (Moga), Dec 17
The Shiromani Akali Dal (SAD) leadership appears to have pulled out all stops to make tomorrow's rally here a success. A visit to this hitherto unknown village found hundreds of SAD activists engaged in making last-minute arrangements at the venue, which gave the look of a mini township.



Akali Dal workers and policemen at the party's rally venue in Killi Chahal village of Moga on Saturday. A Tribune photograph

Chief secy, EC pass buck on 'misuse' of official machinery
Chandigarh, December 17
The alleged misuse of government machinery for making arrangements for the SAD's rally at Kili Chahal village in Moga tomorrow may go unnoticed as Chief Secretary SC Agrawal has said he would not be able to take any action unless directed by the Election Commission.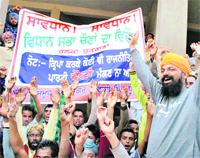 The residents of Dhuhar village in Patiala have put up a hoarding that reads: "No politician should come to us seeking our votes for the Shatrana assembly segment". They rue various governments have "ignored" the area in terms of development. Tribune photo: Rajesh Sachar
Hold such event after code, Capt dares Sukhbir
Chandigarh, December 17
Ridiculing Deputy Chief Minister Sukhbir Badal for seeking proof related to the alleged misuse of official machinery for tomorrow's Moga rally, Punjab Pradesh Congress Committee president Capt Amarinder Singh today challenged the SAD president to hold such a rally once the election code of conduct came into force.
Brar banking on personal touch with people
The Baghapurana assembly constituency in Moga district is likely to witness a direct contest between the ruling SAD and the Congress. Sitting Congress MLA Darshan Singh Brar, frontrunner for the party ticket, is looking forward for his re-election banking on the anti-incumbency factor and his personal touch with the people.
Poll Snippets


6 protesting teachers climb atop water tank


Union Govt delaying projects, alleges SAD


More BJP workers join hunger strike in Batala

BJP to contest 23 seats, says Shanta
Amritsar, December 17
The BJP will contest the coming assembly elections from 23 seats and would announce its candidates the month-end, said party's Punjab affairs incharge Shanta Kumar during his visit to the holy city today.
Cops gear up to control traffic on highways
Moga, December 17
Civil and police administration has geared up to manage traffic on the national and state highways almost in the entire state, including the main link routes in Moga, Ferozepur, Barnala, Faridkot and Ludhiana districts, for the ruling SAD's "mega" show of strength at Kili Chahal village tomorrow.
Fearing violence in polls, Congress writes to EC
Patiala, December 17
Even as the police has initiated the process of physical verification of arms in the state, the Congress has alleged that a large number of Akali workers have procured arms licences this year.
Preneet launches health awareness project
Badshapur (Patran), December 17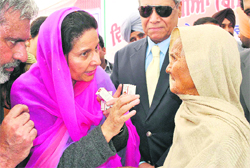 From schoolgirls to housewives, Punjab is facing a serious problem of anaemia, which is more prevalent in the women folk. With these words, Minister of State for External Affairs, Preneet Kaur, has said that she is extremely pained to notice that women in almost all the villages are having iron deficiency.



Union Minister of State for External Affairs Preneet Kaur gives medicines to an old woman at village Badshapur on Saturday. Tribune photo: Rajesh Sachar

Cops to vote through postal ballot
Patiala, December 17
Punjab policemen ranking from constable and above, having almost 75,000 votes, will be able to exercise their right to franchise through postal ballot.


poll Bugle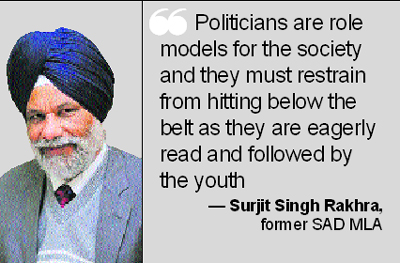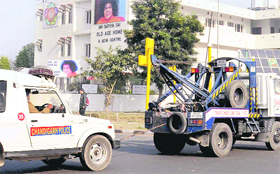 A police Gypsy, which broke down during the Municipal Corporation elections duty, being towed away at Sector 29-30 dividing road in Chandigarh on Saturday. —Tribune photo: Manoj Mahajan
More leave for teachers
Chandigarh December 17
Over 13,500 teachers working under the Sarva Shiksha Abhiyan (SSA) and Rashtriya Madhyamik Shiksha Abhiyan (RMSA) across the state will now get 15 annual casual leaves as against the earlier 10.
WB delegation inspects water supply scheme
Fatehgarh Sahib, December 17
A 29-member delegation of the World Bank, headed by Elizabeth Kleemeier, USA, Shamil Sarkar, Task Team Leader, World Bank India, Dr Kurian, Netherlands, Abul Kaivm, Muhammad Shamsul Huq Bhuiyan and Mohammad Saifur Rahman from Bangladesh along with officers of different States of India, visited Manhera Jattan village to take stock of the 24-hour pure drinking water supply being provided by the Gram Panchayat Water Supply and Sanitation Committee (GPWSC).
Lab technicians' strike
Patients forced to visit private labs
Patiala, December 17
Patients coming to Government Rajindra Hospital, Patiala, are in a fix as the lab technicians are on strike for the past five days. As a result, no tests are being done in the hospital and patients are forced to go to private laboratories, which are charging 10 to 20 times more money than the government hospitals.
Farmers' body mobilises MPs on agri reforms
Mohali, December 17
The Consortium of Indian Farmers' Association (CIFA) is mobilising Members of Parliament (MPs), both in the Lok Sabha and the Rajya Sabha, on the issue of immediate reforms in the agriculture sector.
High input costs, dipping profits hit farmers hard
Patiala, December 17
With farmers in the state resorting to all sorts of tactics, including dharnas, to protest against the state government's alleged injustice against them, the financial situation of the farmers and land tillers has gone from bad to worse. With the hike of Rs 50 announced in the MSP this year, the input cost has increased manifolds due to increasing prices of numerous commodities.
Govt knowingly delaying revision of grades: Health dept employees
Patiala, December 17
With the Election Code of Conduct likely to come into force anytime in the state, employees of the Health and Family Welfare Department and Department of Medical Education and Research, including PCMS doctors, lady health visitors, pharmacists, multipurpose health workers, nurses, junior doctors and lab technicians, alleged that the government was deliberately causing delay in accepting their demands and waiting for the result of the 2012 assembly elections to decide over this issue.
DC for inquiry into sale of MC land
Fatehgarh Sahib, December 17
The sale of land measuring five bighas and two biswas by the Sirhind-Fatehgarh Sahib Municipal Council through auction for Rs 1.14 crore has come under a cloud.
Students eager to migrate to foreign countries: Expert
Fatehgarh Sahib, December 17
Indian technical institutions are desperate for foreign tie-ups, whereas students look desperate for migrating to foreign countries, said Dr Hema Sharda, Director, South Asia Relation, University of West Australia, while addressing the delegates on the 2nd day of 41st annual convention of the Indian Society for Technical Education here today.