3 women among 5 held with stolen laptops, mobile phones
Patiala, December 16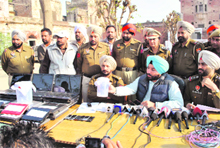 The Patiala police today claimed to have arrested five members of a gang, including three women and two children, involved in thefts and robberies in parts of Punjab and Haryana and recovered two-dozen laptops, six mobile phones and a .315 bore pistol from their possession.


SSP Gurpreet Singh Gill addressing mediapersons after arresting five members of a gang in Patiala on Friday. Tribune photo: Rajesh Sachar

Punjab Roadways buses go off road
Chandigarh, December 16
Commuters were put to great hardship as state-owned Punjab Roadways employees, including drivers and conductors, today observed a daylong strike, seeking higher wages.The Punjab Roadways has a fleet of over 1,800 buses. "The strike was complete and no state-owned bus is plying in and out from the state," said Punjab Roadways Workers' Union general secretary Mangat Singh.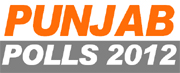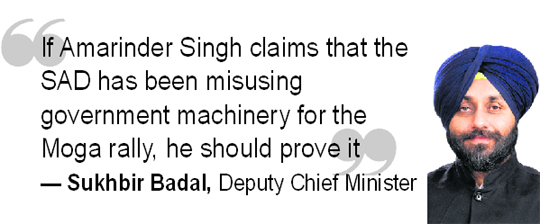 20,000 policemen descend on Moga for SAD rally
Kili Chahal, December 16
As many as 20,000 police personnel, including hundreds of women, have been deployed at the venue of the much-publicised Shiromani Akali Dal (SAD) rally at Kili Chahal village in Moga district on December 18.
Policemen await orders at the SAD rally site in Moga's Kili Chahal village Tribune photos
seat Swapping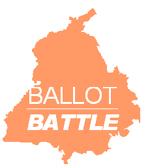 Resentment brewing in SAD, BJP cadres
Amritsar, December 16
The proposed swapping of newly carved out Amritsar (East) constituency and Batala assembly seat between the ruling alliance partners doesn't seem to have gone down well with the SAD and the BJP cadres in these constituencies.
BJP facing rough weather here
Traditionally a Congress bastion, the Jalandhar (West) constituency saw a change in the 1997 elections when BJP's Chunni Lal Bhagat won, defeating Congress' Mohinder Singh Kaypee with a margin of 7 per cent votes. The constituency had been ruled by the Kaypee family since the 1980s.
Varying shades of party loyalty
Chandigarh, December 16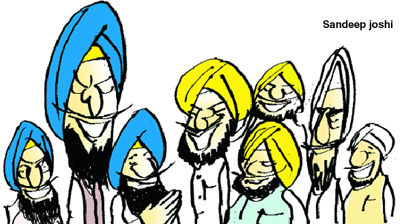 The colour of the turban has become a political narrative, each symbolising the wearer's alliance with a particular party. All Congress men tie the white turban. White is a part of the dress code prescribed for the Congress leaders by the party high command and most senior Congress leaders religiously follow this dress code.
Need to end vendetta politics, says Manpreet
Khanna, December 16
People's Party of Punjab (PPP) president and Sanjha Morcha chairman Manpreet Singh Badal today underscored the need to end vendetta politics in Punjab.
Cong draft manifesto ready
Chandigarh, December 16
The Punjab Congress has finalised its draft manifesto that has proposed special measures for the poor and the unemployed besides promising continuation of the free power and 'aata dal' schemes.
PCC woos ex-servicemen ahead of assembly poll
Chandigarh, December 16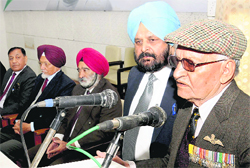 On the occasion of Vijay Divas, the Congress' Punjab unit today tried to woo ex-servicemen ahead of the coming assembly polls. While party's national secretary Praveen Dawar said that former soldiers had the capacity to stand as party candidates on their own merit, the Punjab Congress Committee promised institution of a separate department under the Chief Minister to look into their issues in case it was voted to power.

Air Marshal Randhir Singh (retd) with Congress Ex-servicemen Cell convener Capt GS Jawandha (retd) at a function in Chandigarh on Friday. Tribune photo: Manoj Mahajan



'RTE to benefit children with special needs'
Chandigarh, December 16
The Right to Education was laying special focus on bringing children with special needs in the mainstream education and Punjab had taken the lead by enrolling such 99,853 students, claimed Secretary (School Education) Husan Lal.
Ailing industry sees cure in shifting base
Patiala, December 16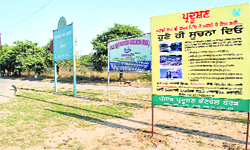 With the SAD-BJP government "ignoring" the industry in the state, a number of industrial units have started migrating to other states, which are offering massive tax concession. Perturbed over the indifferent attitude of the government, a majority of the industrialists rue that while the farming sector is being given power subsidy and other concessions, the industrial sector is being ignored.

The entrance of the Industrial Focal Point in Patiala. Tribune photo: Rajesh Sachar

Six-year-old boy killed, 10 hurt in mishap
Fatehgarh Sahib, December 16
A six-year-old boy was killed and 10 others were injured when buses of Lemon World School, Landran, and Continental Group of Institutions, Jalbehra, collided head-on at Chuni village on Fatehgarh Sahib-Chandigarh highway today morning.
Stay on PUNSUP recruitment
Chandigarh, December 16
About three days before PUNSUP was to recruit inspectors on the basis of a walk-in interview, the Punjab and Haryana High Court today stayed the process. The interviews for the appointment of inspectors on contract basis were scheduled to be held on December 19.
VB chief's appointment
High Court issues notice to Punjab
Chandigarh, December 16
The Punjab and Haryana High Court today put on notice the Punjab Government and the Secretary, Vigilance, on a petition seeking guidelines for appointment of Chief Director, Vigilance Bureau.