Pollution Board seals Gurdaspur sugar mill
Patiala, December 9
On account of gross violation of pollution control norms, the Punjab pollution Control Board (PPCB) has sealed one of the biggest sugar mills in the state, Chadda Sugars and Industries Limited, at Kiri Afghana in Gurdaspur.
Talks with farmers end in a deadlock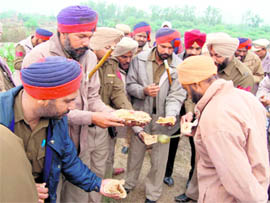 Amritsar, December 9
The administration held two rounds of talks with the agitating farmers' leaders in Beas today, but to no avail. Punjab Kisan Sangharsh Committee chief Satnam Singh Pannu said a consensus had been evolved on four issues and the government was expected to make an announcement in this regard.

BONHOMIE: Policemen in Beas being served langar by a farmer. Photo: Vishal Kumar


Badal: Manpreet has secret pact with PCC
Gidderbaha, December 9
Chief Minister Parkash Singh Badal categorically said at his Sangat Darshan programmes in Lambi and Gidderbaha assembly segments today that former Finance Minister and PPP chief Manpreet Singh Badal had betrayed his mother party (SAD) by joining hands with the Congress in a clandestine manner.
Cong manifesto to be out in January: Amarinder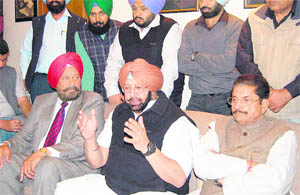 Jalandhar, December 9
PPCC chief Capt Amarinder Singh today said his party would release its manifesto for the coming assembly elections in January after consultation with Union Finance Minister Pranab Mukherjee. Speaking to mediapersons here, Amarinder said, "Our election manifesto is almost ready. We worked on it for about six months."
PPCC chief Capt Amarinder Singh addresses the media in Jalandhar. Photo: Sarabjit Singh

Demands accepted, PCMS doctors call off stir
Chandigarh, December 9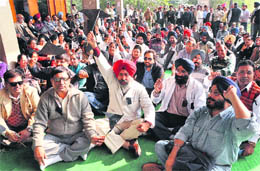 As soon as over 500 PCMS officers, including lady doctors, converged on Parivar Kalyan Bhawan here today to hold a protest, the Punjab Government, wary of another long-drawn agitation, quickly accepted their pending demands. Dr Hardeep Singh, president of the PCMS Association said: "The demands have been accepted by the Punjab Government and the agitation is off".
Members of the PCMS during a protest in Chandigarh on Friday. Tribune photo: Parvesh Chauhan
'Educate people on Right to Service Act'
Fatehgarh Sahib, December 9
The implementation of Right to Service Act-2011, ensuring time-bound delivery of 67 citizen centric services to the public as a matter of right, is though as a great achievement of the government, but effective results can be achieved only if the common man is educated about this Act, said SM Sharma, acting Chief Commissioner, Punjab Service Commission, while addressing a workshop organised to educate the civil and police officers, municipal councillors, sarpanches, panches and other elected representatives at Bachat Bhawan here today.
Strike hits services in hospitals
Malerkotla, December 9
On a call given by the Punjab Civil Medical Services Association (PCMSA), doctors at the Malerkotla, Dhuri and Amargarh civil hospitals today observed strike. According to Dr Balwinder Virdi, spokesman of the association, the emergency departments worked as usual during the strike and critically ill patients were provided complete treatment.
Computer teachers, authorities in a tizzy over fake notification
Ludhiana, December 9
A notification regarding the hike in grade pay of computer faculty has sent the state government as well as the Computer Master Association in a tizzy, as neither of them is sure as from where this "government notification" originated.
Migratory birds set higher sights
There are reports of winged visitors opting for higher reaches where the waters are clean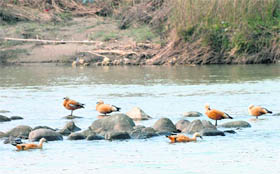 Ropar, December 9
With change in environmental scenario, winged visitors from Siberia, Central Asia and Europe are avoiding the wetlands here, this year, as is evident from a dwindled population across the wetland and forest on the banks of Sutlej river. The number is "alarmingly dismal" as compared to previous years.
A flock of rudy shelduck in the Sutlej waters in Ropar on Friday. Tribune photo: Manoj Mahajan


Police launches drive to check flow of drugs into Patiala
Patiala, December 9
With assembly elections round the corner in the state, the police is taking stringent measures to check flow of drugs from nearby states in the district. The district police had seized 150 quintal poppy husk and whopping 325 kg opium in the past few months, which speaks volumes about this trade.
Docs rue shortage of ICUs in region
Patiala, December 9
With increase in the number of all types of critically ill patients requiring intensive care services, there is an urgent need to establish more and more Intensive Care Units (ICUs) in the region.
Lecturers block highway
Gidderbaha, December 9
Members of the Guest Faculty Lecturers' Union (Government Colleges) today blocked Husnar Chowk on the Malout-Bathinda national highway (NH-15) yesterday.
SAD president reviews arrangements for rally
Moga, December 9
SAD president and Deputy Chief Minister Sukhbir Badal has today claimed that the SAD-BJP would again come to power in the ensuing assembly elections by wiping out the roots of the Congress from the state.
fatal crash
Two women among 5 hurt in mishap
Ludhiana, December 9
Five persons, including two women, were injured in a collision between an auto-rickshaw and a car at Khawajke village, 20-km away from here, this evening.
Appointment of assistant professors
HC issues notice to Punjabi University
Chandigarh, December 9
The appointment of Assistant Professors in Punjabi University, Patiala, has come under the judicial scanner. In a petition filed in the Punjab and Haryana High Court, candidate Navjot Kaur claimed that out of total four, two of the appointees were kin of varsity employees.
High Court paves way for oath by PPSC members
Chandigarh, December 9
In what is being construed as a major relief for the Punjab Government, the Punjab and Haryana High Court today made it clear that there were no legal hurdles in the process of administering oath to the newly-appointed Punjab Public Service Commission (PPSC) members.
Cooperative Societies
HC verdict on wages stayed
New Delhi, December 9
The Supreme Court today stayed the Punjab and Haryana High Court verdict quashing the orders of the Registrar of Cooperative Societies of Punjab that had virtually turned the salaried employees of agricultural and other societies into commission agents.