Disproportionate Assets cases Against Chautalas
Transfer all 3 cases to one court, pleads CBI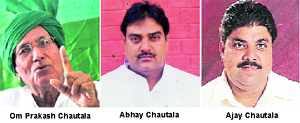 New Delhi, December 9
The CBI today moved a Delhi court seeking transfer of all three disproportionate assets cases against former Haryana Chief Minister Om Prakash Chautala and his two sons, Ajay and Abhay, to a single court.
The CBI's plea to the court of District Judge Sunita Gupta came in the wake of all three cases involving the Chautala clan getting transferred to two courts - two to different judges in the Karkardooma court complex and the third one to a judge in the Rohini courts .
The CBI sought transfer of all three cases to a single judge at one and the same court, arguing that their trial at three courts will lead to inordinate delay.
On the CBI's plea, District Judge Gupta issued notices to Chautala and his two sons, besides five other co-accused, in the three cases. The court sought their replies by January 18, 2012.
Initially all three cases were being tried at Karkardooma courts by District Judge PS Teji. In September, District Judge Teji transferred OP Chautala's case to Special CBI Judge Rajiv Mehra, while the case against Abhay Chautala remained with him.
On a plea by Haryana MLA Ajay Chautala, his case, which was being heard by Teji, was transferred to Special CBI Judge Vinod Kumar at the Rohini Courts complex early this month. Statements of prosecution witnesses are being recorded by the courts in all three cases.
The case against Om Prakash Chautala and his family members was registered by the CBI on a complaint of a Haryana Congress leader Shamsher Singh Surjewala.
The court had framed charges against Chautala and his two sons under various provisions of the Prevention of Corruption Act for abusing their official position and for possessing assets exceeding their legal income.
The court had also framed charges against five other accused, Chet Ram, Om Prakash, Abhimanyu Singh, Rajender Kumar and Net Ram in whose names INLD leader Ajay Chautala had allegedly bought his properties, including a farmhouse and a bungalow.
The CBI, on March 26 last year, had filed the chargesheet against OP Chautala, indicting him for allegedly possessing assets worth Rs 6.09 crore, far exceeding his legal income between 1993 and 2006. The chargesheet had said Chautala's wealth was 189 per cent more than his income of Rs 3.22 crore during the period.
While framing charges against Ajay Chautala, the court had said he was possessing assets, exceeding his legal income by 339.27 per cent. His legal income between May, 1993, and May, 2006, was Rs 8.17 crore. However, he acquired assets worth Rs 27.7 crore, the CBI alleged.
The CBI had alleged that Haryana MLA Abhay Chautala owned assets worth over five times his income of Rs 22.89 crore as per income tax records during the 2000-2005 period. The agency claimed to have found Rs 119.69 crore worth of assets. — PTI