Dragon's fire ignites a strategic rethink
Maj Gen G.G. Dwivedi (Retd)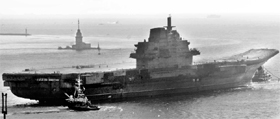 Chinese aircraft carrier Shi Lang (ex-Varyag) during sea trials. Rapid military modernisation is aimed at extending influence in the Asia-Pacific region
Among the defining trends of emerging global architecture is the tectonic shift in the balance of power from West to East. Rapid economic growth of China and India in conjunction with Japan is driving this phenomenon. The clout of existing powers in various regions, such as the US in Asia-Pacific, European Union in Africa and Russia in Central Asia is undergoing a makeover with China's entry in their spheres of influence.
The Asia-Pacific region typically encompassed East Asia, South-East Asia and Oceania. Today, its expanse includes Russia (bordering the Pacific) and countries in North and South America (along the Pacific), besides Australia and nations of South Asia. The US, a traditional Pacific power seeks to prevent rise of a competitor at the global level, while China has a similar design in the regional context. Fast changing landscape and divergent national interests have given way to new power dynamics and alliances, fueling an intense arms race in the region.
Despite remarkable economic growth, there is instability and lack of integration in this part of the globe, primarily due to absence of effective institutional mechanism and trust deficit. Far too many structures and organisations are competing for influence and strategic space. Political tensions and procedural hindrances notwithstanding, trade continues to grow.
Geo Strategic Dimensions
During the first half of the 20th Century, this region was under colonial rule or influence. Coastal areas of China had marked presence of different colonial powers. India had been colonised by the British. Trading houses established in the 19th Century flourished, with industrialists setting up factories in Japan, China and other far eastern countries. Japan emerged as an industrial nation in 1920-30s. China, once a leader in technology, was in a state of disarray. Most countries were exploited rather than developed.
Today, the scenario has undergone a sea change, primarily due to the exponential economic surge. In keeping with their domestic environment, the Asia-Pacific nations have adopted different models of development. As a result, this region has a higher rate of rate of growth vis-a-vis the West. There is a huge energy demand leading to increased oil and gas activity. Vast natural and human resource potential lends this region a cutting edge. Given its geo-strategic location, Asia-Pacific has a key role in serving the interest of major players.
Prevailing Dynamics & Structures
The US, a dominant player in Asia-Pacific, is concerned about Chinese assertiveness and military posturing. Despite the Dragon's growing influence, America is poised to retain its dominating position through contacts, engagements and alliances. The US-ASEAN (Association of South East Asian Nations) 'Enhanced Partnership Agreement' of 2005, seeks closer cooperation in trade, investment and security. ASEAN too desires active American engagement to obviate overdependence on China. USA is bound by military obligations to defend Japan and Taiwan. Its strategic framework encompasses:
n Peace time engagement including forward presence.
n Crisis response which builds on forward stationed forces.
n If warranted, fight and win a conflict that might develop.
China has always considered Asia-Pacific as its area of influence. After redefining its earlier 'periphery' policy, there has been marked increase in Chinese activities in the region. Beijing has now declared 'indisputable sovereignty' over South China Sea; as also its 'core area of interest'. Seeking a historic shift in the Asia-Pacific 'balance of power', China is keen to change the international status quo, by replacing the US in this region. Over the past decade, China has adopted a rather flexible approach resulting in remarkable expansion of its influence. While it has worked formally with ASEAN to resolve the dispute over Spratly Islands and create a 'code of conduct' for the sea, it has also acted to assert authority over the maritime area. Its recent aggressive stance has not gone down well with nations of the region. In the realm of its strategic vision of 'peaceful rise', Beijing's broad objectives in Asia-Pacific are:
n Work towards diminution of US influence and strategically passive-neutral Japan.
n Sustain economic development and work towards prosperous South East Asia.
n Seek sovereign authority over South China Sea.
Japan is deeply concerned about China's rapid military build-up and has recently overhauled its 'defence guidelines' to focus more on China. South Korea is worried about China's support to North Korea and is skeptical about US support in view of growing Chinese military power.
Taking a pragmatic view of the geo-political realities, ASEAN has gone in for numerous multilateral structures. Asia Pacific Economic Cooperation Forum, formed in 1989, accounts for about 55 per cent of global GDP, exports 43 percent of world trade and comprises of a market of 2.7 billion consumers. East Asia Summit, that includes US, Russia, China, Japan, South Korea, India, Australia and New Zealand, addresses issues related to trade, energy and security. The ASEAN Regional Forum that includes US, Russia and European Union, fosters consultation and promotes confidence building and preventive diplomacy in the region.
Given its geo-strategic location, natural resources and markets, South Asia naturally integrates into the Asia-Pacific architecture. India's 'Look East Policy' and its fresh initiatives to engage ASEAN and other nations in the region are in keeping with its growing stature and national interests. China perceives India to be a rival, trying to exercise control over the Indian Ocean and is posturing to contain it. China has taken pains to invest in South Asia, considering the area to be part of its extended periphery. Apart from building strategic partnerships, Beijing has been financing and building ports and infrastructure in Pakistan, Sri Lanka, Bangladesh and Myanmar, as part of its 'string of pearls' strategy, so as to secure the sea lanes through the Indian Ocean. India is certainly concerned about China's posturing and extended reach into the sub continent.
Impact on Balance of Power
Conflicting national interests, economic factors and unresolved disputes have led to intense competition. After World War II, US allies in Asia-Pacific had counted on Washington to provide a security umbrella. However, now many countries are enhancing individual capability to reduce dependence on the US.
A Pentagon 'National Military Strategy' paper states that US strategic priorities and interest will increasingly lie in Asia-Pacific. US Defence Secretary Robert Gates had said that Pentagon would sustain funding for 'air superiority and mobility, long range strike, nuclear deterrence, maritime access, space, cyberwar, intelligence and surveillance' in South-East Asia. Barrack Obama's presence in Bali during the recent EAS is an indication of US enhanced strategic engagement in Asia-Pacific. In consonance with the emerging dynamics, the US is deploying more troops, submarines and surface vessels to strengthen its forward presence, besides taking counter measures against Chinese missiles.
China's rapid defence modernisation, particularly accretion of naval power, is in keeping with its emergence as a global power. While it faces no immediate threat, America remains its prime concern in view of its long term strategic objectives. China's total defence spending was $78 billion in 2010, up from $17 billion in 2001. The actual defence expenditure is estimated to be much higher. China has been concentrating on inducting nuclear submarines, littoral class surface ships and land-based anti-ship cruise missiles along with fourth generation warplanes. Its navy has a fleet of 62 submarines and is expected to add another 15 in the coming years. Its first aircraft carrier is undergoing sea trials. China is also upgrading its strategic arsenal, both in qualitative and quantitative terms.
Russia has alsp become a more visible player in regional security and has launched a major modernisation programme which includes development of a new land-based ICBM system expected to be operational by 2013. The Proposed acquisition of Mistral-class multirole carrier would also bolster the Russian Pacific fleet.
Japan proposes to spend $284 billion between 2011-15 to modernise its defense forces, especially its navy. In 2006, South Korea launched a 15-year military modernisation programme costing about $550 billion. Secretive but cash strapped North Korea's pursuit for acquiring high-tech weaponry remains undiminished, with its main sources being China and Russia.
Data released by Stockholm International Peace Research Institute reveals evidence of an ensuing arms race in South East Asia. Between 2005--09, Singapore's arms imports jumped 146 per cent, Indonesia's by 84 and Malaysia's by 722 per cent. Vietnam doesn't have the economic potential to go toe-to-toe with China and is iInstead opening up a prized military asset -- its deep-water port in Cam Ranh Bay, in the hope that foreign navies will steam into South China Sea and facilitate in securing the region's shipping lanes. Defence spending by Thailand has doubled to $5.5 billion since 2006. It received six Swedish Gripen fighters, with more due in the near future. Myanmar will be spending a quarter of its budget on defence, with plans to double its MiG 29 fleet under a $553 million deal. The Defense White Paper - 2009 states Australia, in keeping with new strategic realities, has identified Japan and South Korea as critical regional partners to balance China. Further, Australia is considering a $72 billion boost in defence spending over 20 years.
India's defence outlook is driven by multiple concerns; unsettled borders, unstable neighbourhood, terrorism and geo-strategic compulsions. Its 'Look East' policy seeks greater engagement with Asia-Pacific nations to further its larger strategic interests and not solely as a response to China's ascendency. While projecting a neutral stance and avoiding to join multinational security constructs, India has definitely enhanced economic and defence cooperation with countries in the region, preparing to play a greater role in Asia-Pacific. It has strongly pitched for multilateral mechanism to resolve disputes in South China Sea. India's approach to defence preparedness is threat-cum-capability driven. With a defence budget of $36 billion, it is looking at enhancing its military potential. As each seeks to extend their international links, strategic rivalry between India and China is inevitable.
Prognosis
Great power rivalry has been the chief driver of arms races. Today, Russia is more concerned about its immediate periphery and has little capacity to engage in an arms race. Beijing on the other hand, mindful of Soviet Union's demise, is unwilling to openly challenge the US. Nonetheless, a close partnership between the two to checkmate US in Asia-Pacific remains viable. According to SIPRI, 2010 witnessed expenditure across the region peak at about $290 billion. Security of sea lanes of communications alongside territorial disputes and China's rise have played a significant role, leaving many nations strengthening their defence infrastructure.
China's growing assertiveness over disputes in South China Sea has alarmed many countries. Accretion of military power and extended reach are main factors for increased defence spending by Australia, Japan, Vietnam, Philippines, Malaysia, Brunei and Indonesia. According to the Australian Defense Minister, Asia-Pacific is 'a region in strategic flux'. With state-of-the-art weaponry being acquired at a scale and pace that matches the Cold War, the security landscape is constantly changing, as regional players build greater capacity for power projection.
India's 'Look East Policy' is in recognition of Asia-Pacific's vast potential and stems from geo-strategic and geo-economic considerations. China has sought to confine India to South Asian regional groupings, though is increasingly being seen as a power that could play a balancing role in Asia-Pacific. To meet the expectations, India is actively engaging nations in the region through good economics and astute diplomacy.
Despite assurances from China of its benign rise, Asia-Pacific states are increasingly unwilling to rely on American security guarantee. While the US will continue to be a major player in Asia-Pacific, with passage of time its role will be less of a security guarantor and more of an important ally. With the quest for development and high stakes in protecting the resulting prosperity, it is economic inter-dependence that may stand out as the most potent safeguard against conflict. Transparency, multilateralism, inclusive security architecture and restraining adventurism will go a long way in deescalating the ensuing arms race in Asia-Pacific.
The writer is a former Assistant Chief Integrated Defence Staff and served as
Defence Attaché in China