The gender matrix of Haryana
Race and gender issues are so intertwined in Haryana, that it is impossible to isolate one to untangle the other. In some districts, where the sex ratio is the lowest in the country, gender issues are also compounded by poverty.
Vandana Shukla
THE over 100 km stretch from Panipat to Jhajjar is dotted with private educational institutions — mostly engineering and management. Most of these are named after some philanthropic Chaudhary. Other signs of prosperity and progress — like boys riding expensive motorbikes, donning branded shades and jeans keep recurring on this road like a refrain from a popular song. What remains conspicuous is the absence of women. When they do make an appearance, their faces remain hidden behind a veil.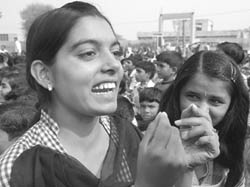 Jyoti — "Trust us, try us, then we will prove"
In this apparently prosperous land, the gender ecology lacks balance. In the 2011 census, Jhajjar dist had shown the lowest sex ration in the 0 to 6 age group — 774 girls for 1000 boys. In Barhana and Dimana villages of this district, the ratio was as low as 378 and 444 respectively.
While progress and prosperity is defined by men here, women, though equally hard working, are relegated to a lower status in the social hierarchy. But, when it comes to their numbers, which is the major concern presently, the school ground at Deeghal seems to defy the concern. It is filled with girls. A theatre show is scheduled for the sake of the girl child here. A group of local women squat behind the girls on the floor, with their faces covered. Next to them is a group of well-dressed women, who are seated on chairs, these are teachers and ANM ( Auxialiary Nurse Midwife) workers from Jhajjar district. Menfolk sit on chairs, with their legs spread before them.
On arrival, we are greeted on a self congratulatory note from the local Deputy Education Officer, who claims, " Look, the girls outnumber boys! And they are so disciplined and well behaved, as always!"
Do they have a choice, one wonders. If they had, the government would not need to interfere with the natural process of birth of the girls. Or, to organise theatre shows and bhajan mandlis to sensitise parents of the girl child to let her come into this world! Else, the skewed gender ecology would boomerang into social unrest.
More girls go to school than boys
Across the social hierarchy, you come across layers of self-denial when it concerns the gender issue. The ingenuity of some of these denials sounds amusing. " The poor have more girls. They keep on having girls, till they get a son," says D P Ahlawat, general secretary, Human Rights Emergency Helpline Association, Haryana, a mass membership organisation. And the poor also happen to be the lower caste people in this region. The fact cannot be denied, the school ground certainly shows more girls. But, there is the other side to the coin. Even among the poorer families, the boys are sent to English medium private schools, so, the government schools show higher enrolment of the girls compared to the boys, a fact oft-quoted by the government machinery to deny gender disparity.
Jyoti, from Dhandal village, a 17 year old girl, who does not look a day older than13, is the oldest of four sisters, after them they have a brother who goes to a private school. Ditto goes for Naveen, 16, from Deeghal village, the only difference is, her brother is older. He also reminds her that the house belongs to him, she is just a guest there, she should soon leave for her 'own' home. And they have several friends with a similar sounding tale. Poverty is compounded by a desperate need for a son, placing girls at the receiving end of all kinds of denials, including a balanced diet. But what binds these girls together is a common thread of aspiration. "So many girls have won medals in Commonwealth Games from our state, we can also do much, given an opportunity," says Jyoti, who proudly informs, two girls from her village are working for the Delhi Police. Naveen adds, she knows about the law which prohibits killing of the girl child, therefore they are born, but, they are not desirable, she adds casually, without a blink.
Clan loyalties override gender concerns
A local woman, with a covered face, refuses to divulge her name, suspicious of our motives. But she relents to talk. She too has a point of view. "When you kill a girl, you kill many colours and joys." It sounds like a tag-line from a government pamphlet. Then she adds, "But, most women are helpless, they don't have a say in these matters." ANM workers are more discreet, their talk is more generalised, they refuse to cite examples or names. "Everybody is related here, by caste or by clan. And the loyalties are strong. If a woman wants to have a boy, the ANM worker would help her in sex detection rather than report on her. How can she antagonise her own clan, her village, she too may like to have the test done, won't she," asks one of the ANM workers, seated on a chair. Sex detection clinics operate early morning, before the law machinery could wake up! Then, there are mobile vans equipped with ultras sound machines, meant to help people living in remote areas, but pressed in discreet service to help people with money to know the gender of the foetus.
When it comes to reporting the culprits, even money fails to talk. In Narnaul district, the local administration had announced a cash reward of Rs 1 lakh for reporting cases of illegal sex detection in 2007 and 2008, but, not a single person came forward. When it comes to protecting the birth of a male child and eliminating a girl, loyalties are stronger than greed. And, as the CMO( Chief Medical Officer), Jhajjar, Dr Bharat Singh claims, "Everybody wants a son, the educated deny it in public, that's the only difference." Secondly, to get the culprit doctors, who practice sex detection discreetly one needs a pregnant woman to act as a decoy. "Everybody is so connected here, no woman or ANM worker would like to antagonise the doctor, whose help they would require later," adds Dr Singh. In a rare case, where the culprit doctor was convicted under PNDT Act in the Divisional Court of Rohtak, in 2002, the decoy had turned hostile later, fearing repercussions.
But, fewer girls are born
Landholdings are shrinking, but aspirations are growing, thanks to a growing economy and skyrocketing prices of the real estate. In this scenario, a girl child is a burden. So, young couples who get a male child as their first born, do not want a second child. "This is another reason why you think less girls are born in the region" adds Dr Singh. If the second child happens to be a male, the situation could still be balanced, but havoc falls when the second child also happens to be a girl. "It is these families that go in for sex detection, usually under social pressure, not out of joy," says Kamlesh, an ANM worker.
Dowry is not the lone issue that makes the girl child undesirable. Dowry is just one of the issues. More damaging is the fact, that if a man is not able to sire a son, he is looked down upon as some kind of an impotent, he is called a niputiya, which, roughly translated would mean, a man without an offspring. Obviously, in cultural transcription, it would mean that women are weak. Then, even among the educated classes, some myths prevail, which, an outsider may find absurd, among the locals, they are treated as unquestionable facts.
" Even in this small village of Deeghal you will find about sixty to seventy ex- army men, these families naturally have more sons, they are from martial races," says K C Ahlawat, President, Human Rights Emergency Helpline Association, Block Beri.
The higher castes produce fewer of girls!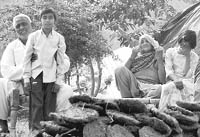 Trophy : A male offspring Photos: Nitin Mittal
The CMO of Jhajjar district has done a survey that proves that the couples from the higher castes, who are well-bred and well-fed tend to produce more male offspring. To prove his hypothesis, he has also traced his own family line, which has further strengthened, what he had thought was just a hunch. The survey of the first born children in Bahrana village, where the sex ratio is the lowest in the country, showed that out of the 63 children born in a year, 40 were boys and 23 girls. "After all, no one, not even a Ravana will get the first child aborted, irrespective of the gender. So, perhaps, more boys are born naturally among higher castes, which have access to better food and lead a good life," says the CMO. He regrets, he has no wherewithal to prove it scientifically, but insists there is truth in what he says. In fact, he wants a state level survey to be conducted to prove his hypothesis.
Dr Shiv Kumar, CMO Karnal, says, he is aware of the survey conducted by Dr Bharat Singh, and perhaps this could be a trend among the Thakur community, but he can't be sure about it. What he is sure of is the fact that in lower castes and in rural areas the sex ratio is not as big a problem as it is among the urban middle classes. More girls are born in the lower castes, he agrees.
Pradeep Kumar, director, NRHM ( National Rural Health Mission), Haryana, is also sceptical about the survey. " I did come to know about the survey conducted for the gender ratio among the higher castes, but, the sample is too small to come to any conclusion. If we find similar trends in other states, we might get a study done."