Review policy to protect whistleblowers, state told
Chandigarh, December 8
The Punjab and Haryana High Court today asked Punjab, Haryana and Chandigarh to review their whistleblower protection policies and consider associating civilians in the process of assessing the threat perception to whistleblowers.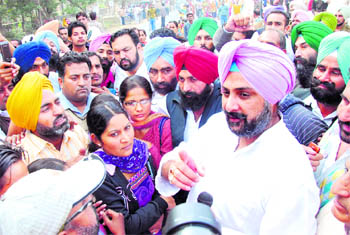 Manpreet, Raninder meet aggrieved teacher
Muktsar, December 8
Leaders of political parties are making a beeline for this dusty village near Gidderbaha to express solidarity with Varinder Kaur's family. Varinder Kaur, a teacher, was slapped by an Akali sarpanch while holding a protest during the Sangat Darshan of Bathinda MP Harsimrat Kaur Badal on Sunday.
Congress' Raninder Singh with teachers in Gidderbaha. Tribune photo: Pawan Sharma

Media attention reminds villagers of 'Peepli Live'
Gidderbaha, December 8
Ever since the incident of slapping of an EGS teacher took place, Sukhna Ablu, a tiny village in Muktsar district, has been hogging the headlines. The extent of media coverage has made the villagers relate it to Bollywood movie "Peepli Live".
Teacher in ICU, tension outside Faridkot hospital
Faridkot, December 8
Guru Gobind Singh Medical College Hospital here today witnessed a hectic political activity after a protesting teacher, 23-year-old Zila Singh of Mahabadhar village of Muktsar, was admitted to the hospital's intensive care unit (ICU).
Chaos at IAF recruitment drive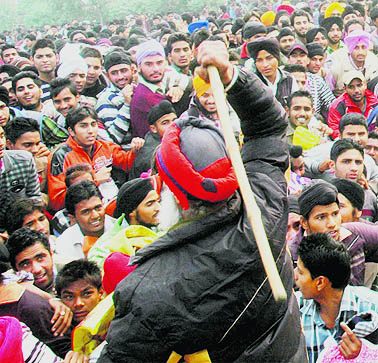 Amritsar, December 8
The 'would be' cadets of Air Force today faced the wrath of the Punjab Police when they turned up at Khalsa College ground to take part in a recruitment rally. Officials of Sainik Welfare wing said the police had to resort to mild lathicharge to man the aspirants who had come from various pockets of the state to submit applications for posts under various categories of the Air Force. The management of the college, too, did not like this chaotic situation in their campus.
A policeman tries to control youths at a recruitment drive in Amritsar on Thursday. Photo: Sameer Sehgal

Alleging monopoly, cotton growers boycott sale
Fazilka, December 8
Farmers growing BT cotton in the area have decided not to sell their produce to private traders and cotton factory owners.
Bathinda farmers disappointed too
Bathinda: Low prices of cotton this season have disappointed cotton growers who are forced to sell their produce for Rs 3,900 to Rs 4,200 per quintal in the local and Mansa markets as compared to last year's Rs 7,000 per quintal. Hoping for the prices to go up next month, the farmers have starting storing their produce.
Ahead of Vice-President's visit, security beefed up in Patiala
Patiala, December 8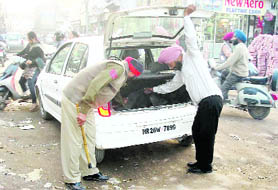 Ahead of Vice-President Hamid M Ansari's visit to Patiala on December 10, security has been beefed upin the district. Ansari would be the chief guest at the Platinum Jubilee session of the four-day Indian History Congress, being hosted by Punjabi University, from December 10. Besides several noted historians, Punjab Governor Shivraj V Patil would grace the inaugural session of the conference as the guest of honour.
Police personnel checking a car in Patiala on Thursday. Tribune photo: Rajesh Sachar
Non-communicable diseases
Govt forms special cells to keep check
Ludhiana, December 8
To keep a watch on the non-communicable diseases in the state, four special cells under the national project for the control of cancer, diabetes, cardiovascular diseases and strokes would be set up in Punjab.
NRI's murder: Wife, 4 others get life term
Ludhiana, Decemeber 8
Additional Sessions Judge Mandeep Pannu has convicted a woman and four other persons on the charges of kidnapping and murdering Basant Singh, an NRI from Jallalabad Purbi in Moga district, and sentenced them to undergo rigorous life imprisonment.
Badal cuts birthday cake in Phagwara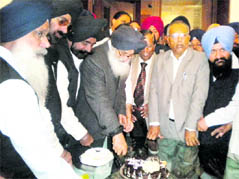 Phagwara, December 8
The Chief Minister cut a cake to celebrate his birthday with local Akali and BJP leaders at the residence of Markfed Chairman and district SAD president Jarnail Singh Wahid here today. Talking to mediapersons, Parkash Singh Badal said while the Congress was sans an agenda, the SAD would return to power on the development plank. He said the number of atta-dal scheme beneficiaries had been increased under a fresh survey.
Chief Minister Parkash Singh Badal cuts a cake to celebrate his birthday in Phagwara on Thursday.

Poll panel wants POs behind bars
Chandigarh, December 8
The Election Commission wants that all the proclaimed offenders (POs) on the run be put behind bars before the assembly poll. Sources in the commission said the issue had been taken up the state government.
School to be named after Manak
Ludhiana December 8
From the next academic session, moral education will be introduced as a subject in Punjab government schools, said Education Minister Sewa Singh Sekhwan while addressing a function at GGN Khalsa College here today. Sekhwan said this had become necessary in the contemporary times.

Brig Manjit Singh is Sainik Welfare chief
Chandigarh, December 8
Brigadier Manjit Singh (retd) has assumed the charge of Director, Sainik Welfare, Punjab. An alumnus of the National Defence Academy, he was commissioned in the Army in December 1975 and is an expert on human rights, media, geo-politics and security affairs in Jammu and Kashmir, Pakistan and China.


HC upholds state govt's decision on stamp duty
Chandigarh, December 8
The Punjab and Haryana High Court has upheld State of Punjab's decision to charge different stamp duties from land developers and the government. The ruling came on a petition filed by land developer HP Singh against the State of Punjab and others respondents. The petitioner was seeking a direction to the State, along with the Punjab Urban Development and Planning Authority, to charge stamp duty from it for "registration of an instrument of sale" on a par with the stamp duty charged from the government, PSUs or local bodies. A notification to this effect was also challenged.