Chaos on Kalka section
Panchkula, December 8
The district administration and the police department have failed miserably to regulate traffic on the Pinjore-Kalka road stretch, resulting in fatal accidents. With regard the Pinjore-T point, the High Court had passed directions not to allow the parking of taxis and maxi-cabs there, but the traffic police has failed to obey the directions.
Warmest day in last five years
Chandigarh, December 8
Today was the warmest day this year compared to the past five years, with the maximum temperature rising to 27.1°C, almost 4°C above normal. Even the minimum temperature, recorded at 14°C, was a departure of 7°C from normal. Five years ago on December 8, 2006, the maximum temperature was recorded at 23.2°C while the minimum temperature was as low as 9°C.
Close shave for 4 as gun goes off
Chandigarh, December 8
A parking contractor on duty in Sector 17, along with three fellow workers, had a narrow escape after a shot was fired accidentally from a .12 bore double barrel gun belonging to a private security guard here this morning. The incident occurred at around noon when Sukhchain, a security guard with Orra Diamond Jewellery Store in Sector 17-E, fired a shot accidentally.

MC POLL 2011
Not performed? May perish
Chandigarh, December 8
Non-performing councillors in the past five years from certain wards may have to pay for their inertia during the municipal corporation (MC) elections. Resident welfare associations (RWAs) have been supporting new candidates in the hope of that the picture of their wards will change in the next five years.


Congress and BJP hoardings put up at Sector 20 in Chandigarh. Tribune Photo: Manoj Mahajan
Door to door they go
Chandigarh, December 8
With about a week left for the election campaign to end, all candidates have intensified their canvassing and started holding public meetings to reach the maximum number of voters.
Sanitation Lucky's top priority
Chandigarh, December 8
The Congress candidate from ward 16, HS Lucky, released his 14-point manifesto for the elections here today. During media interaction, he said the ward had been neglected by the councillor in the past five years, due to which basic civic amenities were non-existent.


Opposition harps on bias
Chandigarh, December 8
Congress candidates have been showcasing lack of development projects in wards which have councillors from the Opposition in the House and showcasing a long list of development works in their wards during the past five years.


Swings being installed in a park at Sector 35 of Chandigarh. Tribune Photo: Parvesh Chauhan
3900 policemen on poll duty
Chandigarh, December 8
A total of 3,900 policemen will be on guard for the municipal corporation elections on December 17. The UT police has geared up to ensure fair and peaceful elections and a detailed plan has been chalked out in this regard.


Scene getting hotter by the day


Pardeep Chhabra, Congress candidate from ward number 3; and (right) his BJP rival Arun Goyal canvass at Sector 22 in Chandigarh on Thursday. Tribune photos: Manoj Mahajan
misuse charges
To reduce or not, that is the question
Chandigarh, December 8
The UT Administration is in quandary over reduction in misuse charges for residential and commercial sites. Over three months and-a-half have passed after the UT estate officer put forward a proposal to reduce charges from Rs 500 per sq ft to Rs 100 per sq ft, but the authorities are yet to arrive at a decision.


Staying put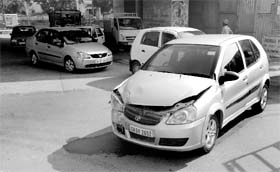 A damaged car was not removed for about half-an-hour from the Zirakpur-Panchkula highway putting commuters to inconvenience at Sector 12 in Panchkula on Thursday. Tribune photo: Nitin Mittal
Special audit to begin from Monday
Chandigarh, December 8
In order to ascertain the exact amount of embezzled funds in the Registration and Licencing Authority (RLA), a special audit of the accounts of the department will begin from Monday.
Police tightens noose around drunk bus drivers
Chandigarh, December 8
With an increased number of accidents involving buses being witnessed in the city, the UT traffic police has started a special drive to check bus drivers for drunk driving.


ASC celebrates 251st anniversary
Chandigarh, December 8
Army Service Corps (ASC), the oldest logistics branch of the Army, celebrated its 251st anniversary at the Headquarters Western Command, Chandimandir, today.
JCOs and other ranks of the Army Service Corps observe silence as they pay tributes to martyrs on their Corps Day at Chandimandir on Thursday. A Tribune photograph
Man electrocuted
Chandigarh, December 8
A 32-year-old man was electrocuted at his residence in Hallo Majra last night while he was trying to repair a heater. The victim, Ram Kumar, was found dead in the morning by his brother-in-law, who lives in the neighbourhood. The police said the victim came in contact with a live wire and died on the spot.
Exams put off, but college students land up at centre
Chandigarh, December 8
The teachers strike in seven-city non-government colleges led to confusion among scores of students who reached the colleges early in the morning to appear in the half-yearly exams unaware about the exams being postponed. Although no formal announcements were made by the colleges there were many students also didn't wanted to take a chance by missing the exam.


'Youths of India, Pak can bring about change'
Chandigarh, December 8
Today it was time for jubilation for young students to find amidst them the founder of Miss Pakistan World, Sonia Ahmed, at KB DAV School, Sector 7. Ahmed interacted with students of Peace Club of the school.
Sonia Ahmed Khan, founder, Miss Pakistan pageant, with students of KBDAV Senior Secondary School at Sector 7 in Chandigarh on Thursday. Tribune photo: Manoj Mahajan
Bridging the Gulf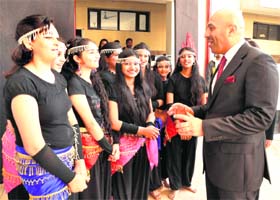 Sami Mohammad Al Sulaiman, Kuwait Ambassador to India, interacts with students at Mount Carmel School, Sector 47, Chandigarh. Tribune photo: Parvesh Chauhan
Schools told to submit self-declaration forms within three months
Mohali, December 8
For implementing the Right of Children to Free and Compulsory Education Act, 2009, the Director General of School Education, Punjab-cum-State Project Director, Sarv Sikhya Abhiyan Authority, has asked all pre-primary, primary and upper primary schools to give self-declaration regarding the implementation of the laid down rules and regulations within three months and submit this information with district education officials (primary) concerned.