A lot at stake for SAD & Badals in Majitha
GS Paul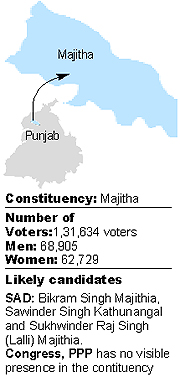 With the president of the Youth Akali Dal and Punjab's Deputy Chief Minister Sukhbir Badal's brother-in-law Bikram Singh Majithia seeking a re-election from this border constituency, a lot is at stake for the SAD and the Badals. Since 1985, Majitha voters have never batted for the sitting MLA.
Having invested a lot of time and money in nursing this constituency, Majithia is confident of emerging as a "trend-changer" and is banking on the development that has taken place here in the past five years for his re-election. His proximity to the first family in Punjab has undoubtedly helped him get government investment worth over Rs 200 crore for the district, but it remains to be seen if the voters will back him or not.
Promises & projects
A series of development projects worth over Rs 200 crore are underway in Majitha, including the laying of a road network (new roads measuring 65 km laid and a stretch of 85 km upgraded). Work is also on for completing the 220 KV power grid substation and three 66 KV substations at Nag Kalan, Wadala Veeram and Dhade at a cost of Rs 22.5 crore. Three RO plants have been set up at a cost of Rs 36 lakh and water tanks constructed in Wadala, Sohian, Pokharpura, Tahli Sahib and Dhadde at a cost of Rs 7 crore.
For improving education standards, over 20 primary schools catering to about 7,000 children have been constructed. Students in these schools are to get free books, uniform and food. For higher education, Majithia has set up Khalsa College for Girls at Chawinda Devi. Besides, five science blocks have been constructed at Bhangali Kalan, Naag Kalan, Chawinda Devi, Ram Diwali and Mattewal.
Vox populi
Even as a majority of residents express satisfaction at Majithia's achievements as an MLA, his rivals allege that most of the development projects in the area have come up with Central funds and that Majithia is wrongly claiming credit for the same.
Looking back
In 1985, this constituency was represented Surinder Pal Singh of the Congress who won the seat with 55.83 per cent votes, defeating Sardul Singh of the SAD who polled 40.73 per cent. In 1992, an Independent candidate, Ranjit Singh, was declared the winner. In 1997 Parkash Singh of the SAD won the seat. In 2002, Swinder Singh of the Congress (49.4 per cent) defeated Rajmohinder Singh Majithia (46.76 per cent) of the SAD by a thin margin. In 2007, Bikram Majithia defeated Congress candidate Sukhjinder Raj Singh (Lalli) Majithia, securing 55.31 per cent votes.
Voter strength
The constituency has 1,31,634 voters, out of which 68,905 are male and 62,729 are female.
HRD barometer
No major initiative has been taken to generate employment opportunities for the youth in this constituency. Residents complain of rampant drug abuse in the area.
Sitting MLA Bikram Singh Majithia is apparently the frontrunner for the SAD ticket while the Congress is likely to choose between former MLA Sawinder Singh Kathunangal and Sukhwinder Raj Singh (Lalli) Majithia. The Punjab People's Party floated by CM's nephew and former Finance Minister Manpreet Singh Badal has no visible presence in this contituency and neither does Simranjit Singh Mann-led SAD (A), the BSP and the left parties. Barring SAD and the Congress, no other party has been a force to reckon with in this constituency.