State loses top Brahmin leader
Chandigarh, December 12
In Chiranji Lal Sharma's death, Haryana has lost one of its tallest Brahmin leaders. While some rate him just behind the first Chief Minister of the state, Bhagwat Dayal Sharma, in popularity among the Brahmins, there are many who put Chiranji Lal ahead of Bhagwat Dayal because the former had a much longer political innings than the latter.
Officials skip training programme on MNREGA
Kaithal, December 12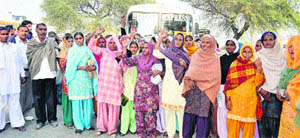 Women sarpanches, panches and members of the block samiti and the zila parishad who had come to attend a one-day workshop-cum-training programme on the MNREGA organised by the district administration here today were in for a shock when they found that no official was present to impart training to them.
Elected women representatives of panchayati raj institutions protest on NH 65
in Kaithal on Monday. Photo: Satish Seth
Stir to continue till Jats get quota
Sonepat, December 12
Yash Pal Malik, president of the Akhil Bhartiya Jat Arakshan Sangharsh Samiti, has clarified that the demand of reservation for Jats is not confined to a particular state but the country as a whole.
Seven ITIs to be upgraded
Chandigarh, December 12
Seven ITIs in Haryana will be upgraded as Director-General, Employment and Training, Government of India, has released a Rs 17.50 crore as an interest-free loan for their upgradation under the vocational training improvement project during 2011.
Engineers seek CM's intervention
Panipat, December 10
Not letting the government has its way in introducing the private franchisee for the distribution systems in Panipat and Gurgaon, the All-India Power Engineers Federation has again opposed the proposed move.
Police band contest on
Kadarpur (Gurgaon), December 12
The 12th all-India police band competition commenced at the CRPF Group Centre here today. CRPF Director-General K.Vijay Kumar inaugurated the event.
Gurgaon couple die in Vegas chopper crash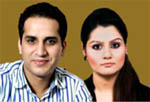 Gurgaon, December 12
A pleasure trip to the USA turned into a tragedy for a honeymooning couple from Gurgaon as the helicopter carrying them crashed in Las Vegas city last week. Lovish Bhanot (28) and his wife Anupama (26) had tied the nuptial knot on November 6 and left for their honeymoon in the last week of November.
Man found hanging in house
Jhajjar, December 12
Shri Bhagwan (40), who had gone missing a few days ago, was found hanging with a ceiling fan at his ancestral house in Kheri-Khummar village today. The police has sent the body to the civil hospital for a postmortem examination.
Death at marriage function: 2 held
Kaithal , December 12
The police has arrested two relatives of a bridegroom in whose marriage at Pundri last month a youth was killed in firing while another was injured. The police has also recovered a gun and shells from the accused. Both were produced in a local court, which sent them in 14-day judicial custody.
Two killed in road mishap
Rewari, December 12
A cyclist and car owner Jitender's five-year-old son Bishoo were killed while Jitender and his three-year-old daughter were injured in an accident involving a trailer, the car and the bicycle, at Banipur Chowk , near here, on the Delhi- Jaipur Highway yesterday.
Dealer held for selling urea on black market
Hodal (Palwal), December 12
In the wake of reports of artificial scarcity of urea in Palwal district and its sale on the black market, the authorities have tightened a noose around the authorised dealers of the fertiliser.