Sense and sensibility
The entry of adult film star Sunny Leone in Bigg Boss Season 5 has once again brought the television content into sharp focus. Is the brouhaha uncalled for or could it be a turning point leading to a meaningful debate in the country?
Ratna Raman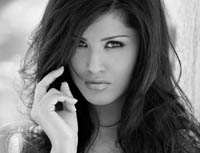 IF we were to rewind the spool of time and pause at the year 1993 we get a clear view of the hornet's nest stirred up by the Neena Gupta and Madhuri Dixit number, Choli ke Peechay Kya Hai in the film Khalnayak. Thanks to the hard work done by Bollywood's cameras there has been little doubt about what lies beneath the choli, yet this song and dance generated outrage and much fulmination, and the lyrics attained notoriety overnight. The next year was 1994. The movie Khuddar had a song Sexy Sexy Sexy Mujhe Log Bolein, choreographed with a prancing Karishma Kapoor. The marauding moral brigade objected to the lyrics, the censor board issued a writ and subsequently Karishma pranced to Alisha Chinai's re-recorded crooning of Baby, Baby, Baby, Mujhe Log Bolein.
Then Karishma Kapoor could not be introduced as sexy because that would obviously pollute the mind of susceptible babes. So all that was needed was for the offending word "sexy" to be expunged and replaced with the unobjectionable "baby" for the song to be happily integrated with the brigade of skimpily clad gyrating women who unfussily glide by in Bollywood extravaganzas. Once, the bar against what women could not show seemed to be set pretty high.
Now, a decade and a half down the line, things have changed dramatically in the world of entertainment via television and social networking sites. Some of our Victorian prudery has also wilted under the tropical sun. We had our very own Indian female celebrity streaker in Protima Bedi, a long time ago. Women wear revealing clothes in the visual media and are more comfortable with their sexuality and their own skin. One woman from Gen Next offered to strip if we won the world cup for cricket. How then do we respond to the kolaveri over Sunny Leone's entry into Big Boss?
The youth wing leader who has expressed outrage at the dangers impressionable children face due to the induction of a porn star on a mediocre reality show in one of our mediocre channels, has in fact woken up our recently stupefied slumbering demons.
His anxiety stems from the great Indian tradition of monitoring women and imposing checks on them while keeping our fabled Indian sensibilities in sharp focus. Monitoring, incidentally, is now poised to become very serious business. In fact, this has been reiterated and endorsed by none other than Telecommunications Minister Kapil Sibal (an unlikely Daniel to the judgement) who is laying down the law and wielding the whip over Facebook, Google and Twitter about requisite codes of conduct and the urgent need for them.
High time the testosterone challenged stepped in to analyse and understand what the brouhaha is all about. Sunny Leone with her enhanced booty caters to the world of adult entertainment and has been successfully wowing audiences in the West for a decade or so. She is clearly breaking new ground in India and has hit big time ever since she accepted the role she was offered in Jism2.
How is it that Pamela Anderson, she of the dramatic nips and tucks and predominantly undersized beachwear, breezed in and out of the Big Boss last season, leaving youth wing leaders wordless in entirety? Arguably, hers was a short visit, or maybe her continued appearance on news rags the world over all of the time has considerably diminished her potential as stimulating testosteronic material.
Has Sunny Leone become the proverbial red rag for raging right wing chauvinists, who have in turn been egged on by Dhanush's racist and misogynist framing of women within the parameters of White Skin Girlu Girlu , Girlu Heart Blacku? This possibly is only the tip of the iceberg. Actually, white skinned Sunny Leone is also saddi kudi, just like our Karishma Kapoor. She may have been raised in Canada, have a dual citizenship with the US and freely wear her bisexual preference on her sleeve but she answers to the name of Karen Malhotra. This is the reason we must appropriate her as an Indian, just as we tried to appropriate the unwilling Chemistry Nobel laureate of Indian origin, Venkatraman Ramakrishnan, in an earlier Nobel season.
Since we insist that Sunny Leone is one of us, we must ensure that she is wholly pure and refrains from exposing her blacku Heart and other body parts. It is this laudable attempt to dignify national pride and desexualise female bodies thereof in public view that is at the heart of all the protests. Clearly, history moves in a circular fashion and we have now reverted to that period of Indian nationalism wherein women were accorded iconic status, in keeping with the dignity that is prescribed for them which rarely percolates into practice.
Sunny Leone, however, is no pushover. Nor is she your ordinary Bollywood bimbette in a skimpy skirt. Over the past ten years, as Wikipedia usefully continues to inform us, she has slowly built herself up as a conglomerate. She is a successful and much feted porn star, who features in coffee table books, web awards and mainstream magazines. She dabbles in fitness and sport, has tried her hand at baking, and began training as a paediatric nurse apart from daringly divesting herself of her pubic hair in public to protest against George Bush's presidency. She acts in and produces her own films and has several successful interactive DVDs. Notably, she has signed a public service announcement on behalf of the ASACP (Adult Sites against Child Pornography) reminding adult webmasters to protect their sites from children by having RTA (Restricted to Adults) labels on their sites. All this leaves us to infer that she is working within the laws of the land and doing reasonably well for herself.
So, if she and the makers of Big Boss have set up an arrangement that both parties find workable, we don't really need the moral police, do we? It is malafide to use Sunny's colourful history to malign her and accuse her incorrectly of inducting porn on the Indian small screen. We need to reiterate that impressionable children are hardy enough to handle the exposure to the Sawants, Leones and Malliks of the world.
What should be up for debate is whether India needs reality shows at all. Reality shows draw their life blood from harnessing all those repugnant, aggressive, violent and self-centred patterns of behaviour that remain a throwback to earlier periods of human evolution. We need to voice our grave concern over the greater harm posed to impressionable minds when graphic representation of blood, gore, crime and violence bombards our children as aspects of everyday living in virtual reality.
The moribund soaps in most Indian languages and the vacuous, whacky and irreverent shows that run on English channels also need to be revisited. Maybe, just maybe, such intervention could prove to be a valuable turning point, since in our mofussil towns and chic metropolis, access to the visual media has increased exponentially in recent years. A discussion along these lines might be something our ministers and leaders could initiate nationwide instead of rushing to intimidate and penalise small individuals and minor distribution channels and social networks for what is sponsored collective crime.
The writer is associate professor, English at Sri Venkateswara College, Delhi University