Food Bill may be tabled on Monday
New Delhi, December 16
The Congress has apparently managed to evolve a consensus on the National Food Security Bill, which may now be introduced in the Parliament on Wednesday after a Cabinet nod on Monday along with the Lokpal Bill.
Lokpal quota: Government trying to bring estranged allies round
New Delhi, December 16
Working feverishly to draft a Lokpal Bill which will be acceptable to all political parties, the government is learnt to be amenable to the suggestion for reservation in the proposed ombudsman body. It is also looking seriously at another proposal to make the Lokpal accountable either to the government or Parliament.
M'rashtra minister in soup over corporate donation
Mumbai, December 16
Chhagan Bhujbal, Maharashtra's minister in charge of the Public Works Department, is in trouble after it emerged that a family trust controlled by him received donations by way of Rs 2.5 crore from real estate developer Indiabulls.


Honorary doctorate for Vohra, Swaraj, Chatterjee
Chandigarh, December 16
Jammu and Kashmir Governor NN Vohra, Leader of Opposition in the Lok Sabha Sushma Swaraj and former Lok Sabha Speaker Somnath Chatterjee were awarded the honorary doctorate (honoris causa) by Vice-President Hamid Ansari at a glittering convocation at Panjab University on Friday.
(L-R) Leader of Opposition in Lok Sabha Sushma Swaraj, Vice-President and Panjab University Chancellor M Hamid Ansari, former Lok Sabha Speaker Somnath Chatterjee and Jammu and Kashmir Governor NN Vohra at the 61st annual convocation of Panjab University in Chandigarh on Friday. Tribune photo: Manoj Mahajan

remembering 1971
Ghost regiment that humbled Pak defences in B'desh
New Delhi, December 16
It was in April 1970 that the 63 Cavalry, with its tanks, was moved from Sangrur in Punjab to Bagrakote in West Bengal. Some 20 months later, in December 1971, the regiment went on to create history and re-define the way that tank battles are fought.
(From left) Defence Minister AK Antony, Army Chief VK Singh, Navy Chief Admiral Nirmal Verma and Air Force Chief Air Chief Marshal NAK Browne during Vijay Diwas celebrations in New Delhi on Friday. Tribune photo: Mukesh Aggarwal
PC denies interest in Delhi hotelier's case
New Delhi, December 16
Union Home Minister P Chidambaram today defended himself against allegations being made by the BJP saying he had never favoured Delhi hotelier SP Gupta and denied having any interest in the case.
PC was behind crackdown on Ramdev, amicus tells SC
New Delhi, December 16
Home Minister P Chidambaram appeared to have run into more trouble today. Chidambaram was behind the police crackdown on Baba Ramdev and his followers at Ramlila Maidan here on the night of June 4/5 this year, Senior advocate Rajeev Dhavan, assisting the Supreme Court as amicus curiae in the case, informed a Bench.
PIL in SC over Gen VK Singh's date of birth
New Delhi, December 16
A PIL seeking to revive the controversy over the age of Chief of Army Staff Gen VK Singh has been filed in the Supreme Court. The PIL, filed by an association of ex-servicemen from the Army through advocate Manohar Singh Bakshi, pleads for quashing of the government order declaring Gen Singh's date of birth as May 10, 1950 and fixing his retirement for May 31, 2012.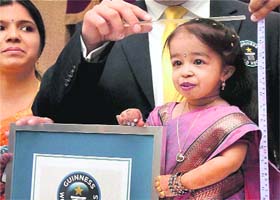 Jyoti Amge, the world's shortest living woman, with her Guinness World Records certificate, on her 18th birthday in Nagpur on Friday. — PTI
mid-day meal horror
8-yr-old falls into sambhar tub, dies
Bangalore, December 16
Eight-year-old Apoorva, who had fallen into a vessel of hot sambar meant for mid-day meal of students in a village near Mysore, succumbed to her burn injuries on Friday. Hers is not the first such death in this part of the country. In January this year, daughter of an employee of Defence Food Research Laboratory (DFRL) in Mysore also died after falling into a vessel of hot sambar in her school.
Bengal hooch toll reaches 171, excise official suspended
Canning (WB), December 16
Deaths in the worst-ever hooch tragedy in West Bengal continued unabated today with the toll touching 171 amidst fears of more casualties as authorities suspended the excise officer-in-charge for dereliction of duty.
Union Cabinet expansion tomorrow
New Delhi, December 16
Rashtriya Lok Dal (RLD) chief Ajit Singh is tipped to become Civil Aviation Minister in the expansion of the Union Cabinet on Sunday. It is not known whether the expansion of the UPA government would see more faces being inducted into the Union Council of Ministers.
World's cheapest tablet in market
New Delhi, December 16
Datawind, makers of the world's cheapest tablet, yesterday announced the online availability of 30,000 pieces, priced at Rs 2,500 each. The Canadian IT firm, founded by two NRIs from Ludhiana — Suneet Singh Tuli and Raja Tuli - had launched the cheapest tablet called "Aakash" for exclusive use by students in India's central educational institutions.
Sex-determination tests land Pune doc in jail
Mumbai, December 16
In what is seen as a landmark judgment by activists campaigning against female foeticide, a Pune court on Thursday sentenced a radiologist to two years' imprisonment under the Pre-Conception Pre-Natal Diagnostics Technique (PCPNDT) Act for revealing the gender of an unborn child.
Graft: Maya issues White Paper on 24 govt depts
Lucknow, December 16
In a bid to steer clear of charges of corruption against her government ahead of the Assembly poll, the Mayawati government today issued a White Paper on the working of 24 government departments.
2G: HC denies bail to Siddharth Behura
New Delhi, December 16
Former Telecom Secretary Siddharth Behura was today denied bail in the 2G case by the Delhi High Court which said he was the "perpetrator" of the illegal design of ex-Telecom Minister A Raja and cannot claim benefit of parity with 10 others released on bail.
Bihar cops get copter for anti-Naxal ops
Patna, December 16
The Centre has given a helicopter to the Bihar police for its anti-naxal operations. The MI-17 helicopter is likely to be inducted into the state police force by the end of December, said Bihar Director General of Police Abhayanand.