EGC teachers block national highway again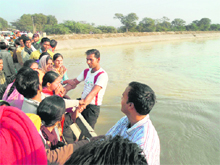 Gidderbaha, December 13
On 15th day of their protest against the state government, two agitating Education Guarantee Scheme (EGS) teachers today made an abortive attempt to jump into the Rajasthan feeder canal on Malout-Chandigarh national highway (NH-15) at Fakkarsar Thehri village near here. They also blocked the highway for over three hours.


Teachers prevent two of their colleagues from attempting to jump into a canal near Gidderbaha on Tuesday. A Tribune photograph

Road accidents on the rise in Punjab
Ludhiana, December 13
With an increase in the number of vehicles, the number of fatal accidents has also witnessed an increase in the state. In 1980, about 472 persons were killed in road accidents. The figures of killed persons in fatal road accidents have gone up by about eight times at 3668 in 2009.

SAD-BJP almost reach Pact on seat-sharing
Chandigarh, December 13

The Bharatiya Janata Party (BJP) and the Shiromani Akali Dal (SAD) have almost sealed a pre-poll seat-sharing arrangement with the two deciding to retain the same number of seats each as during the 2007 elections. The two have, however, agreed to exchange four seats.



BJP leader Shanta Kumar with Ashwani Sharma at a meeting in Chandigarh. Tribune photo: Manoj Mahajan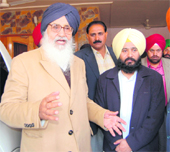 Chief Minister meets MLA Kang again
Amritsar, December 13
It surely was a well-thought-out political move. Chief Minister Parkash Singh Badal, during his visit to the holy city today, made it a point to meet Beas MLA Manjinder Singh Kang at his residence. There was no word on the outcome of the visit.



Chief Minister PS Badal with SAD MLA Manjinder Singh Kang at his house in Amritsar. Photo: Sameer Sehgal

Clean water their sole demand
Faridkot, December 13
The pain and suffering of thousands of families in the district who have no access to safe drinking water seems to be losing in the electioneering din with no party speaking about the issue.
CPI wants polling in single phase
Chandigarh, December 13
Urging the Election Commission of India to immediately enforce the election code of conduct, senior CPI leader Joginder Dayal said yesterday that the SAD-BJP government is blatantly using the official machinery to further its electoral interests in the state.
Dump yard key environmental issue here
The Amritsar (South) constituency has voted for change in all the four assembly elections held in the past two decades. However, the 2008 byelection was an exception with the voters backing the late MLA Raminder Singh Bolaria's son Inderbir Singh. It will be a litmus test for Inderbir as he seeks a re-election on his performance in the past four years. He began his tenure on a positive note as the SAD left no stone unturned to ensure his victory with Chief Minister Parkash Singh Badal and Deputy Chief Minister Sukhbir Badal camping in the city for days ahead of the byelection.
Congress poll panel to meet next week
Chandigarh, December 13
The Punjab Congress may announce 70 to 80 party candidates for the assembly elections. According to senior party functionaries, the Congress 11-member poll committee would meet here next week. Applications by ticket hopefuls submitted to the DCC offices have reached here. The PCC has also received the reports of AICC members who have served as observers for each constituency.
Over 150 birds found dead; probe ordered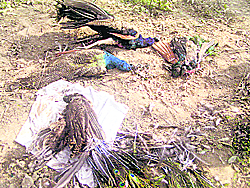 Payal, December 13
The administration has initiated a probe into an incident in which a large number of birds including 11 peacocks had died following consumption of poison-laced grains in Lasara Jhiri forest near here yesterday. Residents led by Baba Balwant Dass, organiser of Dera Baba Gazi Dass, coordinated with the administration in rescuing affected birds and buried bodies of the deceased avians.

Peacocks lie dead at the forest area in Lasara village. A Tribune photograph

Development in Fatehgarh Sahib on backburner
Denied grants, the historic township is being ignored
Fatehgarh Sahib, December 13
Fatehgarh Sahib may have historical and religious significance for the rest of the world, but for the state government, it bears no importance. The government has released hundreds of crores as grants for developmental activities in almost all the councils of the state, but has not provided any succour to any council falling in the district.
Textbook scam: Officials to be chargesheeted
Mohali, December 13
On the basis of inquiry conducted by a retired District and Sessions Judge, OP Garg, who has held at least three officials in the publication branch of the Punjab School Education Board responsible for grave anomalies in publication of textbooks of 48 different subjects (running in to lakhs of copies), the board authorities have initiated a process to chargesheet the officials.
Punjab docs to stage protest on Dec 22
Patiala, December 13
Some of the associations of government doctors, working in Punjab, have announced that if the state government fails to accept the main demands of government doctors, they would stage a protest demonstration in Chandigarh on December 22.
Undertake cadre review, CAT tells Punjab
Chandigarh, December 13
The Central Administrative Tribunal (CAT), Chandigarh Bench, today directed the Department of Personnel and Training (DoPT) and Punjab government to undertake cadre review exercise of Punjab for 2003 and 2008.
SBoP fraud: Police marks inquiry
Patiala, December 13
Following initial probe into fraudulent withdrawal of lakhs of rupees from numerous bank accounts with the State Bank of Patiala (SBoP), the district police has registered an FIR following more complaints and also marked a high-level probe into the matter.
Qadian-Beas rail project approved
Chandigarh, December 13
The Union Railway Ministry has finally conceded the 80-year-old demand for connecting Qadian with Beas in Punjab's border belt. The proposed approval, says Partap Singh Bajwa, Congress MP From Gurdaspur, is part of the supplementary demand for grants made by Ministry of Railways.
Six petrol stations looted
Phagwara, December 13
A gang of armed robbers struck at six petrol stations on the national highway between Paragpur and Sahnewal, ransacked petrol pumps and snatched lakhs of rupees from employees of these outlets late last night.