| | | |
| --- | --- | --- |
| | OPED WOMEN | |
The pill that failed
Nonica Dutta
The story of modern contraception has remained irrelevant for millions of women in India. In the absence of accompanying advances in education, health-care and incomes, their subordinate and submerged position has remained unaltered.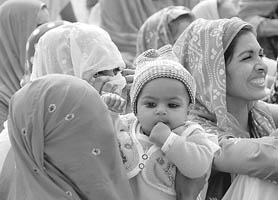 Stuck in a time warp- The narrative of sex and contraception — Photo: Nitin Mittal

Contraception is the 'in thing' in today's young India. Young women in small and big towns freely carry contraceptives in their kits, goes the prevailing modern perception. National surveys by leading magazines suggest an increasing use of contraceptives among the 'rich' and 'poor', 'educated' and 'uneducated', 'rural' and 'urban'. With the globalisation of Indian economy, sex too is all easy to get, according to the modern media representation. A feel good factor, good coffee and good, safe sex. Hard-bitten brokers of power and money claim to think of a rich India monopolised by economic and social freedom. Their optimism uplifts the middle class sensibility. 'We are modern gals', spoke a group of middle class girls in unison in a prestigious woman's college in Delhi University. 'We enjoy sex, we party and we have fun'. Their hopes and dreams set me thinking. As I set out to probe the rhetoric of the so-called sexual freedom in the context of a snarling neo-nationalist and neo-liberal India that is emerging at such rapid speed, I decided to step back a little amid this chorus of jubilation and pipe dream of the urban young in the country. I tried to recall the history of contraception, and what it has come to mean in our country where sex was till late almost a taboo. It's worthwhile to go back to the fragmentary narratives of sex and contraception and understand the different ways contraceptive practices have or have not affected women's lives in India.
They did it in Rome
Well, they did it in Rome, too. In one of the seminal articles, the distinguished Oxford historian Keith Thomas revealed that upper class Romans in their desire for small families were concerned with contraception. Not only was contraception not a modern invention of the 19th century, Thomas demonstrated that contraception theory was part of a vibrant medical tradition which can be traced back to Aristotle and the Hippocratic Corpus.
The ancient Egyptians too engaged with the practice of contraception. In the 9th century discussions were frequent in Arab literature on intra-vaginal female methods of contraception; these ideas travelled to the West. Thereafter, a complex history of contraception unfolds, as sexuality came to be policed from different quarters, including the church, religion, dominant institutions, and the guardians.
The language of contraception transformed in the 19th century. It came to be ensconced in the ideas of freethinkers and political radicals in the West. They used the concept to 'demystify nature and to promote social justice for the working classes'. In 1822, Francis Place, an English workingman, endorsed contraception, explaining to the working class population in industrial cities that sex should be separated from procreation. After much ado, a spring-loaded rubber vaginal diaphragm, thanks to the efforts of Wilhelm P.J. Mensinga, a German physician and professor of anatomy, became the symbol of modern contraception. Finally, came the marketing of the 'antiovulant birth-control pill' in 1960.
A lively feminist discussion set the tone for 'reproductive autonomy' for women and made contraception synonymous with sexual freedom and choice. Annie Besant, the socialist-feminist and later an advocate of India's independence, pioneered a campaign for contraception and women's rights in the late 19th century England. The term 'birth control' was coined in a 1914 issue of The Woman Rebel, a military feminist journal published in New York by Margaret Sanger. Her campaign, like her British counterpart Mary Stopes, was for social justice, and made way for the opening of the birth-control clinic.
Sanger's ideas travelled to India when she met the Mahatma for a historic conversation. For Sanger, birth-control meant contraception, for Gandhi birth-control meant self-control. Emphasizing sexual abstinence, Gandhi regarded birth-control measures as dangerous. He abhorred the idea of sexual satisfaction on the part of women, and endeavoured to teach them to say 'no'. An advocate of sexual joy via contraception, Mary Stopes considered Gandhi's resistance to contraception as 'ill-considered arrogance'. Gandhi's ideas on sex have come a long way. Gandhian morality informs our middle class visceral reaction to contraception and sexual freedom. An orthodox narrative incorporated Brahminical and Victorian perceptions of women's sexuality as dangerous. Gandhi's view of contraception as 'immoral' further scooped pleasure out of sex and left women at the altar of self-sacrifice.
A messy story
In post-colonial India contraception has come to be entwined with family planning and the demographic imperative. It functions within marriage as a preventive measure to control fertility. The story is a messy one. The contraceptive has become a ruse to control female sexuality; it mainly lies entrenched in a reproductive and familial context.
Crucially, contraception has been used as a statist technique of control and domination. Since the 1950s the Indian state promoted state propelled modern contraception, in the form of vasectomy through sterilization camps. During Indira Gandhi's Emergency (1975-77), as a 'national commitment' to control population Sanjay Gandhi launched the nasbandi campaigns and established vasectomy camps throughout the country. What this meant for helpless people (men and women) subjected to coercion, abuse and sterilization sends shivers down the spine. In the last six months of 1976, 6.5 million people in India were sterilized. If the Nazi regime through its 'racial hygiene' program forbade 'Aryan women' to use contraception, our government forced contraception through bodily violence.
Coercive governmental policies in India have continued to view contraception as an effective mechanism of population control. In a rapidly globalised India, hazardous 'hormone' and 'emergency' contraceptives, with fatal consequences for women's health, have been increasingly used. Women's bodies have become the testing ground for multinational companies who dump life threatening contraceptive pills developed by the rich nations, to be tested on the women of the third world countries like India. Medical science, like contraception, tends to work towards the stereotyping of vulnerable women.
Sex and Contraception

According to the 2005-2006 National Family Health Survey, 49 per cent of Indian women use modern contraceptives, and of these, only 3 per cent are on the pill. According to a recent survey, 72 per cent people in India don't use contraceptive with a new partner. This causes unplanned pregnancies and unsafe abortions.
Without accompanying advances in women's education, health care, and incomes, will contraception work? In a deeply patriarchal context, what does it mean to be a woman with sexual rights? Is modern contraception irrelevant in the light of women's subordinate status and submerged location? Can one think of contraception in a society riddled with poverty, structural inequalities and discrimination? When women don't have legal rights, when they don't have marriage rights, when they can't choose their partners freely, when they can't choose their residence and make everyday choices both as married or single, what will a pill or condom do?
For some clarity, I listened to the stories of some of my colleagues and students at Delhi University. For many women of my generation, sexual freedom is a deeply complex issue on campus; married and single women discussed their uneasy relationship with sex and contraception. 'Contraception', quipped a highly articulate Associate Professor in her forties, 'you must be joking. I've no sex life.' 'What stops you from having sex?', I asked. She said, 'Where can one find sex? I would be seen as asking for it.' I was struck by her answer. It's almost the inverse of saying 'no' that Gandhi advocated for women. As multitude of denials plague women in our university, the issue of contraception pales into insignificance. Another colleague said, 'All we find is aggression, competition and violence in the university. Where is the inclination for romance and joy of sex? There's no equality. Contraception may work in a marriage for birth control, but not among single women who are seen as 'available'.' She added, 'Our labour power matters in the university at the expense of our sexual identities and preferences.' And then one academic said unambiguously, 'How can I have sex? I'm unmarried. Contraception is meant for married women.' For a set of some young students contraception was the danger word. Though sex was at times easy, violence lurked in the background and abortion or the i-pill were the only answers. For a small minority of women, however, the contraceptive symbolised choice and right to their own bodies. While for the rest it was just an elitist idea.
Contraception is not just a passport to women's freedom. An empty rhetoric of female choices, the method and practice of contraception is surrounded by coercion and subjugation of women in a society embedded in patriarchal restrictions. I pondered: how do women, whose identities are fractured along class, caste, ethnic and religious lines in different locations - villages, small towns, and our provincial universities and colleges - relate to sex and contraception? Universal languages of rights and freedom - reproductive, sexual, personal -hardly touch their lives. Their expressions of their desire, agency, pleasure and romance in the everyday life are silenced by the very forces and institutions that are purporting to be, in the name of democracy and progress, the strongest advocates of contraception in our country.
The writer teaches history at Miranda House, Delhi University
Contraceptives could not guarantee health
Under the MTP( medical termination of pregnancy) Act, 1972, abortion till 20 weeks of pregnancy is legal, still an estimated 5 million illegal abortions take place in India, putting women's health at risk. For every legally induced abortion, 10 or 11 are done in unlicensed clinics or by unqualified dais (midwives), killing approximately 20,000 women every year. India has the largest number of unsafe abortions - 5 million a year, or, a quarter of the global total.
Despite huge amounts being spent on advertising different methods of contraception, only 56.3 per cent sexually active people use contraceptives in India, according to National Family Health Survey Data-3( 2006). The rest either go for unsafe abortions, or, if they can afford, use emergency pill.
Though, the pharmaceutical companies would like the young women to believe, there are no side effects of the emergency pill, gynaecologists warn, frequent use - more than once or twice a year can cause fluctuations in hormonal levels and may cause infertility over a period.