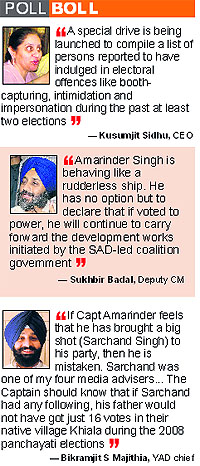 Moga dist: 36 apply for Cong ticket
Moga, December 14
As many as 36 aspirants have applied for the Congress ticket for the four assembly constituencies of Moga, Dharamkot, Baghapurana and Nihal Singh Wala in Moga district.
Poll Malpractices
Police told to furnish list of past offenders
Chandigarh, December 14
The Election Commission of India today issued instructions to all states going to the polls to take preventive action to ensure free and fare elections.
Litmus test for two-time MLA Sandhu
The Tarn Taran constituency, once a hotbed of militancy, is a traditional seat of the Akalis where no other party has scored a victory since 1985. The only exception was in 1992 when the Shiromani Akali Dal (SAD) boycotted the elections and the Congress candidate was elected unopposed.
Sukhbir Badal admits to having major shareholdings in firms
Chandigarh, December 14
Deputy Chief Minister Sukhbir Singh Badal today admitted that Gur-Baz Media Private Limited and G Next Media Limited were "wholly owned subsidiary companies" of Orbit Resort Private limited, in which he has "substantial shareholdings".
Six IAS officers transferred
Chandigarh, December 14
The Punjab Government today transferred six IAS officers with immediate effect. Anirudh Tewari, Secretary, Power, has been given the charge of Secretary, Information & Public Relations.
Robberies: Panicky petrol dealers write to DGP
Ludhiana, December 14
Perturbed over six incidents of looting in various petrol filling stations between Ludhiana and Phagwara in the past 24 hours, the Punjab Petroleum Dealers Association has written to the Director-General of Police (DGP) to adopt strict measures to arrest the accused else they would be forced to shut filling stations at night.


Criminals have a field day, says Amarinder
Benchmark for medical specialists
Docs 'fudge' figures to achieve target
Patiala, December 14
The Punjab Health and Family Welfare Department's decision to fix benchmarks regarding OPDs and surgeries is allegedly forcing the health officials to supply fake data or carry out unnecessary surgeries to achieve their target. Many doctors in the department rue that due to these benchmarks, they were forced to work under pressure all the time, which was affecting their working.
Patiala MC's key projects hang fire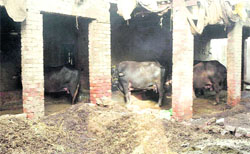 Patiala, December 12
The Patiala Municipal Corporation has failed to start many big projects, including setting up of the solid waste management plant, shifting of the dairies from the city to the outskirts of the district and the canal-based water treatment plant. All the projects are hanging fire ever since the SAD-BJP general house took over the reigns of the Patiala MC in 2007.

A dairy at Sewak Colony in Patiala. A Tribune photo

Punjabi varsity teachers demand release of arrears
Patiala, December 14
A day after the Punjabi University Teachers' Coordination Committee (PUTCC) members submitted a memorandum to Vice Chancellor, Punjabi University, Dr Jaspal Singh for immediate resolution of their two main demands, including holding of elections of the Punjabi University Teachers' Association (PUTA) and release of arrears from January 1, 2006 to July 7, 2009, the VC assured the teachers that he would talk to Punjab Chief Minister Parkash Singh Badal regarding releasing the arrears.
Institutions to share labs with govt schools
Mohali, December 14
Punjab today became the first state in the country to launch the 'Neighborhood Development Programme' in order to ensure high quality science education in government senior secondary schools.
PEDA gets award for energy conservation
Chandigarh, December 14
The Union Government today awarded the first prize to the Punjab Energy Development Agency (PEDA) in appreciation of its achievements in energy conservation for the year 2011.
Action against convicted police officials
Quit playing games with court, HC tells Addl AG
Chandigarh, December 14
The Punjab and Haryana High Court today warned the State of Punjab "not to play games with the court" on the issue of initiating action against convicted police officials.
Now, theft at four shops
Phagwara, December 14
Within 24 hours of the looting incidents at six petrol pumps in and around Phagwara, four shops were burgled in the local Professor Colony here today.