Alumni launch campaign to restore school building
Kuldeep Chauhan
Tribune News Service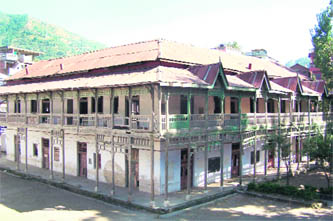 The building of Vijay High School, Mandi. Photo: Jai Kumar

Mandi, December 14
In a bid to save a 145-year-old school building in this temple town, alumni of Vijay High School have embarked upon a signature campaign to garner support for its restoration as a heritage building.
A meeting of the school alumni was held here after a Supreme Court judge, Justice Swantra Kumar, visited his alma matter earlier this year and expressed the desire that the building, a remnant of Pahari wooden architecture, should be restored.
The school has produced professionals, including doctors, engineers and academics, for the past more than 14 decades.
Anil Sharma, president of the alumni association, said the building was in a dilapidated condition. The school was established in the name of Anglo Vernacular Middle School in 1866 and was upgraded as a high school in 1921 and named Vijay High School as a tribute to the then ruler of Mandi state and founder of the school, King Vijay Sen, he added.
He said the association had taken up the issue with the Chief Minister a number of times, but in vain. "All of us are emotionally attached to this building as numerous luminaries have studied here," he added.
"We have been trying to save this building, but so far nothing concrete has emerged," said Dr C Parmar, an alumnus of the school and horticulture scientist.
Vallabh Government College Principal MS Jambal said he had visited the old building of Vijay High School along with a team, constituted by the local administration, to verify the condition of the building. The wooden structure had been damaged partially, but its basic structure was still intact and repair could save it, he said.
Dr Raju, an agriculture scientist, said any delay in protecting the building may prove disastrous. The association had started a signature campaign to awaken the alumni and people of the town to come forward and join hands to save it.
All residents should pool in resources to save it, he added.