PollITicking
Badal: Poll results will sound the death knell of PPP


Gidderbaha, December 15
Continuing with his tirade against former Finance Minister Manpreet Badal, Chief Minister Parkash Singh Badal today said the state electorate would teach the PPP chief a lesson by "rejecting" all Sanjha Morcha candidates in the coming assembly elections. Speaking on the sidelines of a Sangat Darshan programme in Gidderbaha segment, Badal said: "Manpreet's group will not win even a single assembly seat and the poll results will send him into political oblivion because he has deceived his mother party by joining hands with the Congress."
Soni's success mantra: personal contact


With Amritsar (West) now a reserved constituency, the Congress is likely to feel the pinch of delimitation. Congress' sitting MLA Om Prakash Soni has won this seat thrice in a row since 1997. In the last elections Soni had won the seat with a convincing margin, beating BJP's Rajinder Mohan Chhina. The MLA: Being in the Opposition, Soni did face tough times in getting funds for development but that hasn't dented his popularity. His USP has been his personal contact with the voters and in these five years he has maintained his association with the residents. Be it the marriage of girls belonging to the poor strata or domestic disputes pending with the police, Soni has been at the forefront to help people, even spending money from his pocket.
Tribune Impact
Punjab clears dues of cycle suppliers
Chandigarh, December 15
Following The Tribune report on how the SAD-BJP government was riding on "bankrupt populism" to distribute free bicycles to girl students, without clearing the pending dues of the bicycle suppliers, the Punjab Finance Department finally cleared and released the balance payment of Rs 21 crore to them.

Poll Snippets
Treading cautiously
Having been cornered after an Akali sarpanch slapped a teacher in Malwa recently, the SAD-BJP coalition is now extra cautious while dealing with protesters. The government strategy could be gauged from a few recent instances. The government allowed the farmers to hold road and rail blockade for five consecutive days before finally conceding to their key demands.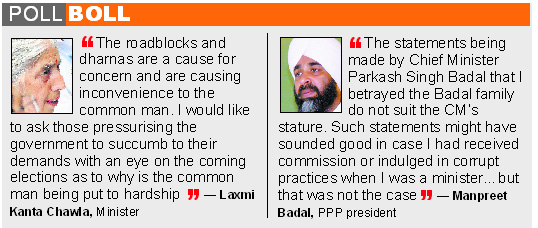 '84 anti-Sikh riots: Another witness comes forward against Bachchan


Amritsar, December 15
After various Sikh outfits pointed fingers towards Amitabh Bachchan in the 1984 anti-Sikh riots, an "eyewitness" has come forward alleging that the actor had provoked the rioters in the aftermath of assassination of the then Prime Minister Indira Gandhi. As per a release issued by Gurpatwant S. Pannun, legal adviser to 'Sikhs for Justice', 52-year-old Manjit Singh Saini, originally hailing from Kalu Sarai, Delhi, and at present residing in California, was present in front of the All-India Institute of Medical Sciences on October 31, 1984, when Bachchan allegedly incited a mob to target a Sikh present there.


PCS (Judicial) - 2011
Prelim's marks immaterial in main exam: HC
Chandigarh, December 15
A day after the Tribune carried a report on how a candidate with minus 10 marks had made it to the mains of PCS (Judicial Branch) Examination-2011, the Punjab and Haryana High Court today asserted that "marks obtained in the preliminary examination are immaterial as these are not counted in the main written examination".


Glut onto roads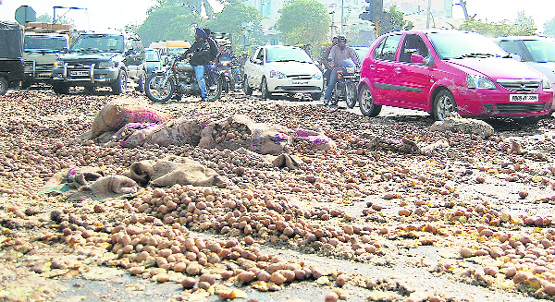 Facing a glut-like situation, potato growers on Thursday dumped their crop on highways in various parts of the state


The growers have been protesting the alleged apathetic attitude of the government towards their demands


Though the farmers reaped a bumper crop for the third year in a row, "poor" marketing policy and "low" freight subsidy have landed them in losses


While the cost of potato production was Rs 4 a kg, the farmers claimed they are being forced to sell their produce for as low as Rs 1.5 per kg


Potato crop has been sown on around 1.3 lakh hectares in Punjab and the average yield is 10 tonnes per acre
Text: Deepkamal Kaur in Jalandhar & Kulwinder Sandhu in Moga
Photo: Malkiat Singh in Jalandhar
Pharmacists allege bias in pay revision
Patiala, December 15
Activists of the Punjab State Pharmacists Association today held a protest demonstration outside the local Government Rajindra Hospital in the wake of non-acceptance of their demands, which included revision of pay grades, change of designation to pharmacy officers and establishment of a separate directorate of pharmacy.
24-hr water supply a reality in 11 Punjab villages


Chandigarh, December 15
Leaving even the enviable water supply in Chandigarh behind, at least 11 villages of Punjab now boast of a 24-hour water supply, thanks to a project of the state government and the World Bank. Details of the ongoing project were revealed on the inaugural day of the four-day national workshop on "Sustainable Water Supply and Sanitation Services" organised by the Department of Water Supply and Sanitation, Punjab, here today.
Roadways staff to go on strike today
Mohali, December 15
Passengers planning to travel by Punjab Roadways are in for major harassment as various outfits of the Punjab Roadways Employee Union have announced a 24-hour strike on December 16 to protest against the failure of the state government to revise their salaries in view of the recommendations of the Planning Commission. The Chandigarh Transport Undertaking (CTU) has also extended its support to the strike call.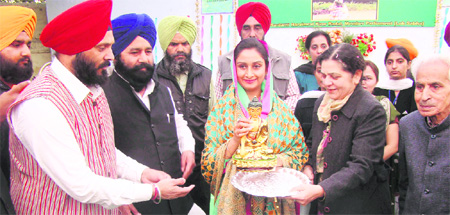 Standing up for the girl child: As Bathinda MP Harsimrat Kaur Badal was being presented an idol of Lord Buddha during a college function to promote 'Nanhi Chaan' in Ferozepur on Thursday, a few kilometres away in Talwandi Bhai subdivision, a female foetus was found in a garbage dump. Photo: Anirudh Gupta

2 bogies of Sachkhand Express go off track
Amritsar, December 15
A major mishap was averted when two bogies of Sachkhand Express (Amritsar to Nanded Sahib) derailed just after its departure on 5.40 am here today. After noticing the derailment, the driver immediately stopped the train. About 60-70 passengers were present in the derailed bogies, 01415 and 10454.
Illegal clinic raided
Patiala, December 15
A team of health officials today raided an unauthorised clinic in Jandoli village in the district and got a case registered against its owner.


PIL Against Transport Policy
Approach probe agency, High Court to petitioner
Chandigarh, December 15
The Punjab and Haryana High Court today made it clear that Barrister-at-Law Himmat Singh Shergill could move the investigating agency for action against the Badals in the transport policy case.
Produce list of freedom fighters getting pension, Centre told
Chandigarh, December 15
Nearly 65 years after Independence, dust of controversy has shrouded the issue of honouring the heroes of freedom struggle, including Bhagat Singh, Chandrashekhar Azad, Sukhdev, Kartar Singh Sarabha, Jatin Das and Raj Guru.