Nancy Powell new US envoy to India
Ashok Tuteja/TNS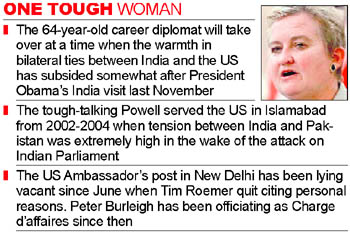 New Delhi, December 17
In the midst of what is seen as a cooling period in relations between India and the US, the Obama administration has named career diplomat Nancy Powell as America's next ambassador to India.
The appointment of Powell, 64, former US ambassador to Pakistan, will take effect when confirmed by the US Senate. Considered an expert on South Asia, she is currently serving as Director General of the Foreign Service and Director of Human Resources in the Department of State.
In a statement announcing Powell's appointment, President Barack Obama described her as a fine public servant who would bring a depth of experience and tremendous dedication to her new role. He said America would be well-served by her and that he looked forward to working with her in the months and years to come.
The US Ambassador's post in New Delhi has been lying vacant since June when Tim Roemer left India before completing his full term, citing personal reasons. Peter Burleigh has been officiating as Charge d'affaires since then.
The tough-talking Powell served the US in Islamabad from 2002-2004 when tension between India and Pakistan was extremely high in the wake of the terrorist attack on the Indian Parliament on December 13, 2001.
One Indian diplomat recalled her speech in Karachi in January 2003 when she accused Pakistan of serving as a "platform for terrorism" and warned that this must stop. Powell also asked the Pakistan authorities to ensure that militant groups were not able to cross into Jammu and Kashmir.
Powell's comments were then seen as unusually strong for a serving American Ambassador in Pakistan and amounting to a rebuke to the Pervez Musharraf regime in Islamabad. On several other occasions during her stint in Islamabad, Powell was unsparing in her criticism of the Pakistan government on the issue of terrorism.
Apart from Pakistan, she served her country as its ambassador to Nepal, Ghana and Uganda. Her other overseas assignments included service in Ottawa, Kathmandu, Islamabad, Lome, Kolkata, New Delhi and Dhaka.
Once her appointment is approved by the Senate, Powell will take charge of her assignment in New Delhi at a time when the warmth in bilateral ties between India and the US has subsided somewhat after the historic visit of President Obama to India last November.
The landmark India-US civil nuclear deal is languishing due to differences between the two sides over its operationalisation. Washington is not happy with India's Civil Nuclear Liability Law, contending that American nuclear companies have reservations about the liability clause. New Delhi argues that the act, which provides a 'level-playing field' to all nuclear players, can't be amended as it is the property of Parliament.