M A I N N E W S
Minority quota in new Lokpal Bill
Govt rushes to make 'correction' in draft yCBI remains out of its purview
Aditi Tandon
Tribune News Service
New Delhi, December 22
The Government today introduced a new Lokpal and Lokayuktas Bill 2011 in the Lok Sabha after withdrawing the old Bill tabled on August 4. The new Bill, and another to amend the Constitution to grant constitutional status to the Lokpal at the Centre and Lokayuktas in states, were introduced by Minister of State in Prime Minister's Office V Narayanasamy, who brought an "errata" (correction) to include minority quota in the proposed nine-member anti-graft body, which provides for "not less than 50 pc reservation for SCs, STs, OBCs and women".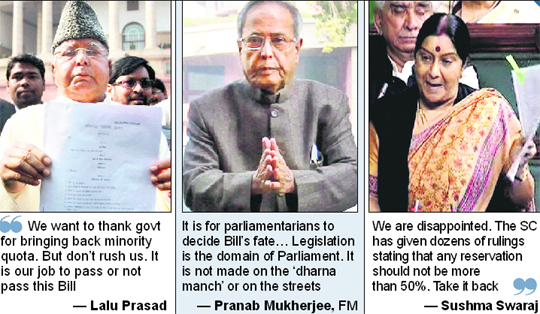 The hurried correction (missing from the draft cleared by the Cabinet and circulated to MPs) came under intense pressure from the SP and the BSP led by RJD's Lalu Yadav, who forced an adjournment this morning, slamming the Congress for deleting the Lokpal quota for Muslims under pressure from the BJP-RSS combine.
The Government revived the quota, providing, for the first time in any draft law, religion-based reservation, which Leader of Opposition Sushma Swaraj challenged as unconstitutional. The Bill offers similar quota for weaker sections/minorities in the seven-member search committee the PM-led selection panel will form to find candidates eligible to be Lokpal chairperson and the eight members.
The Bill extends Lokpal's jurisdiction over the Prime Minister except in the cases of foreign relations, internal, external security, public order, atomic energy and space. The PM enjoys some liberties — he can't face inquiry unless three-fourth members of the Lokpal bench approve; inquiry must be in camera and its records can't be shared with anyone if the complaint is dismissed.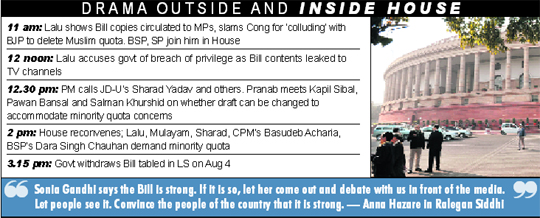 The old Bill covered the PM only after he demitted office and bureaucrats of under secretary level and above. But the new draft law covers all Group A, B, C, D public servants, allowing the Lokpal to inquire corruption by lower bureaucracy, as sought by Team Anna. Others covered are MPs (except for conduct inside Parliament), ministers, government funded associations and NGOs receiving over Rs 10 lakh annual funding under the Foreign Contribution Regulation Act.
The new Bill comes quite close (except on the issue of citizen's charter) to the 'Sense of the House' statement issued on August 28 at the height of Anna's agitation. The statement had stated, "The Houses agree in principle that an effective Lokpal law must cover corruption by lower bureaucracy through appropriate mechanisms, have an in-built grievance redress system and provide enabling laws to establish Lokayuktas in states."
Today's Bill (unlike the old one) provides for Lokayuktas and the Constitutional (One Hundred and Sixteenth) Amendment Bill, 2011, introduced today, mandates states to adopt Central Lokpal and Lokayuktas law, a provision Sushma Swaraj slammed as anti-federal and an encroachment on the rights of the states, some of which already have Lokayuktas.
Though the Lokpal will have its own Inquiry and Prosecution wings and won't require prosecution sanction, it won't control the CBI as Anna wanted. It can ask the CBI for preliminary inquiry (PE) and investigation into complaints but the Bill clarifies, "Lokpal will have powers of superintendence over Delhi Special Police Establishment (CBI) in respect of matters referred to it for PE or investigation and can't direct it to conduct inquiry in a particular manner."
The Bill says the Lokpal will, after deciding on PE, refer complaints against all government officers to the Central Vigilance Commission. While the CVC will submit a report to Lokpal for prosecution of Group A/B officers, for Group C/D public servants, it will conduct its own prosecution under the CVC Act, 2003, and send periodic action taken reports to Lokpal. This recommendation was made by Congressman Abhishek Manu Singhvi-led parliamentary panel?s December 9 report on the Lokpal Bill.
The Bill also doesn't have an inbuilt grievance redress system as Anna wanted. It makes the Lokpal and Lokayuktas final appellate authorities in cases of non-delivery of public service due to corruption but doesn't guarantee service delivery through Lokpal.
New proposals
l All entities receiving donations from foreign sources in excess of Rs 10 lakh per annum to be brought under Lokpal jurisdiction
l Confiscation of property acquired by corrupt means, even while prosecution is pending
l Minimum punishment for corruption cases raised from 6 months to 2 years; the maximum punishment from 7 to 10 years
l Lokpal to have jurisdiction over all categories of public servants, including categories A,B,C & D. For group A and B, CVC will report back to Lokpal while for groups C & D, CVC to proceed on its own
l Bill provides timelines for preliminary inquiry (three months), investigation (six months) and prosecution (one year) extendable by the same period in each case
l Separation of investigation and prosecution No suo motu inquiry by Lokpal

Political parties, NGOs under Lokpal scanner
Aditi Tandon/TNS
New Delhi, December 22
The all new Lokpal Bill has provisions to probe corruption charges not just against the PM and Ministers but also against managers, secretaries and directors of religious institutions and political parties that receive donations from the public.
The new clause appears to imply that the Lokpal can inquire into complaints of corruption against managers of temples, gurdwaras, mosques and churches, even sports clubs or any other association which accepts donations from the public.
All NGOs that receive annual grants of more than Rs 10 lakhs under the Foreign Contribution Regulation Act, 2010 will be under the Lokpal and so will all political parties, because they also receive donations from the people. The catch-all clause would conveniently cover NGOs like Parivartan,which Arvind Kejriwal, member of Team Anna, heads and even the NGO being run by another Anna colleague Kiran Bedi and others that reportedly receive funds under FCRA.
But the government has ensured some balance in the provision by offering the coverage of political parties as well. A political party under RPA 1951 is defined as "an association or a body of individual citizens of India registered with the Election Commission as a political party under Section 29 A." The clause is wide enough to cover all sports clubs or any group of people working for any cause.
Former IIM Ahmedabad Dean and Founder member of the Association for Democratic Reforms Jagdeep Chokhar said, "This blanket clause is so wide that it covers practically anybody you want to cover. It even covers a volleyball club you may have formed from public donations. It is not practical to implement and will be used to target and harass groups of people the Government finds difficult to put up with."

Lokpal Bill: Who stands where
New Delhi, December 22
The Lokpal Bill was introduced in the Lok Sabha Thursday, amid protests by political parties. Here is a glance on where various parties and Team Anna stands on key issues.
Inclusion of PM
Government's Bill: It includes the PM under the Lokpal with his actions in international affairs, external or internal security, public order, atomic energy and space exempt from the Bill's purview. The full Bench of the Lokpal consisting of the chairperson and all members will consider the initiation of inquiry against the PM and at least 3/4th of its members will approve initiation of inquiry. The inquiry should be held in camera.
Team Anna: Under Lokpal
BJP: Favours inclusion of the PM under Lokpal
Samajwadi Party (SP)/ Rashtriya Janata Dal (RJD): The two regional parties have opposed the Prime minister's inclusion under Lokpal. They feel that the inclusion will threaten stability in the country and may also affect India's reputation internationally if the prime minister comes under probe.
Inclusion of CBI
Government's Bill: It does not include the CBI under Lokpal and has instead given it a separate inquiry wing. It can also refer cases to the CBI for further inquiry.
Team Anna: Under Lokpal
BJP: Has suggested splitting the anti-corruption wing of the CBI and bringing it under Lokpal.
SP/RJD: Opposed to the CBI being under Lokpal or splitting it.
Lower bureaucracy
Government's Bill: Lower bureaucracy has been brought under the Central Vigilance Commission (CVC) with the superintendence of Lokpal.
Team Anna: Under Lokpal
BJP: Under Lokpal
SP/RJD: The two parties have not expressed any clear stand on the issue.
Minorities' quota
Government's Bill: Reservation for minorities in Lokpal was added in the government's bill at the last minute after political parties demanded it.
Team Anna: The Team Anna's draft has been silent on reservation, but this demand had come from other quarters of civil society and MPs.
BJP: Has protested reservation for minorities in Lokpal, stating that it is not in constitution to provide reservation based on religion.