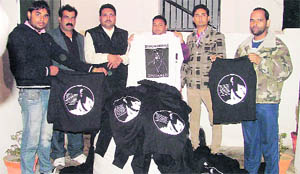 Pro-Khalistan T-shirts seized
Ludhiana, December 22
The city police seized 200 pro-Khalistan T-shirts from a manufacturing unit located in the Salem Tabri area here last evening. The incident has alerted the state police which had been expecting trouble from pro-Khalistan activists ahead of the assembly elections in the state.
Activists of a political group show pro-Khalistan T-shirts seized by the police in Ludhiana on Wednesday. Photo: Inderjeet Verma



CL Garg joins Congress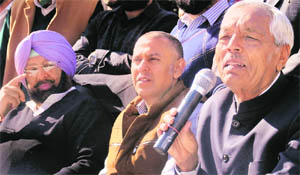 CHANDIGARH, December 22


The Congress has gained the support of former minister and national vice-president of the Shiromani Akali Dal (SAD) Chiranji Lal Garg. He has joined the party along with his son and supporters.
Chaman Lal Garg (extreme (right) with PCC chief Amarinder Singh (L) at a press conference in Chandigarh on Thursday Tribune photo: Pradeep Tewari

Capt: New entrants not promised ticket
CHANDIGARH, December 22 The PCC chief ,Capt Amarinder Singh, has made it clear that nobody defecting to the Congress had been promised the party ticket. He said allotting the ticket was the sole prerogative of party president Sonia Gandhi.
Gurdaspur BJP leaders refuse to back Babbehali


Gurdaspur, December 22
Despite the SAD and the BJP being alliance partners in Punjab, the Gurdaspur district BJP has come out openly against the sitting SAD legislator Gurbachan Singh Babbehali, saying that the party will not support him if he gets the party ticket.


Dist BJP chief Rakesh Jyoti

Will never take back Jagbir: Manpreet
Jalandhar, December 22
Punjab People's Party chief Manpreet Badal today said the doors of his party were permanently closed for Jagbir Brar.
Constituency Watch
rajpura
Khurana strong candidate despite CBI inquiry
Dominated by Hindu voters, the Rajpura constituency is a blend of urban and rural population. The population mainly includes Bahawalpurias, Khatris, Kamboj and Jat Sikhs. The past five assembly elections have seen a bi-polar contest between the SAD-BJP and the Congress with both the parties mainly targeting Hindu voters.
Poll Snippets
Bigwigs to attend BJP rally
Jalandhar: National leaders Sushma Swraj, Arun Jaitley, JP Nadda, Shanta Kumar, Capt Abhimanyu and Navjot Sidhu were expected to arrive for the BJP's state-level Jan Vishwas Maha rally here on Saturday. Chief Minister Parkash Singh Badal and Deputy CM Sukhbir Badal have confirmed their participation too.


Housing projects brought under Apartment Act
Chandigarh, December 22
Effecting a significant change in the policy regarding mega housing projects, the Punjab Government has brought such projects under provisions of the Punjab Apartment and Property Regulation Act (PAPRA), 1995, providing a major relief to the allottees (buyers).
Overseas Punjabis flock home with a poll agenda
Chandigarh, December 22
Scores of organisations and groups of overseas Punjabis are making a beeline for their ancestral homes in an endeavour to extract assurances from top leadership of major political parties about the security of their landed properties here.
2,556 SC girl students to get Rs 3,800 each
Patiala, December 22
As many as 2,556 girls from the SC category studying in various government schools in the district will receive an amount of Rs 3,800 each under a scheme of the Central Government. The total amount to be distributed under this scheme is around Rs 1.25 crore and out of this, around Rs 3.5 lakh will be distributed amongst the students of Government Senior Secondary School for Girls, Nabha, alone.
Istri Manch to hold protest at singer's house
Patiala, December 22
Annoyed with Punjabi singers for allegedly using indecent language and anti-women remarks in their songs, the Istri Jagriti Manch has opened a front against them. They carried out a survey in villages of Patiala, Jalandhar, Sangrur, Barnala and Nawanshahr districts of the State and prepared a list of singers who were allegedly using obscene language and making indecent remarks against women in their songs.
Family faces ordeal for son's bravery
Khanna, December 22
A poor Dalit family of Malipur village is paying a heavy price for the bravery of its son, a commando in the Punjab Police, who lost his life while trying to save a girl from drowning in the Bhakra canal in Patiala. His body is yet to be traced even after more than one month of the incident.
Two more schoolgirls refuse cycles
Mandi Ahmedgarh, December 22
Two more girls, both sisters belonging to a poor family of Detwal village, have refused free bicycles offered to them under the Mai Bhago scheme.
Dr Grewal is Punjab Medical Council chief
Chandigarh, December 22
The Punjab Government has appointed Dr GS Grewal as President of the Punjab Medical Council.


Disproportionate Assets Case
Court to frame charges against Garcha brothers
Ludhiana, December 22
A local court has rejected Vigilance Bureau's report of declaring former Techincal and Education Minister Jagdish Singh Garcha and his brother and former Akali MLA Mann Singh Garcha innocent in a disproportionate assets case worth Rs 1.4 crore.
Sessions Division for Moga
Moga, December 22
A full Bench of the Punjab and Haryana High Court has given its consent to set up a Sessions Division at Moga.
Police rapped for not arresting ex-SHO
Chandigarh, December 22
Virtually rapping the Punjab Police for steering clear of arresting a former Station House Officer (SHO) in an illegal detention case, the Punjab and Haryana High Court today set a month's deadline for his arrest and submission of the compliance report.