Prove allegations or face suit, says Bhagwant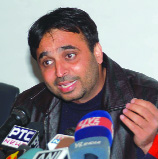 Chandigarh, December 19
Leader of the PPP Bhagwant Mann today said that either Jagbir Singh Brar and Kushaldeep Singh Dhillon should prove their allegation that he had collected $ 50,000 abroad in the name of the party or be prepared to face a defamation suit. Mann said before going abroad, PPP chief Manpreet Singh had issued strict instructions to all concerned that not a dollar would be accepted from the NRIs towards party donation. He alleged that it was Dhillon who had accepted money from some NRIs on the sly. Mann said he was earning in lakhs as an artist and had joined politics for a cause and not to make money.
ANALYSIS
SAD is counting on Badal to romp home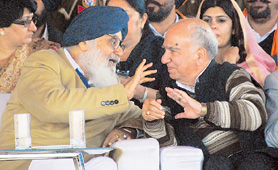 Chandigarh, December 19
It is now clear that SAD patron Parkash Singh Badal is the party's chief ministerial candidate for the coming elections and not his son Deputy CM Sukhbir Singh Badal. An announcement in this regard was made at the Moga rally yesterday as part of a well-devised strategy. The Badals are clearly planning their moves carefully to counter the Congress and the People's Party of Punjab (PPP).
A relaxed CM with BJP leader Shanta Kumar at the Moga rally. A Tribune photograph

Constituency Watch: Samana
Cong may field a new face for Samana seat
With sitting Congress MLA Brahm Mohindra interested in shifting to the newly carved out Patiala (Rural) constituency (a large number of Samana villages are now under the new constituency), the Congress may have to look for another candidate here.
Poll Snippets
Ashwani stands by seat deal
Tarn Taran: Punjab BJP president Ashwani Sharma today said the proposed seat swapping between the ruling alliance partners would "benefit" both the parties. Interacting with mediapersons after addressing party workers here, Sharma said all their decisions were aimed at boosting the poll prospects of the alliance. "We will sort out issues, if any, resulting out of the seat-swapping deal between the SAD and the BJP," he said.
Failing to get heard, two EGS teachers slit vein
Rights panel calls slapgate victim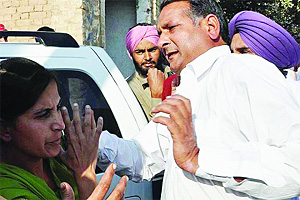 Husnar (Gidderbaha), December 19
Two protesting Education Guarantee Scheme (EGS) teachers today allegedly made an abortive bid to end their life by slitting their vein atop an overhead water tank at Husnar village near Gidderbaha. Demanding regular jobs for EGS members who had completed elementary teachers' training course, the protesters also wrote anti-government slogans in blood. Identified as Kulvir Singh and Birbal Singh, the duo allegedly tried to commit suicide around 11:30 am after no senior government official turned up to listen to their demands.
More sops: 4,342 teachers promoted
Chandigarh, December 19
Continuing with pre-poll bonanza for teachers and other employees, Education Minister Sewa Singh Sekhwan today approved record 4,342 promotions varying from master cadre to lecturer, lecturer to principal and master cadre to headmaster after they were duly cleared by different departmental promotion committees.
Rakhra Sugar Mill
Over three years on, employees await salary
Patiala, December 19
The State Government has not been able to disburse the salaries of the employees

of the defunct Rakhra Sugar Mill from the past 42 months despite making tall claims of initiating unprecedented development in Punjab.
A view of the Rakhra Sugar Mill in Patiala. A Tribune file photo
Need to build pressure, says Sarabjit's Pak lawyer
Amritsar, December 19
Awais Sheikh, lawyer of Sarabjit Singh who is on death row in Pakistan, today said his family should not give up on its efforts and there was need to build international pressure to secure his release.
Action committee to protest poor services at Rajindra Hospital
Patiala, December 19
Perturbed over the quality of health services being provided at Government Medical College and Rajindra Hospital, Patiala, around 25 organisations of employees, peasants and students have joined hands to launch an agitation against the deteriorating quality of services at the college.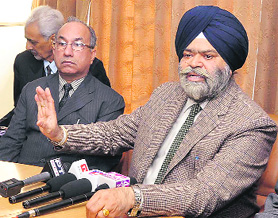 Board to grant affiliation, upgrade schools
Mohali, December 19
With the Assembly elections round the corner, the state government has directed the Punjab School Education Board (PSEB) to implement its five-month-old decision to grant affiliation or upgrade 1,200 schools across the state. The approval would be granted subject to fulfillment of certain norms.
Punjab School Education Board Chairman DS Dhillon addresses mediapersons in Mohali. A Tribune photo

Install CCTV cameras within 15 days: PPCB to industries
Patiala, December 19
The Punjab Pollution Control Board has decided to install CCTV cameras, along with DVR (digital video recorder), in all highly polluting industries in the state to monitor regular operation of their pollution control devices, both for checking air and water pollution levels.
Fake degree racket busted in Patiala
Patiala, December 19
Following a tip-off from an embassy in New Delhi pertaining to the fake education certificates being used to procure a visa, the police has busted an inter-state gang and arrested an MBA student, who earlier worked for a multinational company.


HC rap for Punjab rights commission
Says SHRC only a recommendatory institution
Chandigarh, December 19
Finding fault with an order of the Punjab State Human Rights Commission against a DSP and two other police officials, the Punjab and Haryana High Court has ruled that the commission is only a recommendatory institution. It does not have the jurisdiction to reject defence version furnished by the police officers.
HC verdict on Sehajdhari voting rights case today
Chandigarh, December 19
The Punjab and Haryana High Court will on Tuesday deliver verdict on the Sehajdhari Sikhs voting rights issue.


Woman clubbed to death by lover
Patiala, December 19
A 38-year-old woman was bludgeoned to death allegedly by her lover following a quarrel at the busy Baradari Gardens here today evening.