Kim Jong-IL dead
North Koreans rally behind his heir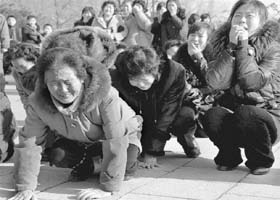 North Korean women mourn the death of their leader in Pyongyang on Monday. — Agencies
Pyongyang, December 19
North Korea today announced the death of supreme leader Kim Jong Il and asked its people to rally behind his young son and heir-apparent, while the world watched for signs of instability in a nation pursuing nuclear weapons.
South Korea launched a high alert for its military as it faces the North's 1.2 million-strong armed forces, while President Barack Obama and South Korean President Lee Myung- bak agreed by phone to closely monitor the events and cooperate.
People on the streets of the North Korean capital, Pyongyang, broke into tears as they learned the news that their "Dear Leader" had died at the age 69 of heart failure Saturday while carrying out official duties on a train trip.
While there was no immediate statement on official succession, there were clear indications that Kim's 20-something son, Kim Jong-Un, would be in charge.
The North said in a dispatch that the people and the military "have pledged to uphold the leadership of comrade Kim Jong-Un" and called him a "great successor" of the country's revolutionary philosophy of juche, or self-reliance.
South Koreans expressed concern over the news. But an analyst said Kim's death was unlikely to plunge the country into chaos because it already was preparing for a transition.
Kim Jong-Il unveiled his third son Kim Jong-Un as his successor a year ago, putting him in high-ranking posts. Little is known about the younger Kim, who is believed to be in his 20s. Kim Jong-Un regularly accompanied his father on trips around the country over the past year. Kim Jong-Il inherited power after his father, revered North Korean founder Kim Il Sung, who died in 1994. — AP