STAR TRACK
Happy Anniversary!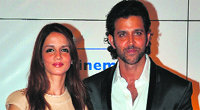 Hrithik Roshan and Sussanne Roshan celebrated more than a decade of togetherness recently. They celebrated with a cozy dinner and meeting family and friends.
Special screening
Hrithik Roshan and Karan Johar were among those lucky ones who watched Don 2 at a special screening on December 22. They are already praising Farhan and the movie.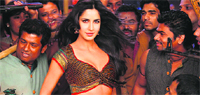 Bad item
We know the item song Chikni chameli featuring Katrina Kaif is out. Here is what we think of it—bad song, Katrina is too clean and polished to do what is supposedly a rustic raunchy song. She doesn't seem comfortable doing the steps. We expected better from KJo.
Heroine at work
Here is a picture of Kareena Kapoor rehearsing with Madhur Bhandarkar on the sets of Heroine. We think Randeep Hooda is also in the picture.
Twitter debut
Kareena Kapoor had stayed away from Twitter and social networking so far but she is going to start tweeting about Heroine under the name Heroine through UTV's Twitter feed. Cool!

Lost love
Arjun Rampal lost his dog Demi a few days ago. He says that she will be missed sorely and that she finds peace wherever she is. God bless them all!

The Don connection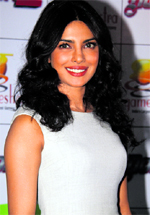 The world is aware of the fondness Shahrukh Khan and Priyanka Chopra have for each other. But there is much more to it than actually meets the eye!
The much-awaited movie Don 2 reunites the two former Miss Indias—Priyanka Chopra and Lara Dutta—ten years after their debut movie Andaaz!
But there is something or rather someone that is common to both the beauties! It's none other than the King of Bollywood! It was Shahrukh Khan who had actually crowned both girls, who brought international acclaim and made India proud.
While shooting for Don 2, Lara Dutta showed him the picture of contest where after the crowning; Shahrukh had posed for a picture with them. Shahrukh recently said, "Yeah, it is strange though I am the one who had crowned them, I have not really worked with them too much. It's very ironic and weird that I never got to work with them and we are meeting after 10 years of their work, so it was quite nostalgic and then Lara showed me the picture. We had a great time talking about the contest. I feel extremely close to them."
He also revealed that he normally doesn't pose for the shutterbugs as he ends up getting involved in 'controversies'. But for the first time in his career he had posed with three girls, Dia Mirza, Priyanka Chopra and Lara Dutta.
So there, PC and SRK's bond started way back!

Rockstar rocks!
Bags five awards at a recent Bollywood award function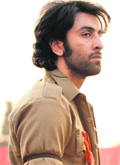 After the path breaking success of the first ever Big Star Entertainment Awards last year (phenomenal record breaking 5.78 TVR) the team was back again this year with yet another night full of glitz, glamour and entertainment held recently in Mumbai.
Shree Ashtavinayak Cinevision's Rockstar, outshone from all its other contenders as it was one of the most nominated movies of this year. The movie was nominated in several categories like Most Entertaining Movie, Most Entertaining Actor in a Leading Role, Most Entertaining Director, Most Entertaining Song, Best Playback singer Male etc.

Stunning secrets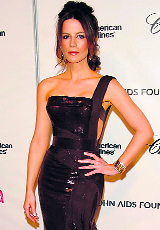 Actress Kate Beckinsale says it takes a whole lot of people to make her look as stunning as she looks at red carpet events.
The 38-year-old Pearl Harbor actress insists she needs a whole "village" of people to help her look tip-top for public appearances.
Referring to Aerosmith frontman Steven Tyler, she said: "I don't roll out of bed like this. It takes a village. I tend to wake up looking like Steven Tyler, then somebody comes to help."
Beckinsale has a 12-year-old daughter Lily with former partner Michael Sheen. She is currently married to director Len Wiseman. But at her age, she looks fit as a fiddle thanks to yoga, which gives her a lot of relaxation.
"There's a carrot at the end — I get to lie down for 10 minutes. If that part didn't exist, I wouldn't do it. I always hated the idea of it - yoga and golf are similar in that people can become obsessive and boring about it. I never thought that would be me, but I do feel a lot better (for doing it]. And a happy side effect is that it lifts my bottom," she added. — IANS

Hot newbies!
We take a look at the newcomers (absolutely new and one film old) who made a mark this year!
Nargis Fakhri in Rockstar
She was super lucky to do this film. She looked gorgeous and she was perfectly cast in her role. We don't know whether she is a good actress or not, but with Ranbir's acting and Imtiaz's direction and all her hard work, she was good in her role and had screen presence.
Shraddha Kapoor in Luv Ka The End
She owned this film which rested on her shoulders. It was a fun and fast film and she was excellent in it. She looks good, can dance, and emote.

Kajal Aggarwal in Singham
The Mumbai-born girl came back from the South film industry and made a feisty debut in this hit film.
Poorna Jagannathan in Delhi Belly
This was a guy film and she had a significant role in it. The unconventional actress pulled off her role with effortless ease.

Tia Bajpai in Haunted 3-D
We hated the movie (big hit!) but Tia was a sport to do the rather bold role.
Kriti Malhotra in Dhobi Ghat
She had a haunting presence in the movie. Her track was very interesting and she was lovely in her role.

Another custody battle

Singers Marc Anthony and Jennifer Lopez will reportedly fight a custody battle over their three-year-old twins Max and Emme.
The former couple, who split in July after seven years of marriage, had an amicable arrangement where Lopez was the primary carer of kids.
According to sources, Anthony "hit the roof" when he saw pictures of Lopez's new boyfriend Casper Smart bonding with the children. He now wants joint custody. "It caused a huge blow-up. He going back on his word and saying he wants joint custody," said a source. — IANS