Constituency Watch: Shutrana
Ghaggar continues to flow as 'river of sorrow' here
Gagan K Teja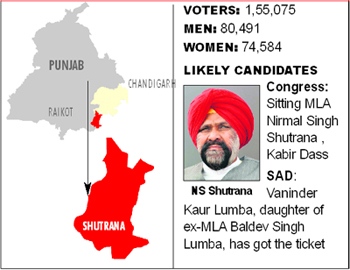 Dominated by Scheduled Caste voters, the Shutrana constituency is a rural segment and apparently the most backward in Patiala district. Situated alongside the Haryana border, the areas falling in the constituency are flood-prone.
Forty-six per cent of the voters belong to the Scheduled Caste (Ramdasia and Bazigar) group while Kambojs form the second largest community. Though Jat Sikhs and Hindus are less in number, they can play the deciding factor in wake of the fact that the contest is likely to be between the Congress and the Akali Dal candidates.
Sitting Congress MLA Nirmal Singh Shutrana, who won the 2002 and 2007 poll, is leading the race for the party ticket, though Kabir Dass is another strong contender. The SAD, meanwhile, has given ticket to first-timer Vaninder Kaur Lumba, daughter of former MLA Baldev Singh Lumba. Another Akali, Hamir Singh Ghagga, has been left in the cold.
PROMISES & PROJECTS: Ghaggar turns into the constituency's 'river of sorrow' during the rainy season and the residents have been demanding a permanent solution to the problem. With industrial waste flowing into the river, the groundwater quality in several villages has deteriorated, therefore, leading to serious health ailments, especially among the newborn. The worst affected are Arnetu and Badshapur villages where a considerable number of kids are born with physical deformities.
Clean drinking water, employment for the youth, improving the standard of education in government schools, better health and civic facilities and the upkeep of roads were the assurances given by Nirmal Singh Shutrana to voters. Not many of the promises have been kept. Shutrana blames the ruling regime for the "non-acceptance" of a majority of his proposals, though he claims the condition of roads was better now as compared to the last elections.
VOX POPULI: The residents say MLA Shutrana and SAD segment incharge Hamir Singh are both easily approachable, but that the area had not witnessed significant development over the past few years as the legislator belonged to the opposition party. In 2002, Nirmal Singh won on the SAD ticket while in 2007 he contested successfully from the Congress. Therefore, in both his terms, he remained in the Opposition and no major development projects were allotted for the constituency.
"This time, we will vote for a candidate who has the potential to push through reforms and assures us a solution to the Ghaggar flood problem," says a resident of Badshapur village.
LOOKING BACK: It was CPI candidate Baldev Singh who defeated Congress nominee Bhajan Lal in 1980. In 1985, Satwant Singh Mohi (SAD) won. In 1992, Congress candidate Hamir Singh defeated Nirmal Singh of the SAD. In 1997, SAD candidate Gurdev Singh Sidhu defeated CPI nominee Ram Chand. In 2002 and 2007, Nirmal Singh won on SAD and Congress ticket, respectively. — TNS