M A I N N E W S
PUNJAB POLLS 2012

EC bans booths of political parties outside polling stations
Kanchan Vasdev/TNS
Only 37 NRI voters enrolled in Punjab
Compared to Kerala where 8,500 NRIs enrolled as voters and 4,500 exercised their right to vote during the last Assembly elections, only 37 NRIs have enrolled themselves in Punjab so far. Qureishi said NRIs could enroll themselves at their place of permanent residence, as recorded in the passport, and cast their vote in person.
Chandigarh, December 28
In a first, the Election Commission (EC) has banned booths of political parties outside polling stations in Assembly elections.
The standard practice has been for political parties to set up booths manned by their agents outside polling stations and issue slips carrying voter details. From now on, the EC will issue voter slips carrying details and pictures of voters, Chief Election Commissioner of India SY Qureishi said here today.
Also for the first time, two lakh employees on polling duty would be vote using an election duty certificate or a postal ballot.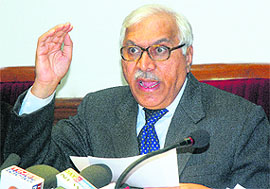 Chief Election Commissioner of India SY Qureishi at a press conference in Chandigarh on Wednesday. Tribune photo: S Chandan

Qureishi said every polling booth set up by the election department would be under the Election Commission's surveillance. Paramilitary personnel or micro-observers would also be assigned to all booths. In the absence of either, cameras would be put up at polling booths to keep a watch on parties and their supporters. In certain hypersensitive booths, digital cameras would be installed. The number of these booths is yet to be ascertained.
"Voters would be allowed in only if they have their photo identity cards and voter slips provided by the commission," he said.
Qureishi said 99.6% photo electoral rolls and 98.7% photo ID cards were ready and 19,724 polling stations had been identified. Voters who have not yet got their ID cards prepared can contact their area Tehsildar, he added.
Defence personnel would be allowed to cast their vote at their place of posting by postal ballot or proxy voting.

Blame game peaks as parties meet poll panel chief
Tribune News Service
Chandigarh, December 28
It was "rival bashing" all the way during the all-party meeting with the Chief Election Commissioner, (CEC), SY Qureishi today. Representatives of all parties blamed each other for violating the poll code.
While Congress representatives cried "misuse of government machinery" and "control on local TV network" by the ruling government, the Akalis took a confrontationist course against the Election Commission and accused the EC of "dictatorial attitude" stating that it was creating terror in the minds of people in the state.
A two-member delegation of SAD leaders comprising party general secretary Maheshinder Singh Grewal and secretary and spokesman Dr Daljit Singh Cheema lodged its protest against transfer of police officials, rejection of abolition of octroi on petrol and diesel by the state government and confiscation of unaccounted cash worth Rs 1 lakh.
Maheshinder Grewal said the ruling party was in favour of conducting free and fair polls but the EC was virtually "ruling the state."
"The transfer orders of these police officials have demoralised the officials. Why cannot the state abolish octroi before the code of conduct? And why is the common man being harassed with the Rs 1 lakh diktat?" asked Grewal. "I told the CEC that the commission is exceeding its brief under the law. It has no jurisdiction to rule the state," he claimed.
"Everybody knows that Rs. 1 lakh is too small an amount for the traders and businessmen for their routine affairs. They are the worst sufferers of this action of the commission. The deputation informed the commission the frequent checking on the on the highways has created a sense of terror in the minds of public and it gives the impression as if emergency has been imposed in the state." The commission is giving a clear impression that it is biased against the SAD-BJP alliance.
Meanwhile, the Congress delegation led by its grievances cell president, Karanpal Sekhon demanded a ban on PTC channel stating it was owned by the Akalis. They also complained to the commission against controlling of cable network by Akalis thereby preventing airing of some channels which were not the "mouth-piece" of ruling party.
They also demanded that IPS officers should be assigned as SSPs in all districts CPI leaders demanded there should be no political camps outside polling stations and CPI (M) complained against recruitment undertaken by Punjab Roadways.