| | | |
| --- | --- | --- |
| | OPED LOKPAL DEBATE | |
Citizens are as responsible for corruption
Shashi Tharoor
"There is an old saying in English that one should be aware of the young doctor and the old barber; both, in haste, can cause a great deal of damage..."
The mood of the nation is clear. And I think everyone in this House will acknowledge that there is a reason why this is the first time after eight previous unsuccessful attempts, the first time since 1968, that we are actually discussing the passage of a realistic Lokpal Bill.
As the Durban commitment to effective action against corruption declared in 1999, a commitment to which India is a signatory, corruption deepens poverty, debases human rights, degrades the environment, derails development, destroys confidence in democracy and the legitimacy of Governments. This is why the time to act is overdue. And this is why we must commend the Government for putting forward the Bill that it has.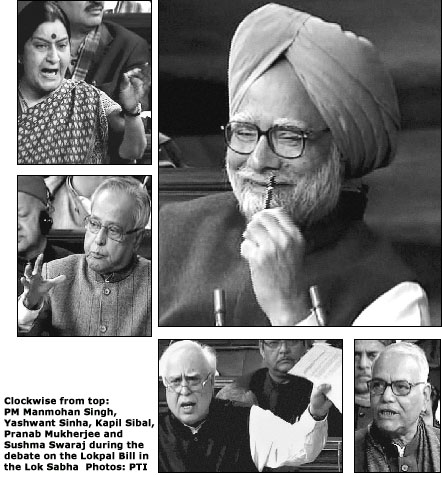 Corruption is not just the big ticket corruption that everyone has alluded to; it is not just the big headline corruption; it is not just the amounts that have put prominent figures in jail, but it is the daily corruption that affects the ordinary Indians that we must be concerned about.
If you want people centric action, just yesterday, the Transparency International, the Berlin based anti-corruption organisation released the results of a survey of 7,500 people, conducted in South Asia over the last two years. Fifty-four per cent of Indians surveyed, said that they had paid a bribe. According to the survey, Indians pay bribes frequently when dealing with all sorts of essential public services - the police - 64 per cent; property and land - 63 per cent; registry and permit services - 62 per cent; tax revenue - 51 per cent, and so, the list goes on - even up to, educational services. This is a shame for us and we must tackle this firmly.
If Transparency International is seen as a foreign institution, let us look at the analysis released very recently - this week - by the Azim Premji University in Bangalore that studied the last ten year's performance of the Karnataka Lokayukta. What did it find? It found that 80 per cent of the cases handled by the Karnataka Lokayukta are related to the four essential functions of the Government - local Government cases - 24 per cent; administrative cases - 37.6 per cent; welfare cases - 17.6 per cent and regulations - 2.5 per cent. In other words, corruption infects our system and we must deal with it.
Five principles
In my view a good Bill had to meet the following five principles - I believe that the Government has done a very good job, as I would explain. First, the Bill must be conscious of its obligations to the society, and to other democratic institutions. This Bill takes into account the demands of civil society and at the same time, it is respectful of the democratic institution of Parliament, which is the only place where this law can indeed be passed.
Secondly, it must ensure that the cure that is being prescribed is not worse than the disease. We had a cure being prescribed from outside that would have created a supra-institution, an institution that frankly would have been undemocratic fundamentally, that would have combined the police powers of investigation and arrest with the judicial powers of prosecution and punishment, all in one institution.
It would have been extremely dangerous. This Bill builds in effective checks and balances. The third principle is that a good Bill must deal with the issues of monetary corruption and mal-administration, of the misuse of authority for personal gain and indeed the embezzlement of public funds. You will find that the Government's Bill covers all of these and more.
The fourth principle that is important is that the Bill should strengthen our constitutional and institutional mechanisms in this country against corruption. The fact is, by proposing it as a constitutional amendment, the Bill is anchored firmly in the need to strengthen our constitutional and institutional arrangements.
The fifth principle is that it should also be effective in avoiding the risk of decision making paralysis. Shri Sharad Yadav ji, for example, rightly said that most bureaucrats in this country are capable and honest. I do not think that we would demur with that but there is always a danger that honest bureaucrats would be terrified by the provisions of too draconian a Bill and would, therefore, not wish to act. The avoidance of risk would become the most important concern.
There are many bureaucrats, who believe that you cannot be punished for doing nothing and that is the worst thing for a country that is seeking to develop, to grow and to change. We must not create a situation in which bureaucrats are impelled to do nothing. We must make it possible for the honest to have fair and due process and where honest officials do not feel that they need to duck the responsibility to take initiatives and decisions. That I believe this Bill has tried to do with the protections built into it.
Uttarakhand Bill
The only substance that I have been able to hear so far has been the Leader of the Opposition and the previous speaker holding up the Uttarakhand Bill as a model of how such Bills should be created. Well, I have got hold of a copy of the Uttarakhand Lokayukta Bill and I find there are some very interesting provisions in it, which I believe the House would be happy to learn about.
For example, as you know our Bill proposes that one needs a three-fourth majority before the Prime Minister should be brought into the purview of a particular investigation. And the Leader of the Opposition has proposed an amendment, that has been circulated to all of us suggesting that it should be reduced to two-third as three-fourth somehow weakens the authority of the Lokpal. What does Uttarakhand do?
Chapter 6, Clause 18 of the Uttarakhand Lokayukta Bill says that no investigation or prosecution shall be initiated against the Chief Minister, against any Minister or against any Member of the Legislative Assembly without permission from a Bench of all the Members and the Chairman. So, they want a hundred per cent to indulge a Chief Minister and MLA in Uttarakhand and they think that our 75 per cent is too much. There is more.
The audit of the Lokayukta that is provided for in the Uttarakhand Bill is very interesting. According to Chapter 5 of the Uttarakhand Bill, Clause 14 (2 ) says that a Committee of the Uttarakhand Legislative Assembly can do an annual appraisal of the functioning of the Lokayukta. So, the Lokayukta there is under the Legislative Assembly and yet the Opposition that is holding this up as a model says that our Lokpal Bill, which is completely independent of Parliament and independent of the Government, is weaker than the Uttarakhand Bill.
Momentum of change
Let me say to those who have raised their concerns about the Bill, to those outside this House and have attended rallies, who have spoken out, who have appeared on television, I think it is time for this House to say `your voice has been heard, we have listened to you'. With the passage of this Bill, fight against corruption would now be on stronger and newer footing. Perhaps, the Bill is not everything that you hoped for; perhaps it does not contain every provision, dot every `I' and cross every `T' as you would have liked, but change has its own momentum.
Think of the Right to Information Act, the RTI. Think what people assumed when the Bill was being passed and think how strong and effective it has become. All of us, I am sure, had to test its sharp edge. So, let us see this Bill work in practice. Let us, if necessary, in the fullness of time, adjust this to the experience that we should have.
But, after all, our Constitution has been amended over a hundred times and we cannot afford to take the position, as some outside this House have done, of my way or the highway. We cannot afford to be in too much of a hurry.
There is an old saying in English that one should be aware of the young doctor and the old barber, both, in haste, can cause a great deal of damage and there is a fear that there are too many young doctors and too many old barbers behind the versions we are hearing outside this House.
Who is ultimately responsible for corruption, if not ourselves as citizens of India? For every bribe taker, there is a bribe giver. There is somebody who is trying to short circuit the process, get a short cut, avoid punishment by the Government, avoid a tax and avoid a law. The fact is that we cannot merely point fingers at the system, merely clamour for some sort of super powerful legal body and forget the moral responsibility of society to change for the better.
Excerpts from the speech delivered bythe MP in the Lok Sabha on Tuesday on the Lokpal Bill