For most people it is hard to fathom the 'heritage status' accorded to a modern, planned city like Chandigarh. Should it be preserved as a museum piece, or, should we allow unplanned growth to take over its uniqueness?
Beyond the Urban Juggernaut
Rajnish Wattas
Is Chandigarh, the centrally administered joint capital of Punjab and Haryana, any more a stand-alone city? Or has its identity crossed beyond the boundary lines drawn in 1966, at the time of trifurcation of the erstwhile state of Punjab? Clearly the politico-geographical reorganisation was a big game-changer in the destiny of Chandigarh; leaving the 'dream city' of the country in an unwieldy, landlocked utopian urban habitat of 114 sq km.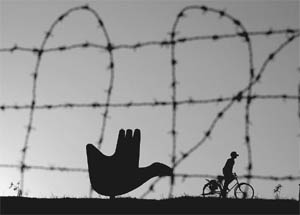 Chandigarh, as a planned city, has the best possibilities of implementing global ideals and thus inspire other new cities to follow suit
The original agenda of Chandigarh, to be merely an administrative city, a symbol of the newly Independent India, has now blurred into other complex challenges. The success story of Chandigarh is well known. In fact, its phenomenal success has now quite ironically become its biggest challenge too. The 'brand Chandigarh' paradigm is finding its growth shackled by finite boundaries; naturally spilled across the borders — in blatant violations of the Periphery Control Act — to form the adjoining towns of Panchkula, Mohali, Zirakpur and now Mullanpur, grid-locked in a bear-hug to the main city.
The huge growth that Chandigarh has experienced in the last 10-15 years, fuelled by the recent economic surge witnessed in the country, coupled with other factors, has resulted in a real estate boom. Today, Chandigarh has the highest per capita GDP, car ownership in the country, excellent parameters in environment, forest cover, low pollution levels and other robust urban benchmarks.
Initially Panchkula and Mohali were somewhat like poor country-cousins of Chandigarh — that lacked any original focus or vision as well as the resources to provide services at par, or, better than the 'mother city'. They quite conveniently stretched out the existing grid of roads into Chandigarh and embroidered them to their own sectors. This blending was seamless in the case of Mohali, but with Panchkula fairly tenuous, thus creating a 'chicken's neck' of clogged arteries for traffic movement between the two cities.
No doubt, these satellite towns and their extensions are creating their own individual attractions too, but Chandigarh remains the raison d'etre of their existence and the growth boom.
The urban juggernaut
According to the recently released McKinsey report on India's urbanisation, 590 million people (twice the population of USA) generating 70 percent of India's employment will live in cities by 2030. And beyond this, 69 cities in India will have populations above 1 million plus, up from 32 today, requiring 700 to 900 million square metres of additional space, or, a new Chicago every year for commercial and residential purposes.
Can't we just create enough employment in the villages of the country one may well ask?
No, says Manish Sabharwal in 'Our Geography of Work' while comparing urbanisation between India and China. "China has 200 cities with more than a million people while India has 35. India has 6.3 lakh villages, of which 3.9 lakh have less than 1,000 people and 1 lakh have less than 200 people. Non-farm job creation tends to cluster and requires soft and hard infrastructure that many of our villages are too small for. In the next decade, India can't take jobs to people but needs to take people to jobs."
Similarly in the highly acclaimed book 'Truimph of the City' by Edward Glaessar, a Harvard Professor, states that, "Job creation clusters as cities become hubs of innovation, energy and entrepreneurship." Two thirds of Americans live on 3 per cent of its land mass — that is cities.
Of course cities have their dark side too; squalor, disease, crime, social disparities. But the urban poor are better off than the rural poor, and should not be compared to the urban rich. Nowhere agriculture can sustain economies of large populations, say the experts. The case for efficient, planned urbanisation in the country is very strong.
Where does Chandigarh stand in the context of this national need and global trend?
To stay in a time-warp or grow?
While some fanatic 'preservationists' and heritage champions might like to keep the 'City Beautiful' Chandigarh as a museum showpiece for eternity, cities are living organisms which will grow or decline or mutate in accordance with multi-factorial pulls and pressures, and political, geographical, economic changes.
Though, Chandigarh is special because of its heritage value and as a benchmark for quality urbanisation it will have to balance between what it cherishes and what it can allow to change/modify; and to what extent. And what do we cherish most in Chandigarh today? Its openness, vast green spaces, parks, trees, well planned system of roads and Le Corbusier's grand monuments. We adore its backdrop of the Shivalik hills, its architecture of simple, yet beautiful modernity made in the locally available brick, concrete and stone. We pride in its status of being a tour de force of modernism as a movement of 20th century architecture in the world.
But we must preserve the quintessential spirit of Chandigarh and not its externalities of form.
Not many years ago, it was joked that Chandigarh was a city of 'grey beards and green hedges'! Later, it was called a small town pretending to be a big city with no soul! But the Cassandras of Chandigarh were wrong — and yet again those writing of its decay with both implosion and explosion, will be proved wrong because of the resilience of cities like human beings to readjust, reinvent and make course corrections.
It is now estimated that with the present trends of growth, the projected population of Chandigarh could be anything between 16 to 20 lakh by 2030 and that of the entire tricity region shooting up to 45 lakh! Today Chandigarh is already more than a million people city, though it was planned for no more than half a million! Then, there are the issues of slums, traffic congestion and impending squalor. Moreover, for how long will Chandigarh sustain with central government funding? What is its economic viability?
The larger vision
In a nutshell the way forward for Chandigarh, Mohali, Panchkula and their sprawls beyond is to accept, and not bemoan the ground realities of the tremendous urbanisation that has happened in the last few decades. The nucleus of all this is Chandigarh, and will remain the fulcrum of future for the region. There is still much to preserve and save — yet not stifle growth and human enterprise.
Chandigarh should be seen in the larger context, somewhat like the historic, low height Lutyen's New Delhi, all around which one can witness the past and later developments of Delhi. Chandigarh, too, within itself should zealously preserve and implement its heritage plan (a detailed report exists) preserving the greens, the road system and the layout of the Corbusean plan in its entirety — for that is the essence and core of what Chandigarh stands for internationally.
Regarding the architectural imagery and scale of built forms of the city, areas and locations within the visual impact zone of the Capitol Complex or other Corbusean monuments like the Museum Complex of Sector 10 and others will need very sensitive and cautious handling. The other significant area is the Sukhna Lake and its surrounding eco-sensitive zone, which too must be preserved.
But what about the rest, should it liberalise its FSI (Floor Space Index) and allow for greater densities, allow more verticality? The key to all these questions will be a balance between the heritage value versus growth, and the crucial sustainability of the city services — especially the traffic movement. From a car dependent, pampered city, its entire planning emphasis will have to shift to innovative public transport systems including slow moving electric buses, trolley cars and even some congested areas being declared as 'no vehicle zones' allowing movement of only public operated electric carts, walking and cycling, rickshaws etc. These ideas can be first tried as an experiment in areas like Sector 17, sub-city centres and some choked V4 (within the sectors) shopping markets. In a small city like Chandigarh, Metro will only help in moving people of the tricity and the urban conglomerate across the distant destinations, and be of very little use within the short distances of the city itself.
Some of these steps would be resisted initially, but the impending choking of the city arteries will teach us to change our car-obsessed lifestyles.
As such, while Chandigarh would carry on with its limited and carefully orchestrated growth agenda, it should remain the inspirational leader of quality urbanisation by adopting model, innovative practices and state-of-the-art technologies for traffic and mobility systems, energy conservation, green policies and architectural and environmental protection. Chandigarh, as a planned city, has the best possibilities of implementing these global ideals and thus inspire other new cities to follow suit.
While this happens, the adjoining cities of Mohali, Mullanpur and Panchkula should grow within themselves — as independent entities without piggybacking on Chandigarh's facilities. They should develop not only in terms of infrastructure, retail, city services, employment centres and entertainment, but also develop some independent focus and a new vision. This would give them their own distinct identity and status; instead of just being considered as appendages or hyphenated-Chandigarhs. Since they are not landlocked like Chandigarh, and do not have its heritage constraints, they enjoy greater possibilities and creative freedom in many ways.
Rather than a bureaucratic approach of maintaining a status quo, it would be pragmatic for all concerned in Punjab, Haryana and the Union Territory of Chandigarh — that an integrated growth is allowed. It can be a win-win situation for all concerned, in such a symbiotic relationship of connectivity, access and safeguarding of environmental and ecological concerns. Such a vision will be a new era of India's urbanisation.
And this will be the best tribute to the spirit of Chandigarh and its founding fathers. For, cities are the matrix of a civilization.
(The views expressed by the writer are personal and not of any organisation/task force he may be associated with.)
The writer is former principal of the Chandigarh College of Architecture, and presently Distinguished Professor at the Surya School of Architecture.