M A I N N E W S
Manpreet packs his first list with first-timers
GS Paul/TNS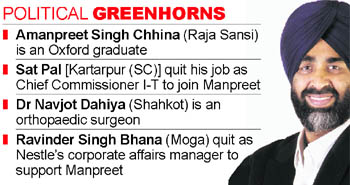 Amritsar, December 31
People's Party of Punjab (PPP) chief Manpreet Badal today released Sanjha Morcha's first list of 41 candidates for the Assembly elections, most of whom are political greenhorns who quit cushy jobs to join politics.
The list included 29 PPP candidates, five each of CPM and CPI and two of SAD (Longowal). Most candidates in the list are fresh faces in the 35-50 age group with little or no political background.
Of the 29 PPP candidates, it will be the first election for 24. Manpreet, his father Gurdas Singh Badal, Harnek Singh Gharuan and Raghubir Singh have been in the political arena for a while. Gurdas Badal is the Morcha's candidate from Lambi against CM PS Badal.
Academic qualifications are the candidates' strength just like Manpreet, a masters' in history and a law graduate from England. Not surprising then that his list comprised an Oxford graduate, an MNC employee, MBAs, bankers, doctors and lawyers in the 35-50 age group.
Amanpreet Singh Chhina, who has been fielded from Raja Sansi constituency, is a graduate from the University of Oxford. He belongs to the family of freedom fighter Comrade Achhar Singh Chhina, a close associate of Netaji Subhash Chandra Bose. Chhina Senior was twice elected as MLA from Ajnala in 1952 and 1957. It was Manpreet's ideology and vision that compelled Amanpreet to migrate back to Punjab from England in 2010 and join him.
Sat Pal, the party candidate from Kartarpur (SC) seat, quit his job as Chief Commissioner of Income Tax at Uttarakhand to join Manpreet. He did his postgraduation in science from UK and is also a law graduate.
Then there is orthopaedic surgeon Dr Navjot Dahiya. He gladly obliged Manpreet's call to "bring about change in the governance system". Dahiya will be PPP's Shahkot candidate. Harwinder Singh Laddi quit his bank job to contest from Bhucho Mandi (SC). Also in the list is Ravinder Singh Bhana, an MBA, who quit his job as Nestle's corporate affairs manager to join Manpreet from Moga. Abhay Sandhu, the nephew of Shaheed Bhagat Singh, has been fielded from Nawanshahr. Manpreet will contest from Gidderbaha. Sukhdeep Singh Bhinder, who got the PPP ticket from Bathinda Urban, is a retired Additional Advocate General while Bhupinder Singh Ghuman, the party candidate from Dasuya, is also a lawyer.
"I believe if the masses send at least 100 honest, educated and determined people to the Vidhan Sabha assembly, Punjab could be brought back its pristine glory. Punjab is otherwise not an economically-backward state," Manpreet said. Manpreet clarified that the PPP and SAD (Longowal) would share the same symbol, which would be granted on January 2. The final list of candidates would be released in Chandigarh on January 3.