Maestros depart, yet the show goes on
Vandana Shukla/TNS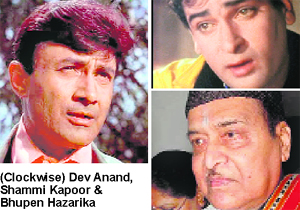 Chandigarh, December 31
The stream of culture is an ever-flowing one. New influences, trends and voices emerge, replacing or merging into the old ones. Despite its flow of continuity, this stream, in 2011, stopped several times to take stock of its colossal loss.
It lost several luminaries whose contribution to the world of art remains irreplaceable. Almost all the stalwarts the art world lost this year started their career when Indian art had no identity of its own. Had it not been for their unquestionable passion and conviction for the art form they pursued, Indian art forms wouldn't have emerged out of the shadows of the colonial cultural supremacy.
Music's loss
In the demise of Bharat Ratna Pandit Bhimsen Joshi (88) on January 24, Hindustani classical music lost its most powerful voice whose contribution in refining and popularising 'khayal gayki' was immense.
This singer, with a distinguished voice that was powerful, exercised amazing breath control, infused fine musical sensibility in his oeuvre of 'khayal gayki' for generations to emulate.
He kept the excitement of 'khayal gayki' pulsating by constantly infusing it with intelligent yet subtle fusions from other styles.
On July 24, the Hindustani music tradition lost its senior-most exponent of Dagar Bani, Ustad Rahim Fahimuddin Khan Dagar.
An exponent of 'Dhrupad gayki' whose relentless effort to keep the Dhrupad tradition alive amid an all-pervasive 'khayal gayki' was no less heroic. What is more amazing is the fact that he left behind dedicated disciples who would keep the spiritual and intrinsic aspect of erudition alive in their rendition of 'Dagar Bani'.
In November, Sultan Khan, who worked relentlessly to infuse new life to 'sarangi' by his accompanying vocal recitals, passed away.
The world of music lovers lost their beloved 'ghazal king' Jagjit Singh in October. It was because of Jagjit that an entire ghazal industry came into existence and thrived. With the loss of Bhupen Hazarika, the music lost its most powerful and popular folk voice.
The world of art
Leaving a blot on the credentials of Indian secularism, MF Husain died at 95 in his self-imposed exile at London. He is credited with bringing recognition to what is now known as Indian modern art. The defining moment for modern Indian art is believed to be the day when Husain's work was auctioned by Christie's for $2 million. This brought Indian art to the notice of a thriving global art market, but for Husain, it spelt doom.
Though not as flamboyant and maverick as Husain, Jehangir Sabavala too left Europe and a lucrative career in art to create a niche for Indian art, and worked towards it in his own quiet way in Mumbai.
The ever-evolving artist left behind a legacy of work, that is rated high both in the language of commerce and in terms of inspiration for the next generation of artists. These artists expanded the canvas of Indian art large enough to be consumed by generations of artists.
The silver screen
Shammi Kapoor, the 'yahoo' man of the 60s and a rebel at heart, retained his own special effect on the screen in his very own unconventional way. Kapoor made the silver screen pulsate with his inimitable energy and dance in the 50s and 60s, and later, kept his versatility alive with character roles.
Dev Anand, the forever young-at-heart hero died at 88, leaving behind an enviable body of work - some 110 films he had acted in, and some memorable cult films like "Guide", "Hare Rama Hare Krishna", "Jewel Thief" etc that he produced.